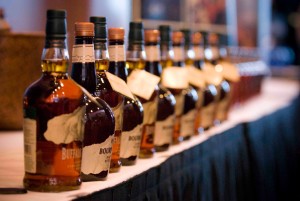 Modernthirst.com will be on location covering the 2015 Bourbon Classic on February 20-21st in Louisville.  Are you planning to attend?  We'd love to meet up with ModernThirst readers at the event!  So let us know if you're there, and we'll be on the lookout!
And if you're in town, be careful!  If you need a ride, use the code MODERNTHIRST15 with UBER and get $20 off your first ride.  Details here.
The Classic is amongst the most well-known and best attended bourbon-related events in the country each year, featuring a who's-who of the bourbon industry, from distillers, to coopers, to retailers, to bourbon drinkers.  More details of the 2015 Classic were released today.
 Press Release:
Louisville, KY (February 2, 2015) – Bourbon Classic 2015, the third annual Bourbon-culinary experience will take place in Louisville at the Kentucky Center for the Performing Arts next weekend, February 20 – 21, 2015. The event attracts Bourbon enthusiasts and culinary adventurists from across the country. A complete cross-section of the Bourbon industry will attend: Bourbon distilling legends, writers, chefs, bartenders, connoisseurs, and casual enthusiasts.

This year, Bourbon Classic will kick off with an exclusive pre-event reception, Bourbon Classic Taste, on Tuesday, February 17th. Chef Ed Lee and Julian Van Winkle will participate in this progressive tasting experience hosted at Copper & Kings American Brandy. Kentucky Proud-inspired food, Buffalo Trace Bourbon, Four Roses Bourbon, Copper & Kings Brandy, Copper & Kings Absinthe, Van Winkle Special Reserve (12 year), Van Winkle Family Reserve (15 year), Van Winkle Family Reserve (20 year), and 1,000 Stories Barrel Finished Wine will be available. A limited number of tickets to this Kentucky Proud supported reception are available to the general public.

Friday, February 20 – Bourbon Classic Cocktail Challenge:

• MC Jared Schubert, winner of the 2013 Bourbon Classic Cocktail Challenge, will guide attendees through the event featuring contemporary and classic cocktails and small plates prepared by teams of chefs and master bartenders representing distilleries. Cocktails and pairings will be judged by an expert panel including Hannah Hayes, Southern Living, Joy Perrine, Jack's Lounge, and Chef Albert Schmid, Sullivan University. Participating teams are as follows:

Barton 1792 Distillery Beth Burrows, Down One Bourbon Bar Chef Newman Miller, Harrison-Smith House, Bardstown, KY Blanton's Bourbon Marie Zahn, St. Charles Exchange Chef Levon Wallace, Proof on Main Buffalo Trace Distillery Jason Cobbler, Harvest

Chef Coby Ming, Harvest Four Roses Bourbon

Isaac Fox, Volare Chef Josh Moore, Volare Heaven Hill Distilleries Gary Gruver, Southern Wine & Spirits

Chef David Danielson, Churchill Downs

Jim Beam Sean Thibodeaux, 8-UP Elevated Drinkery & Kitchen Chef Todd Rushing, 8-UP Elevated Drinkery & Kitchen Michter's Hannah Kandle, Old Seelbach Bar Chef Patrick Roney, Seelbach Oakroom

Wild Turkey Amber Yates, Feast Chef Ryan Rogers, Feast

Woodford Reserve Jacquelyn Zykan, Doc Crow's Chef Jonathan Schwartz, Doc Crow's

Saturday, February 21 – Ultimate Bourbon Experience:

• Bourbon Masters Session Mark Coffman, Alltech Brewing & Distilling Company

Wes Henderson, Angel's Envy Ken Pierce, Barton 1792 Distillery Fred Noe, Jim Beam Harlen Wheatley, Buffalo Trace Distillery Jim Rutledge, Four Roses Bourbon

Denny Potter, Heaven Hill Distilleries

Nicole Austin, King's County Distillery Willie Pratt, Michter's

Jimmy Russell, Wild Turkey Chip Tate

Author Fred Minnick will MC this session sponsored by the Urban Bourbon Trail.

• The "Bourbon Classic University," exploring focused learning sessions like Country Ham & Bourbon, The Life of the Barrel, Essential Bourbon Cocktails Past and Present, Straight Up Storytellers, Bourbon & Cheese Pairings, The Art of the Glass, Entertaining with North American Whiskey, Bourbon Collections, Bourbon Flavor Profiles, and Bourbon Icons. Sets of five sessions will be offered and attendees will have the opportunity to choose which sessions to join.

• The Bourbon Marketplace offering exhibits and displays featuring Bourbon tastings, book signings, food tastings, and culinary and Bourbon-related products.

• Bourbon Culinary Tastings prepared by Coby Ming, Harvest, Sean Ward, Ward 426, Levon Wallace, Proof on Main, and Ouita Michel, Holly Hill Inn.

Some of the bourbon industry's most well-known brands are sponsoring the event. The Urban Bourbon Trail is the welcoming sponsor of this event joining Buffalo Trace Distillery, Four Roses Bourbon, Michter's, Alltech Brewing & Distilling Co., Barton 1792 Distillery, Bulleit Bourbon, Heaven Hill Distilleries, Jim Beam, Woodford Reserve, 1,000 Stories Barrel Finished Wine, Blanton's Bourbon, Wild Turkey, Bingham Greenbaum Doll, LLP, Old Forester, Angel's Envy, Corsair Distillery, Jefferson's, Kings County Distillery, Old Limestone Water, and Willett Distillery. Media sponsors include The Bourbon Review and Louisville Public Media.

The Bourbon Classic was co-founded by Tony Butler of FSA Management Group, an established event planning and marketing firm based in Louisville, and Justin Thompson, Seth Thompson, and Bob Eidson of The Bourbon Review.

Ticket sales for the event are available by calling the Kentucky Center for the Performing Arts at 502-584-7777. Details are available at bourbonclassic.com.

###

Founded in 2012 by FSA Management Group and The Bourbon Review, The Bourbon Classic is a weekend event exploring the "best of the best" in the authentic world of bourbon. Bourbon Classic 2015 will take place at the Kentucky Center for the Performing Arts on February 20 – 21. Information is available at http://www.bourbonclassic.com.