live on the edge of the bourbon world. Bourbon is my drink of choice and a driving force behind the profitability of the liquor store I own. While I know a lot about the industry, I am by no means an expert.
Recently, I got an invitation to join some friends on a media tour of Kentucky Bourbon Distilleries as their photographer for the Bourbon Classic. WOW!! I've shot a lot of events like this over the years, but this one was going to be interesting! I was able to adjust my schedule and get there on Thursday. By that point, I had already missed the Pappy Van Winkle dinner and tasting, a wicked day of rescheduling because of weather, and all the introductions that had happened earlier in the week. But, I found a way to blend in on the tour bus and hit the ground with both feet firmly planted in the snow and ice.
For me, the trip began with a whirlwind of tastings. I remember the most about the first one we did on Thursday at Buffalo Trace…I'll let you determine why it got hazier as the day went on. It was cold, and I mean COLD…but, we were bundled up and ready to go. Our tour guide realized that we had likely seen most of the regular tour and took us to places on the property that a lot of tours don't get to see. For me, the most interesting was Warehouse X. This is where they are studying the effects of different environmental variables on the aging process of bourbon. Each part of the building is controlled for particular variables and then adjusts specific conditions to try to find the best conditions to create a new flavor profile…the Holy Grail of Bourbon so to speak.
As I said, I hit the ground running and tasted everything they had to offer…thoroughly and completely. Then, there were flasks on the bus…then a tasting of Woodford Reserve where their new rye offering stole the show…then back to Alltech to taste some new products including a really nice Rye IPA. During all of this, my taste buds began to wither under the pressure but I found myself amazed at how much contact we were getting with the master distillers and those in charge of marketing at the distilleries. This was about the bourbon, but it was really about the people.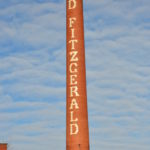 Friday was more of the same with stops at Stitzel-Weller, the Brown Forman Cooperage, and the Evan Williams Experience. Friday night's event was cocktail and food pairings. Oh my goodness…WOW!!! I haven't eaten like that in years!! The drinks were good, but the food was memorable. There were oysters on the half shell, little breakfast sandwiches with red eye gravy, goat cheese mousse, smoked shrimp, and a full buffet to go along with all of this. The food made the amber colored haze much less noticeable on Friday.
Saturday was the main event. We were essentially taken to school. If you thought you were an expert in bourbon, you were about to learn otherwise. All of the area master distillers were there and a couple from out of state as well. I started the day with a breakout session that was a bourbon and ham pairing. It was a selection of really nice hams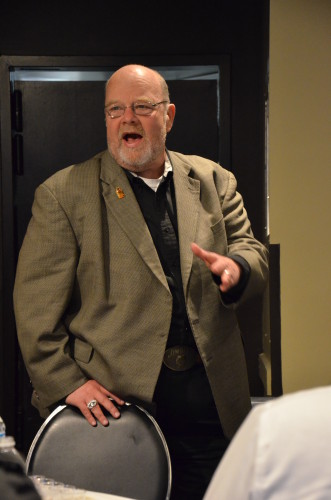 paired with Jim Beam brand bourbons which meant that we also got a couple of great stories from Fred Noe.
Immediately following that, we attended a discussion panel led by Fred Minnick that included all of the master distillers that were in the building…more great stories!! It was a lot of fun to watch all of these folks interact with each other and the audience. This covered a lot more ground than the Bourbon Icons session that we attended last (more stories) but was just as enjoyable.
After the third breakout, we truly began "classicing". We presented our tickets, got our Glencairn glass and started hitting the tables. There were an amazing number of distilleries there and they all wanted us to try their wares. . The VIP room was serving an assortment of really good Buffalo Trace products. The usual suspects were in the main hall…Four Roses (always tasty), Bulleit (again, tasty), Woodford Reserve, Jim Beam, Evan Williams, Michter's, Angel's Envy, Willett, and Alltech to name a few. There were more that have since faded into the amber colored haze. I know I tasted all of the stuff I knew I liked before the event and several things I wanted to try (including this year's Michter's 10yr release and Jefferson's Ocean Batch 4). Then it gets very hazy.
Sunday morning, when I was about halfway home, my check liver light came on. Bourbon Classic, you have won this round. Until next year…
Editor's note:  Ben took scores of fantastic professional photographs of multiple distilleries and bourbon-related sites during the Media Tour.   If there's a photo you see that you absolutely must have, let us know.  We hope to offer some of ben's photos for sale in the near future when he's had time to properly edit and work his magic on them.