Looking for the perfect gift for the whiskey lover in your life?  We've put together a list of some of our favorite products available on Amazon .com to help you find that perfect gift for your own lover of fine spirits.  Follow the links below for Amazon.com:
The Glencairn Glass:
The standard.  If you have a whiskey or bourbon lover in your life, make sure he or she owns at least one or two of these.  They're the standard by which all whiskey glassware is judged.
Set of 2:
Set of 4 or 6:
The Bellemain Glass:
This is the cheaper alternative to the Glencairn.  It's almost identical in size and shape, and at a much more attractive price point.  The only downside here is that you don't get "The Glencairn Glass" etched in the bottom and you have to buy a box of six.
Tovolo Ice Sphere Molds:
Does your whiskey lover like his or her sip on the rocks?  The Ice sphere or large ice cube is the way to go.  They melt slower, and allow greater surface contact for the whiskey to cool without being watered down as quickly.  And they look really cool.
And to store them:
If square is more your thing:
Glencairn Canadian Whiskey Glass:
Need a little more room in your whiskey glass?  check it out.  Yeah, I know it says "Canadian whiskey" on it, but trust me, good ole 'Murcan whiskey won't object.
For the readers:
Michael Veach is the rock star of Bourbon history.  His book should be required reading for any bourbon enthusiast:
Likewise, Fred Minnick is amongst the most respected bourbon and whiskey Writers on the planet, and this book sheds new light on an underappreciated force behind the development and growth of the industry in America:
The third part of the ModernThirst assigned reading list, Chuck Cowdery is amongst the most knowledgeable bourbon writers in the world.
New this year from Fred Minnick:

And from Mike Veach and Susan Reigler:

And finally, the definitive guide:
For the aspiring distiller or mixologist:
Home aging spirits and cocktails has taken off in recent years, and small barrels are a necessity.
We also recommend Beyond Barrels Bottle Aging Staves: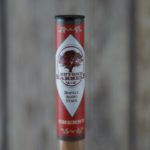 To "vat" bourbon or whiskey, you'll need a vessel:
For those who like chilled bourbon but dislike ice:
We don't love whiskey stones, but these do the trick:
Happy Holidays from ModernThirst!