[amazon_link asins='B01N5HU3CP,B00J3FJPW2′ template='MT-product-carousel' store='modernthirstc-20′ marketplace='US' link_id='84feba8b-3847-11e8-acba-3b48df9a4e02′]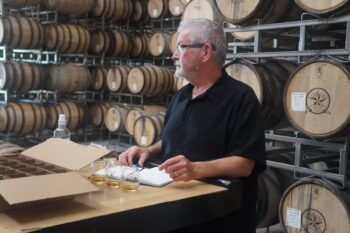 Only July 20th, I was invited to tag along on a barrel selection by Chris Zaborowski, owner of Westport Whiskey & Wine, one of the premier Louisville shops for top shelf whiskey, wine, and tasting events. I've been on a number of barrel picks over the past years, but this one intrigued me mainly because it was to Starlight Distillery in Indiana, a newer whiskey distillery I had never visited.  Also, selfishly, Chris and his store consistently offer some of the best private picks in the city, and I wanted to see how he does it.
For a little more background, Starlight Distillery is located in Starlight, IN (of course), and is part of a series of farms and agricultural businesses owned by various members of the Huber Family. The distillery is owned by Ted and Greg Huber and is located on the property of the Huber Orchard & Winery. Seven generations of Huber family members have lived and worked on the farm and winery since it was founded in 1843
Starlight Distillery began operations in 2001, bottling their first brandy in 2004. It was a logical step for the orchard and winery to move from wine to brandy and other spirits, as so much of the produce needed to produce liquors like brandy are grown on the property itself. It was only a few years ago that they began distilling bourbon and whiskey on the premises after a large scale expansion project that allows them to produce around 1,200 barrels per year.
Since it's located in Indiana, Starlight isn't a Kentucky distillery, Starlight, IN and the Distillery itself are less than 25 miles north of Louisville, KY. So it shares a similar climate with the historic bourbon-producing Bluegrass. And nearby Huber Farms, also owned by members of the Huber family, has been a destination for Louisville families for decades (or longer) for such things as buying produce, picking pumpkins during the fall, dining on home style food, etc. So Huber is a name familiar to most people in North/Central Kentucky, and one that carries a great deal of respect and history in the region. To make a long story short, this isn't really an out-of-the-blue investor capitalizing on the whiskey boom, it's a long-established agricultural, wine producing, and spirits distilling family naturally evolving into a market for which they are a natural fit. There is a significant difference.
And they have done it carefully. They have spent years researching and learning their trade, and much of the family has trained both on their property and across the world in their various crafts.
Our visit included a tour of newly renovated offices and tasting rooms, a trip to the distillery to taste several barrels, and a follow-up trip to the warehouse to taste several more, followed by lunch, hosted by Ted & Dana Huber and Jackson Stuber. Our group consisted of myself, Chris, and Whiskey Chicks founder Linda Ruffenach.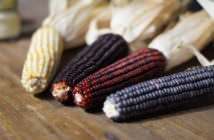 Starlight Distillery (designated DSP-IN-31) uses a propriety 4-grain mash bill of 51-53% estate grown corn, about 7% wheat, and the rest split evenly between malted barley and rye. They also experiment with various types of estate-grown corn ranging from Yellow Dint to Bloody Butcher.
The barrels we tasted were all around three years old, as that is the age of the bulk of their early product that went into barrels. They were pretty nicely divided in types of barrels with most being from Independent Stave but some being standard #3 char kiln-dried barrels with others being "Craft" barrels with alternate toasting/charring methods. They came out of the barrel mostly around 110º with some being as high as 118º. Entry proofs ranged from around 105º to 122º, which was interesting to see how they are still experimenting with what produces the best final product. It also led to a wide variety of flavor profiles. In addition, one was a barrel that had experimented with a higher rye (around 30%) mash bill than others.
The barrel ultimately chosen was Barrel 1455, around 3 years old with a ton of fruit on the nose and an explosion of flavors on the palate. The barrel entry proof was 122º and the proof at tasting was 112º. It is a very complex bourbon for one so young, entirely enjoyable to drink straight away. Chris says he will most likely request it to be bottled at barrel proof.
The bottles will be released at Westport Whiskey & Wine in late September with an expected price of $62. There may be a tasting and release event at the store, which is likely to also be a very fun experience, as the Tasting Room at WW&W has become a combination of tasting room, educational facility for whiskey and wine, and even a social outing destination during scheduled events. Check it out if you're in the area, and I highly recommend picking up this bottle of Starlight Bourbon.