My favorite part of the Bourbon Classic is the Cocktail & Culinary Challenge. It's amazing food with creative cocktails and it a blast. Matt, Wes, and I will be there throughout, and at the main event Saturday. If you're in town, or can be in town, this is a can't-miss event. And today we learned the pairings for the mixologists and the chefs. The lineup is, as always, mouth watering. Check it out, and get your tickets at bourbonclssic.com
Press Release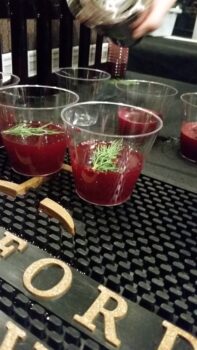 Louisville, KY (February 15, 2018) – With all eyes on Kentucky as the up-and-coming culinary destination, Bourbon Classic is pleased to announce the 2018 Cocktail & Culinary Challenge contestants and a partnership with Kentucky Proud. The Bourbon Classic Cocktail & Culinary Challenge presented by Kentucky Proud takes place Friday, March 2, from 7 – 10 p.m., at a new venue for the event: The Foundry at Glassworks.
The event showcases classic and contemporary Bourbon cocktails paired with a chef's Bourbon-themed culinary complement. Each chef will use Kentucky Proud products as a main ingredient, focusing on foods raised, grown, or processed in Kentucky.
"Kentucky is known around the world for many agricultural products, but perhaps noproduct draws as much global attention as Kentucky bourbon," said Agriculture Commissioner Ryan Quarles. "Kentucky liquefies between 15 to 20 million bushels of corn each year. In that spirit, Kentucky Proud is honored to be the presenting sponsor for this year's Bourbon Classic."
Attendees will have the opportunity to meet the contestants and hear them discuss their creations, chat with distillers and representatives about what makes the brands unique, and enjoy a tasting portion of each cocktail and small plate. A select panel of media personalities and industry experts will evaluate the cocktails and small plates individually and as pairings and select winners for each category.
2018 Cocktail & Culinary Challenge participants:
Barton 1792 Distillery
Greg Galganski and Oliver Miller, Proof on Main
Chef Mike Wajda, Proof on Main
Blade & Bow
Nic Christiansen, Butchertown Grocery
Chef Bobby Benjamin, Butchertown Grocery
Blanton's Bourbon
Shelby Pipes, Volare Italian Ristorante
Chef Josh Moore, Volare Italian Ristorante
Buffalo Trace
Norma Beekman, Lockbox
Chef Jonathan Searle, Lockbox
Four Roses
Hunter Green, Bistro 1860
Chef Michael Crouch, Bistro 1860
George Remus Bourbon
Austin Garrison, Bouquet Restaurant
Chef Stephen Williams, Bouquet Restaurant
Heaven Hill
Brianna Hlava, Butchertown Social
Chef Loreal Gavin, Food Network Star Contestant – Season 10
Michter's
Morgan Polson, Down One Bourbon Bar
Chef Ryan Smith, Harvest
Woodford Reserve
Isaac Fox, La Chasse
Chef Andrew Welenken , La Chasse