[amazon_link asins='B016YPDI3A' template='MT-product-carousel' store='modernthirstc-20′ marketplace='US' link_id='70d544ae-ba4e-4a19-b4e8-474de123996b']
I'm not going to lie. This is tough.
So it's day 3 of Social Distancing for COVID19. The weekend was fine. It just seemed like any other slow weekend without much to do. Now that we're in the work week and my kids are at home all day and I'm working from home, all bets are off. And there's no sports. NO SPORTS.
It's not that I never worked from home before this COVID19 shit started, it's that my oldest kid has "distance learning." What's distance learning, you ask? It's where the teacher sends home a packet of work for a kindergarten student to complete with their parent or guardian's help each day and we parents begin questioning why teachers don't make $2,000,000 per year. If you're wondering, it means we get a lot less of our work done and some of theirs.
Aside from that, I already feel disconnected to a degree.Yes, I've interacted with other human beings. ModernThirst had a fun video chat on Youtube we plan to repeat. But aside from that, I'm off my game. Did I mention the sports thing?
I was always the guy who refused to do anything without showering first. Nope. I think it was 4 pm yesterday that I finally hosed off. I went to the gym (semi) regularly before. Haven't touched my elliptical or treadmill at home. I usually didn't drink much during the week. I've had a nightly pour.
My wife tells me it's affecting my appearance, too, but I think she's crazy. I'll let you judge for yourself: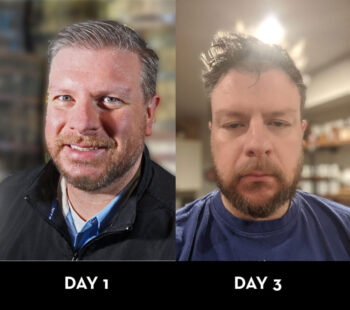 But on a few good notes, we're still stocked with groceries, I have enough bourbon to drown a whale, the Toilet Paper stocks are holding up nicely, and I have my family to keep me company.
All i can say is stay safe, be smart, and keep your sanity. Don't overdo the drinking, and don't forget to take care of yourselves. ModernThirst will have live video chats as we're available and we'll try to help keep you entertained. So subscribe to our YouTube channel to keep up with those and let's all get through this together.
Cheers!