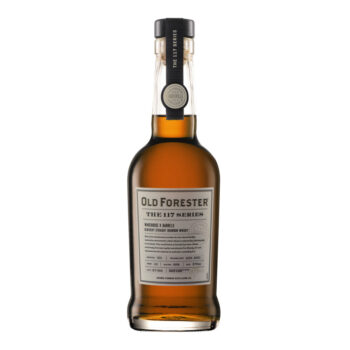 Louisville, Ky. (August 11, 2021) – Today, Old Forester Distilling Co. announces the release of the second expression in the 117 Series — a blend of barrels from historic Warehouse K.
The 117 Series is a limited-expression lineup created in Spring 2021, directed by the unique palate of Old Forester Master Taster Jackie Zykan.
117 Series: Warehouse K features a blend of barrels aged on different floors from a warehouse known to produce exceptional liquid. Constructed in 1953, Warehouse K uses the time-honored tradition of heat-cycling and has long been one of Old Forester's favorite places for Single Barrel expressions.
"Warehouse K has gained a cult following among bourbon connoisseurs," Zykan said. "This blend is a representation across multiple floors and locations within this warehouse, giving a more holistic example of the profile its barrels yield."
This year marks Old Forester's 151st anniversary, making it the only bourbon brand with an uninterrupted history, sold by the same family company before, during, and after Prohibition.
Old Forester Warehouse K is bottled at 110 proof and will be available starting August 12th at the retail shop at Old Forester Distilling Co. for $49.99 in limited quantities — and at select Kentucky stores.  Visit OldForester.com for more information.
Notes:
 
Color:   Rich honey
Aroma: On the nose, creamy chocolate, caramel, and brown sugar lead, with a hint of golden raisin and a foreshadowing of the pepper the finish will unveil.
Taste: The palate brings with it a full-bodied and rich viscosity, peripheral spice, and a  touch of black cherry alongside bitter molasses.
Finish: The robust yet balanced spice finish completes the story of the well-known complexity which is the K warehouse.
About Brown-Forman:
For 151 years, Brown-Forman Corporation has enriched the experience of life by responsibly building fine quality beverage alcohol brands, including Jack Daniel's Tennessee Whiskey, Jack Daniel's & Cola, Jack Daniel's Tennessee Honey, Jack Daniel's Tennessee Fire, Gentleman Jack, Jack Daniel's Single Barrel, Finlandia, Korbel, el Jimador, Woodford Reserve, Old Forester, Herradura, New Mix, Sonoma-Cutrer, Chambord, BenRiach, GlenDronach, Slane, and Fords Gin. Brown-Forman's brands are supported by over 4,800 employees and sold in more than 170 countries worldwide. For more information about the company, please visit https://www.brown-forman.com/.
About Old Forester Bourbon:
Old Forester is Brown-Forman's founding brand, founded in 1870 by George Garvin Brown. Brown believed Old Forester was so pure and consistent that he sealed it, signed it, and pledged, "There is nothing better in the market."
###
Please sip responsibly.
Old Forester Kentucky Straight Bourbon Whisky, 52% Alc. by Vol., Old Forester Distilling Company at Louisville in Kentucky. OLD FORESTER is a registered trademark. ©2021 Brown-Forman. All rights reserved. Please do not share or forward this content with anyone under the legal drinking age.