So a bourbon question I've heard quite a bit lately is 'How do you drink your bourbon?'
I usually sip it neat, or on the rocks. Why on the rocks? Simple: I like cold drinks, and I prefer high proof bourbons. That makes things like the large ice spheres the perfect way to drink them. The ice chills the bourbon and as it slowly melts it opens up the flavors of the higher proof whiskey. There are plenty of other ways to drink it, obviously. I recently watched a YouTube video where Julian Van Winkle of Rip Van Winkle Bourbon explained that he likes his on the rocks with a twist of lemon. Who am I to argue with the man responsible for the most in-demand bourbon in the world?
But here's a question for you: What do you drink it in?
Unlike other spirits, there simply isn't a generally accepted style of glass to drink bourbon, or whiskey in general for that matter. We all know wine glasses. We've seen beer steins and pint glasses. Vodka has shot glasses. Mixed drinks have martini glasses, high ball glasses, etc. What about bourbon?
Jim Beam provides a small glass snifter to anyone who takes their American Stillhouse tour in Clermont, KY. I found the snifters to be excellent for tasting bourbon neat. The glass holds somewhere around 4 ounces of bourbon with the Jim Beam logo printed clearly on the globe. I took the tour with a number of people from out of town who didn't want to fly home with glassware in their suitcases, so I found myself with 4 or 5 of them, and I use them still for tasting higher end bourbons neat. They can be purchased from Jim beam directly for about $10.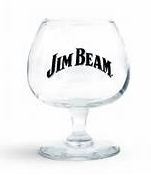 Recently, the Glencairn glass has become popular for bourbon drinkers. The Glencairn is a type of snifter designed for tasting Scotch Whisky, but the principles of the glass design and the spirit work equally well with bourbon. This makes the Glencairn an excellent option, and one that exudes a certain amount of style that you just can't get with a shot glass.
But don't discount the shot glass. If a bourbon lover sees you shooting premium bourbon, you may find yourself the object of ridicule. But it's easy to sip a great bourbon from a shot glass, so they do work fine for tasting.
However, none of these work for drinking on the rocks. That leaves us with the standard rocks glasses or "Old Fashioned" glasses. They do the trick, and it's what I most often use. But where's the style? Where's the panache? I think it's time someone designed a uniquely bourbon glass. What do you think? How do you drink your bourbon and what do you drink it in? Feel free to leave your comments in the comments section below!