[amazon_link asins='B016YPDI3A,B00I52ZH5S' template='MT-product-carousel' store='modernthirstc-20′ marketplace='US' link_id='f6adfeb3-bef2-4795-87fa-7c1733366258′]
Stats:
Barrel # 24
Lot ID: 05-L-28
Rick House: G
Floor: 4
Private Barrel Retailer: Westport Whiskey & Wine (Louisville, KY)
Aged 8 years
55% ABV (110 Proof)
Barreled on November 28, 2005
Price: $49.99
Distilled by Wild Turkey
Availability: Limited (non-private selection readily available)
What it is: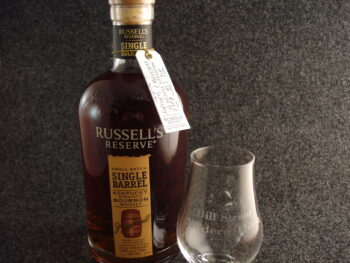 Wild Turkey has been producing Russell's Reserve for a number of years now.  As a slightly more refined version of what is often considered a no-frills bourbon to begin with, the regular Russell's Reserve is popular with those who like a smooth, but strong, in-your-face kind of bourbon. It's sort of like taking a hurricane, and putting it in a bottle.  The Single Barrel takes that one step further, ramping up the proof from 90 to 110, which is like releasing that hurricane back into the wild to wreak havoc once again.
Wild Turkey, the "Kickin' Chicken," is not for the meek.
Late last year, Wild Turkey joined the host of other distilleries and announced the beginning of their private selection program.    Like programs elsewhere, this allows retailers to come to the distillery, sample a series of barrels, and choose one or two to buy and offer exclusively to their customers.  Louisville-based liquor retailer Westport Whiskey & Wine made sure to be first in line for that program, and selected two barrels on January 28th of this year. According to the liquor store, these were the very first Wild Turkey Russell's Reserve Private Selection barrels to ever reach the market place.
 Packaging: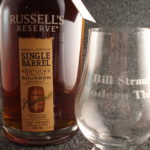 This is the typical Russell's Reserve Single Barrel packaging.  It comes in a short, round, corked bottle with an attractive yellow label.  An additional label on the side and a handwritten tag around the neck mark this a private selection offering.
Appearance:
This pours into a Glencairn a light amber.  It appears clear and inviting.
Aroma:
The first sensation on the nose is a caramel, but a creaminess follows that speaks to fresh banana bread and vanilla.  There is a slight warning of heat on air as well.
Taste:
It starts with caramel, and quickly rushes to the middle of the tongue with cinnamon and heat.  The back of the tongue is greeted with more spiciness including cinnamon and black pepper.
Finish:
Long finish.  The caramel continues throughout, but the overarching taste on the finish is definitely the spice.  There is just enough heat to provide a fine experience neat without overpowering the flavors.
Synopsis:
Surprisingly refined, this selection does extremely well with no ice or water.  However, I did add some distilled water and found it did not deaden the flavors at all.  If anything, it brought the banana bread and creaminess more to the forefront.  Despite the relatively high proof indicating it will best be enjoyed with ice, that's not the case here.  This is an elegant, tasty bourbon that is best taken neat or with splash of water, no more.
Wild Turkey may sometimes be the forgotten bourbon in the talk of the top shelf spirits.  It's often considered the rambunctious, unrefined, and maybe a touch irreverent cousin to some of the super premium spirits offered by other major distilleries.  It's kind of like that cousin at family gatherings…the guy who raised a lot of you-know-what in his youth, and even though he's grown up, there's always that fear that he'll cut loose and turn a family birthday party into a full-blown bar brawl.  It shouldn't be.  At the very least, offerings like this put it amongst the best, re-affirming legendary distillers Jimmy and Eddie Russell's place in the pantheon of living bourbon legends.
This particular selection by Westport Whiskey & Wine was excellently chosen by the owners of the shop, Chris Zaborowski and Richard Splan, and should cement their shop as a destination source for local private selections in the future.
ModernThirst.com Score: 89 out of 100.
Wild Turkey Russell's Reserve Single Barrel
Surprisingly refined, this selection does extremely well with no ice or water.