If you have read our other stories on The Bourbon Society of Cincinnati, you know that while still in its infancy, this society is off to an exciting start. While last night was a departure from the format of the first two meetings, the enthusiasm is growing exponentially.
Previous meetings were held at the Summit Hills Country Club in Crestview Hills, KY.  This months meeting was moved to Japp's – Since 1879 in the trendy and revitalized OTR area of Cincinnati. The reason for the move is the owner of Japps, mixologist and Bourbon Society member, Molly Wellman arranged a special tasting of Templeton Rye with founder and president, Scott Bush.
Templeton Rye is said to be a premium whiskey made during prohibition which Al Capone was known to keep for his private stock.  Scott Bush's great grandfather Frank used to make "The Good Stuff" as they call it, outside of Odebolt, Iowa.  The brand has been resurrected in 2001, with distribution rapidly increasing outside of Iowa since 2007. The fact that the rye is purchased from MGP in nearby Lawrenceburg, Indiana was not really mentioned.
Bush lead the society through the history of Templeton Rye and treated us to a enjoyable tasting of the only product that Templeton produces. Scott says that they are firm believers in doing one thing and doing it right. This is a balanced sipping whiskey, but it is still a big rye with a bold start, it does smooth out after the initial rye bite.  It is  spicy and woody to the taste, a couple drops of water makes it much smoother. The tasting was enjoyed by all even if it was a deviation from the spirit the society is named after.  Luckily there was no shortage of actual bourbon behind the bar, and a tradition of this young society is for members with a birthday in the current month to bring a bottle of bourbon to share. This months bottles included Old Forester Single Barrel, Old Medley 12 year, Wathen's Single Barrel and Watershed Bourbon.
The Bourbon Society of Greater Cincinnati is certainly gaining momentum and turning into a great fun group of bourbon lovers. They continue to get closer to the goal of the first private barrel, this will happen when membership increases.  With the crowd and excitement that was witnessed on Monday, it will not be long.  The next meeting is Monday, June 9th, I recommend that you attend if you want to be in on the ground floor of such a great society!
Membership info: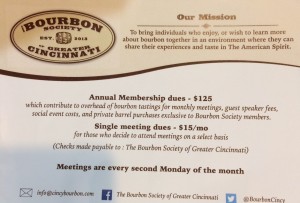 May birthday offerings: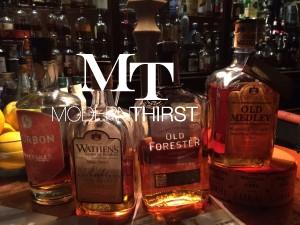 Japp's bourbon selection: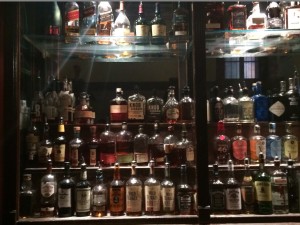 Great turnout: