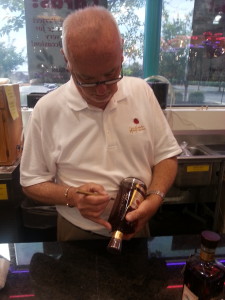 Four Roses Master Distiller and all-around bourbon celebrity, Jim Rutledge, was in Louisville today signing bottles and speaking with customers at the Liquor Barn at Springhurst.
Liquor Barn recently purchased all 10 Four Roses recipes of the private selection single barrel bourbon, and he offered his opinions and suggestions on the recipes.
In particular, he said the "Q" recipes in the 10 years old range are particularly good right now.
I also asked him if Four Roses had any plans to release a rye whiskey.  Jim said he has pushed for one for several years, but has dropped that goal at the moment because Four Roses needs all their distilling capacity to meet the extraordinary demand for their bourbon.
It was a very enlightening conversation.  Jim is a very friendly and personable fellow.  He's quick to answer questions honestly and In a very straight – forward manner.  He is a true throw-back to the days when bourbon making was a face to face business rather than the corporate profit machine it often resembles today.  Oh yeah…he also makes fantastic bourbon.
He was pouring samples from a OBSQ bottle, and after speaking with him, I chose a bottle from recipe OESQ and he wrote a personalized message and signed the bottle.
Great experience.