Smooth Ambler Old Scout Single Barrel Bourbon
This really gets into the actual flavor of the distillate without being bogged down by charcoal or wood tannins, which is a bit of a deviation from the norm.
Stats: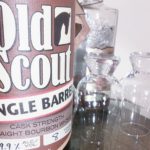 Producer: Smooth Ambler; Maxwelton, WV
Distiller: MGP; Lawrenceburg, IN
59.9% ABV (119.8 Proof)
Age: 8 years
Price Paid: $54
Barrel 904
Bottled on 9/16/2014
Availability: Somewhat Rare
What it is: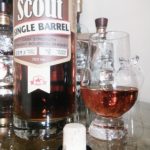 In an age when it seems whiskey producers do everything they can to obscure the origins of their distillate, and create false and misleading narratives about the source of their whiskey, Smooth Ambler is a refreshing change of pace. While they are distilling many of their own spirits, they also do source whiskey from other producers, namely MGP in Indiana. They are very transparent on the process, which we here at Modern Thirst appreciate greatly. To differentiate between their in-house products and the sourced products, Smooth Ambler labels all the sourced products as "Old Scout." Thus, this is a sourced whiskey from MGP in Indiana.
This particular bottle is a single barrel cask strength bourbon, aged 8 years.
Packaging:
Standard tall, long-necked whiskey bottle, similar to other Old Scout offerings. This bottle is slightly taller than many other labels, and it does stand out a bit for that reason, hearkening a bit towards the tall, elegant Buffalo trace Antique Collection look. The side label denotes the barrel number, when it was bottled and who actually bottled it.  In this case, it is barrel 904, bottled on 9/16/2014 by "Sarah."  I must take a moment to note that all of the Smooth Ambler products I've seen with the name of the bottler seem to have "Sarah" written in that field.   So either It's a huge coincidence, or one poor soul is bottling all of their products.  If that's the case, I hope they have a good benefits package that includes treatment options for carpal tunnel.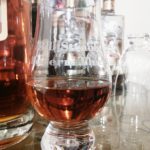 Appearance:
Deep, velvety brown
Aroma:
A power bomb on the nose. Lots of alcohol, plenty of caramel, maple syrup, and brown sugar with hints of cinnamon and clove.
Taste:
This is a big bourbon. There are plenty of hints of burnt caramel, black pepper, cinnamon, and cumin. There isn't a great deal of oak or wood on this.
Finish:
Very long, the burnt caramel lingers seemingly forever. There are definitely some issues here with the lack of barrel flavors. This is an eight year old bourbon, yet it has very few distinct oak or wood flavors at all. That's a trend I've found with the bourbon side of the Old Scout lineup, and it's no different here.
Synopsis: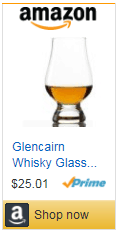 I like this bourbon. Yes, I'm a sucker for anything barrel strength, but it's more than that. This really gets into the actual flavor of the distillate without being bogged down by charcoal or wood tannins, which is a bit of a deviation from the norm. It's a nice change of pace. Still, I'd like to see this with either a little more time in the barrel, maybe a 10 or 12 year expression, or perhaps with a heavier char level on the barrels to impart just a bit more of the barrel flavor to it before I rank this up there with the better cask-strength bourbons on the market. The lack of age on the tongue or on the finish leaves it just a touch one dimensional, though still most definitely worth a sip.
ModernThirst.com rating: 88 out of 100 Points
For reviews of other Smooth Ambler Old Scout products, follow this link.
---
The ModernThirst.com scoring system is a standard 100 point system based on 4 categories, taken in order.

Appearance: 15 points
Nose: 25 Points
Palate/Taste: 35 Points
Finish: 25 points

95+        Epic
90-94     Excellent, Good representative of its style
85-89     Solid sipper
80-84     Drinkable, but potentially flawed.
75-79     Low quality, flawed, use as a mixer only
<75        Rot Gut, avoid