[amazon_link asins='B00H143UXW,B06Y1VGMH2′ template='MT-product-carousel' store='modernthirstc-20′ marketplace='US' link_id='89cd9de4-ff80-11e7-ad0b-b3d612b3a656′]
This will be the first in a series of blind tastings we will conduct on ModernThirst.com.  We're not looking to trick anyone, or to be tricked, so we're not necessarily hiding the labels we'll test, but really presenting multiple bourbons or whiskeys to a taster (likely me, thank goodness) to see how they compare when the taster isn't sure which is which.
Can the taster differentiate?  Can he guess which was which?
We'll start out with a series of related bourbons.  All are Brown-Foreman's Old Forester-branded whiskeys, meaning they should share very similar overall characteristics.  All have been reviewed previously on the site before, as well.
The Old Forester selections are: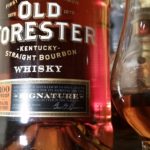 Old Forester Signature
Old Forester 2014 Birthday Bourbon

Old Forester 1870 Original Recipe
To conduct the tasting, I poured equal amounts of each bourbon into identical Glencairn glasses.  I used a post-it note to number each of the three, and while I left the room, my wife changed the numbering, writing down each so that I could check later and reveal the actual pours to myself after the tasting.
First, let's talk about the expectations.
This should be an interesting comparison because while the bourbons are very similar in some ways, there are some significant differences in others.  The Birthday bourbon is by far the oldest of the three, so I would expect a lot more traditional barrel flavors from it.  The Signature is the highest proof of the three, so I will look for some extra heat.  The 1870 blend was far and away the sweetest of the Old Forester's I've reviewed, so I'm looking for that cordial-ish sweetness on the tip of the tongue.  I am expecting that I will be able to identify the 1870 the easiest, as it's the outlier at 90 proof.  That only leaves two when it comes to guessing, and I would hope the age on the Birthday Bourbon is a dead giveaway.  Let's get to the tasting.
Bourbon #1:
The nose is all sweet cherries and apricots with peach and banana hints.  The flavors speak of caramel, some oak, and plenty of maraschino cherries.  It's very enjoyable, and the finish is medium in length.  I'm reasonably sure I can recognize this one.
Bourbon #2:
There is a strong sticky-sweet caramel aroma to this one, lots of oak, and more peach on the nose.  The flavors are rich and decadent, with caramel, tobacco, leather, and mild cherries on the tail end with some oak rounding out the flavors.  The finish is longer on this with some tannic wood and oak on the tail end.  This actually may be harder than I imagined.  The overall flavors on this are very similar to the first bourbon.  There is a touch more oak and caramel on this one, so I think I can make a decent guess.
Bourbon #3:
Lots of brown sugar and graham cracker pie crust on the nose here.  There's an underlying "refreshing cleanliness" to this aroma that reminds me of a cool drink from a garden hose in the summer.  The mouth gets plenty of heat along with peaches and plantains and young, unripened bananas on the tip of the tongue that gives way to oak and faint butterscotch.  The Finish is long, and there is al ot of clove and cinnamon spice to this.  No doubts for me on which bourbon this one could be.
So my final guesses are:
Bourbon #1: There are plenty of maraschino cherries on the this ,and the nose is fruitier and sweeter than #2.  That speaks towards the 1870.
Bourbon #2: Tough call, but I get a  lot more oak and caramel on both the nose and the tongue on this one, so I think I'm confident in going with the Birthday Bourbon.
Bourbon #3: Signature.  easy call here. More heat than the other two, younger, and that underlying profile is all Signature.
Final Answers.
And now for the big reveal…drumroll please:
(…waiting patiently for drumroll…)
#1: 1870
#2: Birthday Bourbon
#3: Signature
(…waiting patiently for polite clapping…)
I was right on all three!  I won't get too excited or brag about it, though, as there were age and proof differences on all three, and two of the three were among the more recent reviews on the site here.  But it was a fun exercise in picking out certain nuances between very similar sips of bourbon and identifying the older versus younger bourbons and the higher versus lower proofs.  All blind tastings won't be so easy.  I'm well aware of that.  I do encourage aspiring bourbon connoisseurs to try something similar at home on occasion, as it's a great training tool for your palate.  Too often, we can get caught up in what's written on the bottle rather than what's inside it, and that's a shame.  This tasting alone proves that the relatively common $22 Old Forester Signature isn't miles apart from the extremely limited release Birthday Bourbon.  The common bones and DNA are there, and there's no reason either couldn't be a highlight of a bourbon tasting.