[amazon_link asins='B00H143UXW,B06Y1VGMH2′ template='MT-product-carousel' store='modernthirstc-20′ marketplace='US' link_id='89cd9de4-ff80-11e7-ad0b-b3d612b3a656′]
Jul 21, 2015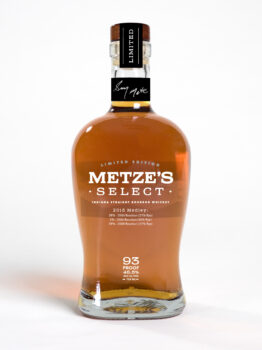 FOR IMMEDIATE RELEASE
MGP Introduces Metze's Select Limited Edition Indiana Straight Bourbon Whiskey
*Limited edition medley of fine whiskeys
*Only 6,000 hand-numbered bottles
*Mashed, distilled and aged at MGP's historic Lawrenceburg, Indiana, distillery
ATCHISON, KAN., July 21, 2015—MGP's Lawrenceburg, Ind., distillery has been producing some of the world's finest whiskeys for nearly 170 years. Building on this strong history, MGP announces the introduction of Metze's Select, a limited edition Indiana straight bourbon whiskey.
"MGP has a proud legacy of making world-class whiskeys," said MGP President and CEO Gus Griffin. "Metze's Select celebrates that heritage and showcases our distillation, maturation and formulation expertise."
Metze's Select combines some of MGP's favorite whiskeys to produce a well-balanced bourbon featuring a Lawrenceburg-style high rye characteristic that merges spicy notes with creamy vanilla and caramel.
MGP's Master Distiller Greg Metze has crafted only 6,000 hand-numbered bottles of this unique expression, which is the result of marrying three distinct straight bourbon whiskeys. The brand consists of 38% 2006 bourbon (21% rye), 3% 2006 bourbon (36% rye), and 59% 2008 bourbon (21% rye), all made by MGP. Metze's Select is bottled at 46.5% alcohol by volume and will be available in 750ml bottles at a suggested retail price of $74.99. It is expected to be available at retail beginning in September this year.
Metze's Select follows the 2014 release of Metze's Medley Indiana straight bourbon whiskey, a very limited release which was introduced in conjunction with Lawrenceburg's inaugural Whiskey City Festival. Unlike Metze's Select, it was not made available for retail sale, but instead offered a unique way to provide community support through donations to United Way.
San Francisco's Anchor Distilling Co. will handle the sales and marketing of Metze's Select.
About MGP
MGP is a leading supplier of premium distilled spirits. Its range of distilled spirts include bourbon and rye whiskeys, gins and vodkas, which are carefully crafted through a combination of art and science and backed by nearly 170 years of experience. The company is headquartered in Atchison, Kansas, and has distilleries in Atchison and Lawrenceburg, Indiana. For more information, visit mgpingredients.com.