[amazon_link asins='B00H143UXW,B072HNRNGK' template='ProductCarousel' store='modernthirstc-20′ marketplace='US' link_id='222d3c95-8e4f-11e7-9b89-6d8a724d296b']
I love a blind tasting.  At its heart, it's the most "honest" way to properly taste and judge a bourbon.  Too often, taste is influenced by things like price, marketing, and packaging.  So particularly when comparing more than one bourbon, it's important to strip all that away and just taste the liquid in the bottle.  Here's a perfect example.  Wheated bourbons are amongst the hottest and most collectable on the market today.  That's thanks to a certain high priced, low-volume, now-produced-at-Buffalo-Trace wheated bourbon that has grown men acting like teenagers at a 1988 beanie baby convention; scrambling over each other to be first in line for new store openings, camping out overnight, etc.  It's embarrassing, and the lack of desire to play into that ridiculous frenzy is why we do very little coverage of the label at all on this site.
But there are some really nice 12 year old wheated bourbons out there, and we thought we'd taste a few blind to let you, our readers, know what we thought.
Weller 12 Year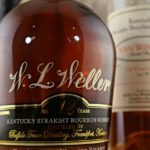 It's one of the best values in bourbon at its retail price point.  Unfortunately, its common bones shared with a certain three-name lineup of wheated bourbons also produced at Buffalo Trace has caused a run on Weller 12 that makes it nearly impossible to find in many areas.
90 Proof
Release: 2014
Distilled at: Buffalo Trace
Very Special Old Fitzgerald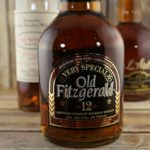 Another 12 year wheated bourbon sharing at least some common history with that bourbon-that-shall-not-be-named.   Weller, the not-to-be-named bourbon, and Old Fitz all originated at the Stitzel-Weller distillery in Shively.  When it closed, all three wheaters eventually moved on to greener pastures.  this one went to Heaven Hill.  Heaven Hill has severely limited production and distribution in recent years, making this difficult to find.
90 Proof
Release: 2013
Distilled at: Heaven Hill
As for the not-to-be-named bourbon?  Screw it.  We're throwing it in there as well.
Van Winkle Special Reserve 12 Year "Lot B"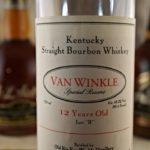 This one shares the same mash as the Weller 12 and typically comes from the same distillery, meaning it should share quite a few similarities.  However, this bottle is a legacy bottle from 2004, meaning it was distilled in 1992 at the latest, making it likely a Stitzel-Weller-produced bourbon.
90.4 Proof
Release: 2004
Distilled at: Stitzel-Weller*
So they are three wheated bourbons which originated at the same distillery using the same recipe. With the closing of Stitzel-Weller, they all moved on to other distilleries.  Call them three brother bourbons, all separated at birth.  This tasting represents the three expressions: Stitzel-Weller, Buffalo Trace, and Heaven Hill.  This should make for an interesting comparison.
I poured a sample of each into a 2 ounce Boston Round bottle and had my wife, Mrs. Thirst, mix them up while keeping track of which bottle contained which bourbon.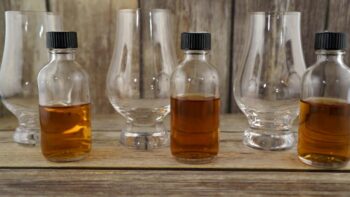 They were marked as #1 through #3.  I poured them each into a Glencairn Glass. I scrupulously tasted each and wrote down my notes before revealing the labels of each.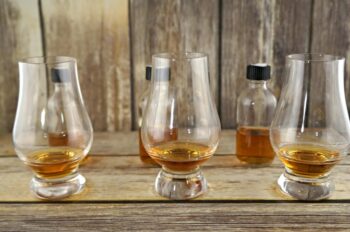 Here's the results:
Appearance:
#1: Easily the palest of the three.  Light gold in color.
#2: Fairly dark amber.
#3: Darkest of the three.  
Aroma:
#1: Lots of simple syrup, circus peanuts, bubble gum, and wedding cake on this.
#2: Graham crackers, pie crust, cinnamon, vanilla, and slight oak.
#3: Heavy oak, caramel, vanilla, lemon zest.
Flavor:
#1: Oak and sweet sugary syrup followed by light pie crust and icing.
#2: Butterscotch, gingerbread cookies, graham crackers, and cinnamon.
#3: Butterscotch, lemon zest and orange peel, strong oak, some hints of barrel char.
Finish:
#1:Short, sweet, creamy mouth feel.
#2: Medium-long with baking spice tail.
#3: Long, creamy mouth feel, citrus notes.
Synopsis:
Forced to choose, it would be a very close race between #2 and #3.  #1 was just too weak and lacking the typical flavors I would seek in a traditional wheated bourbon.  Still, none of them are bad by any stretch.  In fact, they're actually all quite good, and I wouldn't complain sipping any of them. But I like the extra oak on #3, so if forced to choose, I'd pick that.
The Big Reveal:
Bourbon #1: Weller 12 Year (3rd Place)
Bourbon #2: Van Winkle Special Reserve 12 Year Lot B (2nd Place)
Bourbon #3: Very Special Old Fitzgerald 12 Year (Winner)
Any surprises?