[amazon_link asins='B00H143UXW,B06Y1VGMH2′ template='MT-product-carousel' store='modernthirstc-20′ marketplace='US' link_id='89cd9de4-ff80-11e7-ad0b-b3d612b3a656′]
One of the most common misconceptions newbies to the bourbon world hold is the relation of age to the quality of whiskey. Simply put, older is not the same as better. American Whiskey isn't Scotch. We age our whiskey in far more variable climates, in new, charred oak barrels, whereas Scotch distillers are aging their product in cooler climates in pre-used barrels. Hence, a Scotch can sit for 20 years, 30 years, or even longer in the barrel before the flavors begin to deteriorate into a woody mess. Not so with bourbon.
Many distillers will say that 6-8 years in the barrel is optimum for a bourbon. Some will say 12 years is the max. And even that depends on where the barrels are aging and what profile the distiller is trying to achieve. Regardless, there is clearly a peak at which bourbons cease improving in the barrel and begin to really head downhill quickly. A side-by-side-by-side of Pappy Van Winkles can show that quite easily. Whereas the 15 or 20 year versions are generally well received, even raved about at times, rarely does the 23 year version arouse the same enthusiasm from bourbon geeks. In fact, aside from the rarity of it and the sensational hype as a collector's piece, I would wager that the 23 year version is not well thought of at all by whiskey lovers.
But that raises a question. What are the best extra-aged bourbons from the past few years?
Here's my list of the 13+ year old bourbons (and a couple other whiskeys) of the past 2-3 years that are worthy of a sip, based solely on the taste of what's in the bottle (because bourbon is meant to be consumed, not collected).  So this doesn't factor in value or cost, ignores collectability, and most certainly doesn't consider "hype."  This isn't intended to be an exhaustive list, and is limited to those I've tried (and can remember) over the past few years.
I.W. Harper 15 Year:
This is a relatively new offering from Diageo, and was produced at the New Bernheim distillery (Now Heaven Hill). It can still be found on shelves, and that's surprising, given its relatively competitive price tag of $70-80, and the fact that it's actually pretty good stuff.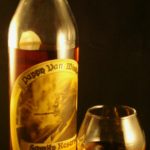 Pappy Van Winkle 15 & 20 Year:
I hate mentioning Pappy on this site. In fact, I usually avoid it at all costs. The hype long ago surpassed the product. But I can't fail to put it in this list. The 20 year is a soft, sweet, flavorful whiskey worthy of inclusion. The 15 year is spicy and warm in all the right ways. The two of them show how age and proof can greatly affect the final product's taste. Granted, you probably have to perform illegal and immoral services to liquor store owners to get a bottle at retail, but if you're lucky enough to get them, both are excellent sippers
Lost Prophet:
This 22 year offering from Diageo's Orphan Barrel distilling surprised me. I was already intrigued by its pedigree before trying it, but once I did, it did not fail to deliver. This was distilled at the then-George T. Stagg distillery in Frankfort, now Buffalo Trace. It is easily the best of the Orphan Barrel releases, by a pretty wide margin, actually.
Forged Oak:
Like the Harper 15 year, this, too, is a 15 year bourbon from the New Bernheim distillery, and was bottled and released by Diageo. Unlike the Harper, however, this one has a prominent oak-forward profile and drinks like a much stronger bourbon. It is very full-flavored, and more akin to the now-Heaven Hill barrel-char flavor profile.
Elijah Craig 18 Year:
It seems that with each successively older release of the single barrel, the extra aged Elijah Craig series gets a little worse. In my mind, the 18 year version was far and away the best. The 20 was not so good, while the 21 year was a step back towards drinkability, it still pales compared to the 18. But make no mistake, this one is still pushing the juice's limits on aging.
Parker's Heritage 8th Edition Wheat Whiskey:
Okay, so it's not a bourbon. Still, this annual release of Parker's Heritage was 13 years old and fantastic. It's sweet, viscous, and was our favorite whiskey of the year in 2014. If you can still find any of this on shelves, don't pass it up.
Jefferson's Presidential Select 18 Year:
A one-time offering that is likely long passed on from any liquor store shelf, JPS18 was a great, great expression of older, wheated whiskey.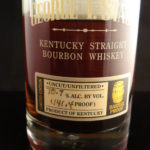 Buffalo Trace Antique Collection; George T. Stagg, William Larue Weller, Eagle Rare 17 Year, Sazerac Rye 18 year:
Generally around 18 years in age (around 15 this year), George T. Stagg is the pinnacle of great standard recipe bourbon for me. It's warm (mild understatement, given its 140-ish proof), flavorful, and amongst the best whiskey on the market today. William Larue Weller is the best wheater on the market, given its barrel proof bottling. The 2015 version, however, is only about 12 years old, so it's borderline for this list. Eagle Rare 17 is always a great whiskey, showing a standard 90-proof version of a 17 year old product. Saz, as it's commonly known, is one of the older and better rye whiskeys on the market. This entire collection can be as difficult to find as anything, however, so good luck locating it at retail prices.
Michter's 25 Year Rye Whiskey:
This is a flavor bomb of a rye whiskey.  It's warm and spicy with full barrel flavors.  All you need to do to get a bottle is sell a kidney or three.  Good luck with that.
Michter's Single Barrel 20 Year Bourbon:
Okay, so it's not quite as good as the Michter's 10 year.  It's still a really tasty sip for a 20 year old sourced bourbon.  If price ($400+ retail)  isn't a factor, it's worthy of a drink or three.
So that leaves us with a question.  Which older bourbons and whiskeys have we tried in recent years that we DON'T recommend, based upon taste alone?
Older Bourbons to Avoid:
Pappy Van Winkle 23 Year, Jefferson's Presidential Select 21, 25, and 30 Year, Old Blowhard, Barterhouse, Rhetoric 20 Year, Elijah Craig Single Barrel 20, 21, & 23 Year, Evan Williams 23 Year, Blade & Bow 22 Year, Michter's 25 Year Bourbon.
*Note:  Willett Family Estate bottles vary greatly from barrel-to-barrel, so it's not feasible to rank them all here.  The best course of action there is to find a review from a trusted source and base your decision on that, unless there is a place you can try before buying.