We spend a lot of time writing about bourbon tastings and reviews.  We spend a decent amount of time talking about distilleries and distillers.  But it's important to remember that the advent of "bourbon tourism" has a much wider impact than simply those paying for a tour of the places bourbon is made.  The "bourbon boom" has had wide-ranging impact on more than just bourbon producers. Lawrenceburg is a great example.
Several weeks ago, I visited Lawrenceburg for the first time in a couple of years.  Home to the Four Roses, Wild Turkey, and formerly Pappy Van Winkle distilleries, Lawrenceburg has long been a focal point of the bourbon industry.  It amazed me how much the small town had changed in the past few years, capitalizing on the increased traffic from those visiting the distilleries.  Over 600,000 visitors poured into Kentucky last year alone to visit the 9 major distilleries on the Bourbon Trail, and with two of the largest and most well-known distilleries, Lawrenceburg has flourished.
After popping in at Four Roses, I decided to pay a visit to two of the newer bourbon-related businesses on Main Street.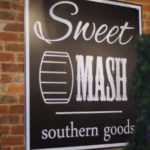 Sweet Mash is a southern boutique gift shop located on Main Street specializing in bourbon and cocktail related gifts.  I spoke with Tamara Barriger Smith, co-owner of the shop, and she spoke about growing up in the area, and seeing a need for a shop that, unlike the distilleries, focuses on all the things that surround the bourbon culture aside from the actual bottles of whiskey themselves.  The result is a fun shop right in the heart of Lawrenceburg carrying items such as bourbon crafts, t-shirts, hats, jewelry, wall art, foods, and more, all focused on local and bourbon-related themes.
Following Sweet Mash, I stopped in just a few doors down on Main Street  for the grand opening of the newest downtown Lawrenceburg business, the Art Emporium and Frame Clinic.  Under the direction of Brenda Gardner, plus Jennifer and Shannon Redden, the Art Emporium focuses on eclectic art, custom framing, and unique gifts from local artists, many of which bear a decidedly bourbon theme.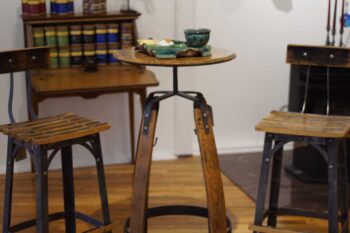 Not surprisingly, sometimes-ModernThirst Photographer, Ben Durant, had several works for sale at the opening, all of which sold in short order.
But the Art Emporium isn't limited to bourbon-related items.  In addition to custom framing services, there are a wide variety of local-made glass wares, photography, art, and crafts.
For a town of just under 11,000, you might not expect the vibrant Main Street atmosphere that has grown in downtown Lawrenceburg.   You might expect a sleepy, quiet, country community.  Then again, 50 years ago, Napa Valley was a sleepy, rural area with agricultural roots and little to no tourism.  Like Napa with wine, central Kentucky has become the heart of bourbon culture, and Lawrenceburg is a prime example of the results.  The real concern with such enterprises is whether they exist merely as tourist traps, or whether they're authentic and true expressions of the cities and communities in which they exist.  Both the Art Emporium and Sweet Mash are genuine, local, and sincere additions to Lawrenceburg, and worthy of a visit.  They give a great taste of what the "bourbon culture" truly is- how distilleries are inextricably intertwined with the communities around them, thus making the bourbon industry much larger than the producers themselves.