Readily available at nearly any liquor store or drug store, this $25 bottle is full of deep, rich, spicy character and is a steal in today's nearly ridiculous bourbon market.
Wild Turkey 101
Vital Stats
◾Distiller: Wild Turkey, Lawrenceburg, KY
◾ABV: 50.5% (101°)
◾Mash Bill: 75% Corn, 13% Rye, 12% Barley Malt
◾Barrel Entry Proof: 114º
◾Barrel Char Level: #4
◾Age: NAS (7-8 years, estimated)
◾Price Paid: $24.95/750ML
◾Availability: Readily Available

What it is:
The Kickin' Chicken.  Wild Turkey 101 is the iconic standard label for Wild Turkey Bourbon.  Under the watchful eye of Master Distiller Jimmy Russell for nearly 55 years, Wild Turkey has long been a stalwart of the bourbon industry known for its rebellious image and in-your-face bourbon flavor.
This 50.5% alcohol whiskey is not age stated, though I have it on good terms that the age is generally no less than seven years, and usually closer to eight, if not over.  One brand rep told me recently their new standard practice is to mingle barrels of 6, 7, and 8 year bourbon, though he wouldn't go on record.
I bought this for two reasons:  The first is a feeling of responsibility.  This is a standard drinking bourbon for a lot of people, and we haven't reviewed it yet.  I felt obligated, despite my misgivings about what it would taste like, not having tried it for several years.  The second reason is that I've enjoyed several private selections of Wild Turkey products recently, and Matt's recent video review of Wild Turkey 101 got me thinking maybe I haven't been fair to this label at all.  I don't want to be a bourbon snob, so I should  at least prove my suspicions correct, thereby debunking Matt's taste profiles altogether.  Okay, that sounds just a little snobbish.
Still, some years ago, Wild Turkey 101 was an excellent sipper.  Back as far as the 1970s, I'd even argue it was one of the best bourbons made.  But recent bottles I tried a few years back lacked depth and complexity.  They were sort of brash, unfinished-tasting bottles of hard liquor.
Packaging:
Wild Turkey is currently redesigning many of their bottles.  Not having high expectations for this, I opted for the plastic 750ML traveler package.  Why not?  It's a $25 bourbon, for goodness sake.  It can't be all that good, right?  As I mentioned, this is a plastic container with the standard Wild Turkey 101 label on the front and plastic screw top.  It's awful.  I wouldn't want to be seen with a plastic bottle, right?
Appearance:
Okay, I'll give them this.  It's a nice, amber color in the Glencairn- a deep reddish brown.
Aroma:
Well, I'll give them this one, too.  Plastic bottle aside, the smells coming off this bourbon are really nice. Orange and lemon with definite canned peaches initially are followed up by some cinnamon and clove, finally finished with dark plums and raisins.  I'm starting to think I may not have given Jimmy Russell enough credit.
Taste:
Right off the bat, this bourbon hits the tongue with a punch of gingerbread.  It's followed by a spicy combination of cinnamon and vanilla that develops into black peppery and rye spices on the back of the palate.  There is plenty of underlying fruit and citrus as well.  the mouth feel is surprisingly creamy, reminding me more of a wheated feel than a rye-based bourbon.   This is really tasty.  Now I'm feeling like I may have been a bourbon snob.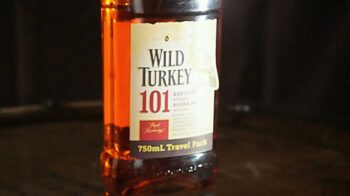 Finish:
Long, smooth, and spicy, flavors of baked goods, cloves, and more gingerbread seem to linger and become more rounded and sweet as time passes.
Synopsis:
I kid about snobbishness.  But this bottle is a very nice bourbon that I haven't give due credit to over the past two years of reviews and ratings on ModernThirst, and I'd wager there are many of you out there who have done the same.  It's refined, creamy, and sweet on the tongue with the perfect amount of heat from what might be the perfect bottling proof of 101º.  Bourbon geeks have long enjoyed Wild Turkey's flavor profile, sometimes even purposefully perpetuating the undeserved image of a rough and unrefined whiskey to keep rarer expressions for themselves.  The true measure of a distiller is not whether they can find a handful of amazing barrels amongst their hundreds of thousands or even millions of barrels aging in warehouses.  Let's be honest, make enough a good distillate and there should be a few choice barrels out there for a premium special-release limited edition whiskey that blows the doors off consumers.   The true measure for a distiller is when they can produce a great flavor profile consistently across all their barrels to bottle a great whiskey in large quantities.  That's hard to do.
There's a reason Jimmy Russell has been at this for over half a century.  There's a reason he's a living member of the Kentucky Distillers' Association Hall of Fame.  Here's a $25 bourbon available anywhere from high end liquor stores to corner drug stores, and it's excellent.  THAT'S how you become a living Legend.  This could easily have passed for a private selection with its punch of flavor and concentrated aromas.  I wouldn't have guessed this is, basically, a large batch whiskey readily available, well, everywhere.  Cheers to Mr. Russell and Wild Turkey.  This is a very good whiskey. As much as I hate to admit Matt was right, he was right.
ModernThirst.com Score: 88 out of 100 Points.