By now, I'm sure you've heard the news.  In April, we reported that the Big Red 12 was gone from the labels of Elijah Craig.  Still, an age statement was on the back label and the company assured us there were no plans to remove it.  Sadly, this past week, Fred Minnick and other sites reported the age statement on the back of the bottle was soon to be removed as well.  No sooner had the news hit the interwebs then, sure enough, Elijah Craig was no longer 12 years old.  No Big Red 12 on the front, and the age statement is gone from the back.  Now, it's a mixture of 8-12 year old bourbon.  Ho hum.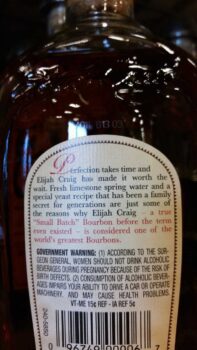 That's not the only change, however, as the batch size is doubling from 100 barrels to 200 barrels.  Minnick and others have reported the official company line is that dropping the age statement was necessary to facilitate growing the brand- that in order to meet the growing demand, they can't supply enough barrels of 12 year old whiskey for Elijah Craig and its single barrel and barrel proof variants.
I guess I get that.  I'm a finance guy, so I understand business decisions based on numbers.  From a consumer standpoint, however, I call bullshit.  This is akin to Mercedes using all hard plastic interiors, cloth seats, and crappy four cylinder engines made by Fiat in their cars in order to "meet demand" and yet still calling it a Mercedes.
See, Elijah Craig was a stalwart.  It was a shining example of good distilling, the perfect age, and outstanding value.  For many, including myself, Elijah Craig was the first bourbon we pointed to when someone new to bourbon asked what they should buy.  It was the first bourbon we reached for in our own homes to fill a glass on an otherwise normal evening.  I'll say it: it was my go-to.  There was no other place to get the combination of great flavor, great age, and great value.
And here's the other rub:  Heaven Hill already makes a younger aged Elijah Craig- they just call it Evan Williams.  Yes, it's proofed to 86 instead of 94, but it shares that standard barrel-forward profile with Elijah Craig.  And I sure didn't notice a drop in price on the bottles on the shelf this weekend  now that they're using younger bourbon.   So pardon me if I don't feel a lot of compassion for the poor folks at Heaven Hill and their difficulties doing business in the bourbon shortage.
Their decision to grow the brand in this manner is, at its very heart, disingenuous to the brand itself.  Removing the age statement and upping the batching isn't growing the brand, it's stripping from the brand  what made Elijah Craig special in order to move a few more cases.  In fact, I've long touted Heaven Hill's single greatest strength is their ability to put good quality, decent aged bourbon on the market at a competitive price, unlike their competition.  That's gone, I guess.
Really, this is a rant.  But I don't write from a position of anger.  I don't feel slighted by Heaven Hill at all…I feel disappointed.
I will buy a bottle of the new Elijah Craig at some point to review side by side with a 12 year old version.  It may taste fine.  It will likely be the only bottle of it I buy.  Why?  Well, there are plenty of other ageless, large and small batch  $30 bourbons out there.  There are any number of them I can find at better prices, even.  And  they didn't lower the age statement, they  just removed it altogether.  That  means there's no guarantee it will even maintain that 8-12 year range, if it ever actually is 8-12 years old.  The fact that Elijah Craig was one of the last two age stated everyday bourbons on the market (the other being Knob Creek) at a great price was the reason to buy it.  The fact that it truly was carefully made in very small batches made it a great bourbon.   Not because of a pretty label, and not because of some strange loyalty to a brand.  It was special bourbon because of what it was, not what it was named.  Take that away and it's just…well…bourbon.  That's it.  It's not particularly long-aged, it's not a very small batch.  Now, it's just a cheap Fiat with a Mercedes badge on it…for $85,000.  And all this coming on the heels of them assuring their fans and consumers that the age statement was not going away and it was only moved to the back for the sake of label consistency?  That's a little insulting.
In the end, I'd rather have seen Elijah Craig be a little more expensive and maintain the age statement and batch size.  I'd rather even see it become a little harder to find if that was the result.  But dumbing it down so you can make more of it?  C'mon, Heaven Hill, you're better than that.
#RIPBigRed12