Sometimes, new label applications come across the TTB and you just have to chuckle.  It's not that bourbon and ginger ale is disgusting…far from it.  It's that bourbon and ginger ale are how I started drinking bourbon again after my college years.
Once upon a time, I was a young, thirsty student at the University of Kentucky.  As a regular 18 year old 21 year old youth, my tastes weren't yet evolve much past "what can I buy the most of at the least cost?"  The amount of really bad beer and liquor I and my fellow students consumed was, well, obscene.
Beer was my drink of choice, except when I just wanted to change it up.  Then it was $7 fifths of good ole standard white label Jim Beam.  I drank a LOT of white label Jim Beam.  To this day, my worst memories of hangovers are of post-Beam nights when I settled in with a bottle of coke and a fifth of Beam.  Those mornings after were awful.  I still cringe every time I open a bottle of regular Jim Beam- not because it's low quality or bad, but because it takes me back to those horrible morning hangovers.
After college, I decided it was time to re-immerse myself in the world of brown water.  But drinking it straight or with Coke/Diet Coke still conjured bad thoughts in my head.  So I mixed it with ginger ale.  As I grew more and more appreciative of the flavors, I started using less and less ginger ale until I was just drinking bourbon on the rocks or with a twist of lemon.  Now, nearly two decades later, I nearly universally drink it neat.  No water, no ice.
But when I saw this label on my email this morning, I had to chuckle: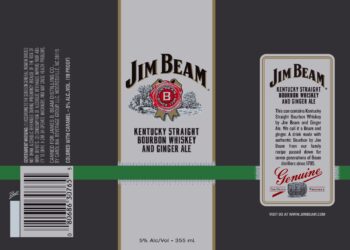 You guessed it.  That's a label for a can of Jim Beam and Ginger Ale.  I'm sure the 5% ABV (2.5º?) would keep me from those hangovers, but it still brings back memories.  Cheers!