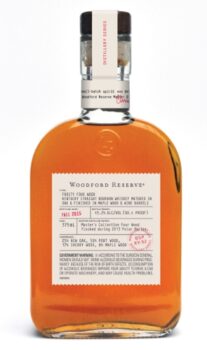 Woodford Reserve unveiled their latest release in the Distillery Series: Frosty Four Wood.  Typically, Woodford's limited releases have not been too highly received.  The Double Double Oaked was a nice sip, but the Sweet Mash Redux was, in my humble opinion, foul.
The original release of Four Wood from Woodford was back in 2012 as part of the Master's Collection.  It predated my written reviews by a few months, but my recollection of it was more along the lines of the Sweet Mash Redux than the Double Double Oaked.  In other words, I didn't like it.  And I have yet to taste a Woodford bourbon without a distinct "metallic" taste on the finish.  Still, Woodford is widely popular, though their limited release items tend to sit on shelves far longer than most.  Anyway, here are the details straight from the press release:
Woodford Reserve Unveils Latest Distillery Series Expression: Frosty Four Wood
Woodford Reserve's innovation shines through latest Distillery Series release
PR Newswire
LOUISVILLE, Ky., Jan. 27, 2016
LOUISVILLE, Ky., Jan. 27, 2016 /PRNewswire/ — Woodford Reserve announces the latest Distillery Series expression, Frosty Four Wood. Unveiled in July 2015, the Distillery Series is Woodford Reserve's latest line of complex offerings available for purchase at the Woodford Reserve Distillery and select Kentucky retailers. The series showcases Woodford Reserve's continued commitment to providing an unmatched whiskey experience and leading the spirits industry through innovation and craftsmanship.
Following the 2015 release of Double Double Oaked and Sweet Mash Redux, Frosty Four Wood brings to life Woodford Reserve's creativity and dexterity. Developed and perfected by Master Distiller Chris Morris, Frosty Four Wood is a unique batching of mature Woodford Reserve bourbon, aged in American Oak and finished in barrels made from Maple Wood, Sherry Wood and Port. The original Four Wood whiskey, the 2012 Master's Collection release, was exposed to record-low temperatures during the 2013 Polar Vortex, resulting in flocking, or mineral precipitation. Filtration techniques produced a more fruit-forward whiskey with maple hints.
"Frosty Four Wood is the last of a historic whiskey specialty, as the original Four Wood was the first of its kind to touch four different barrels," said Woodford Reserve Master Distiller Chris Morris. "It represents a rare moment that extends beyond bourbon and amplifies current flavors found in Woodford Reserve."
Frosty Four Wood joins the prior two Distillery Series expressions, Double Double Oaked and Sweet Mash Redux, for purchase at the Woodford Reserve Distillery and select retailers in Kentucky. Frosty Four Wood is presented at 90.4 proof with a suggested retail price of $49.99 for a 375ml bottle. The Distillery Series expressions are small-batch offerings ranging from finished whiskies to straight bourbons and other unique spirits.
Tasting Notes for Frosty Four Wood:
Color: Rich orange honey.
Aroma: Full, with rich holiday spice notes and a dried fruit medley (fig, raisin, dried cherry, dried apricot) character with hints of maple syrup and coffee.
Flavor: Warm and full-bodied with dried fruit character that layers over a nutty, spicy range of honeyed oak and maple syrup.
Finish: Long, warm, and spicy.
Tucked in the heart of thoroughbred country in Versailles, Kentucky, lives the historic Woodford Reserve Distillery, the birthplace of Woodford Reserve. A National Historic Landmark, the Woodford Reserve Distillery represents craftsmanship with a balance of historic heritage and modern practices. Woodford Reserve is a product of the Brown-Forman Corporation, a premier producer and marketer of fine quality beverage alcohol brands including Jack Daniel's, Finlandia, Korbel, Tequila Herradura, Sonoma-Cutrer, and Chambord. Please enjoy your bourbon responsibly. To learn more about Woodford Reserve, visit us www.woodfordreserve.com or check us out on Facebook at www.facebook.com/woodfordreserve.
Kentucky Straight Bourbon Whiskey Matured in Oak and Finished in Maple Wood and Wine Barrels , 45.2% Alc. by Vol., produced and bottled by the Woodford Reserve Distillery, Versailles, KY ©2016