If you've been following us for the past few weeks, you are no doubt aware of the mini-tour of several distilleries in the region we undertook with a group of fellow bourbon writers, bloggers, and podcasters. Of all of the places we visited, I was perhaps the most excited to visit the Four Roses Cox's Creek facility outside of Bardstown, KY.  Now, to be fair, I've visited Coxs Creek once before for a barrel selection several years ago before we launched ModernThirst.com.  But the facility has been undergoing a massive renovation and expansion in recent years, and I wanted to see the progress.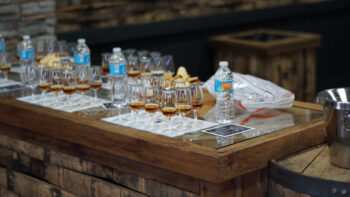 Cox's Creek is not a distillery.  Four Roses is actually distilled in Lawrenceburg at the historic Spanish style Distillery that is home to the Four Roses gift shop and tours.  Cox's Creek is the barreling, bottling, and packaging facility where the dirty work gets done.  It's also home to the tasting room where visitors who are participating in the private selection program meet to taste the 10 recipes on Four Roses and select a barrel.
A thinly veiled secret in the bourbon world is that up until very recently, Four Roses was distilling the bulk of the whiskey that went into the bottle as Bulleit Bourbon.  This is a legacy contract from the days off Seagram's ownership prior to the sale of Four Roses to Kirin and Diageo's purchase of Seagram's.  Unlike other contract distilling arrangements, this was a big contract.  Bulleit took up about 40% of Four Roses' distilling capacity.  With the end of that contract, Four Roses, which has been running their stills at max capacity just to meet demand, suddenly has the capability of producing a lot more whiskey.  Their previous bottling and barreling facilities could not have handled it.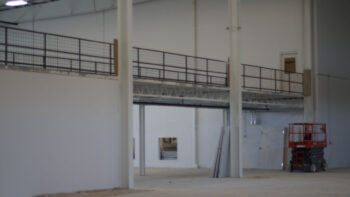 The new facilities are massive in scale compared to the existing site.  While Four Roses will increase their production 40%, they'll be able to eliminate the bottleneck of packaging by expanding capacity exponentially.  Though the buildings are not online yet, we could easily see the scale of the new structures.
In our tasting, we went through the barrel selection process.  For those wondering, the recipe we landed on was OBSF, a spicy higher rye version of the Four Roses formula with the F yeast strain, with ripe bananas on the nose.  So tasty.  While I don't always recommend tasting 10 different bourbons at 10:30 in the morning, I can always recommend Four Roses.
---
*Special thanks to Dan Gardner of Four Roses*
---