Yesterday, ModernThirst and The Party Source teamed up to select a private barrel of Knob Creek.  While there, we tasted from six different barrels, choosing one for the ModernThirst/TPS collaboration barrel, and then the TPS crew picked another for themselves.  The experience was great, and we're confident the barrel we selected will be a big time crowd pleaser.  For the superstitious, this was barreled on Halloween, 2006.  It is our Ghost Barrel.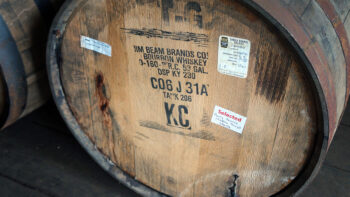 Our collaboration Knob Creek Private Barrel will be available within a couple of weeks at The Party Source, and we will be sure to let everyone know when it hits their shelves.  You can shop online at their website once the bottles are released to reserve yours, and pick it up in the store.
We were able to try our bottle at the distillery, and even purchased one case for the three of us who took part in the selection.  We'll have tasting notes and more information about the pick over the weekend, so stay tuned!