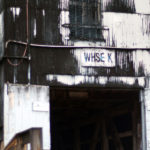 ModernThirst and the Party source met in Clermont on July 7th to select a barrel of Knob Creek bourbon.   We met at the American Stillhouse at 10 AM and after some brief introductions, we headed straight to warehouse K where the selection would take place.
Because we were actually selecting two barrels, once for the ModernThirst/TPS collaboration and one for TPS, we were greeted by six barrels instead of the traditional three.  To keep from influencing us, we weren't told the ages until after we tasted.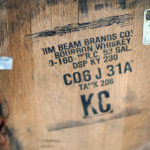 Barrel 1 Checked in at 126.1 Proof and was aged on the 4th floor in warehouse L, a seven story rick house.  It was initially rife with aromas of vanilla and caramel on the nose, and had plenty of butterscotch on the palate, with some light oak.  We splashed it with water and were greeted by rich orange peel and lemon zest on the nose, and a slight cinnamon and baking spice finish.  It was the sweetest of the bunch.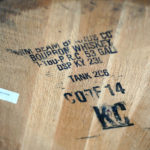 Barrel 2 came to us from the 4th floor of warehouse P.  It was 125.6 proof at tasting.  The nose was heavy with a dark smokiness, a huge contrast from barrel 1.  The palate was heavy with charcoal, barrel char, and burnt brown sugar.  The char was actually plainly visible in the glass when tasting.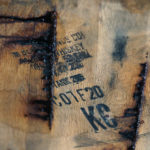 Barrel 3 came from warehouse J, and was aged on the 6th out of 9 total floors.  It was higher ABV, at 131.4 proof, and the nose was as different as could be.  There was a smokiness, but this was heavy with peat-like notes, and smelled like a Highland Scotch.  True to the nose, it also tasted like Scotch.  There was a ton of smoke, oiled leather, and tobacco on the palate.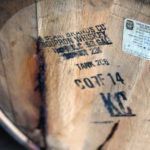 Barrel 4 was another option from the 4th floor of warehouse P.  Unlike barrel 2, however, this one trended to the sweet much more than the smoky.  Cloves and cinnamon on the nose were followed by toffee, caramel, and coffee cake on the palate.  It was the lowest proof of the barrels at 124.7 proof.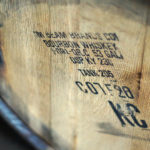 Barrel 5 was another from warehouse J and yet again from the 6th of 9 floors.  This one was sweet on the nose with simple sugar and vanilla, with light oak, mild butterscotch, and coffee on the palate.  It clocked in at 132.2 proof, making it the highest proof barrel we tasted.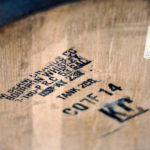 Our final Barrel came yet again from the 4th floor of warehouse P.  It was heavy with cinnamon, caramel, and dark fruits on the nose.  The palate was a unique combination of briny salt and sweet flavors including dark cocoa and salted caramel.  The finish was rife with heavy dark chocolate, but developed some bitterness right at the end that some of the tasters didn't care too much for.
When it came time to decide, I was torn between Barrels 1 and 6.  The 6th barrel had a slight issue on the finish, but I'd never tasted the chocolate and cocoa from a Jim Beam offering before, and I thought it was easily the most unique of the barrels.  Still, barrel #1 was the sweetest, and we all agreed it likely had the most mass appeal, and would likely maintain its flavor profile the best when watered down to 120 proof for the final bottling.  So we happily chose barrel #1.
To our surprise and delight, we found that our barrel was originally filled on Halloween 2006, making it 9 years, 8 months, and 7 days old.  We dubbed it the "Ghost Barrel."
From there, we were on to the dumping. It yielded 31 gallons of whiskey.  IT needed 1.3 gallons of water to bring it down to proof and that left us with 26 cases of ModernThirst and TPS Private Barrel Knob Creek.
And then we were on to the bottling.  The bottling line is automated, but we did get to affix our own "selected by" labels.
We then had lunch, met with Fred Noe (always a fantastic experience), and toured the distillery.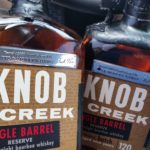 Our team bought one case to take home, leaving 25 cases of 6 that will be sold on the shelves at The Party Source in a couple of weeks.
Once it's on shelves, you can actually reserve a bottle online at The Party Source to pick up and purchase at the store.  Trust me, this is a good bottle of bourbon.  You'll want it.