"The Ghost Barrel"
It's finally available!  The Party Source and ModernThirst collaboration on a barrel of 120 proof Knob Creek is on sale now at The Party Source in Bellevue KY, near Cincinnati!
What it is: This is a 9 year, 8 month, and 7 day old bottle of Single Barrel Knob Creek bottled at 120 proof.  It was selected by the ModernThirst team on July 7th, 2016.  It was distilled on Halloween 2006, and has been dubbed the "Ghost Barrel."
Ghost Barrel Vital Stats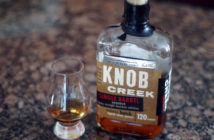 ◾ABV: 60% (Proof: 120º)
◾Mash Bill: 75% Corn, 13% Rye, 12% Malted Barley (Standard Jim Beam Recipe)
◾Barrel Number: C06 J 31A
◾Proof at Selection: 126.1
◾Barreled on: October 31, 2006
◾Bottled on: July 7, 2016
◾Total Cases Produced: 26 (156 Bottles)
◾Distilled at: Jim Beam, Clermont, KY
◾Aged: Warehouse L, 4th floor (of 7)
◾Age: 9 Years, 8 Months, 7 Days
◾Price: $41.49
◾Availability: Available at The Party Source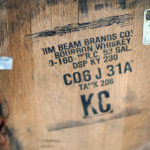 How it tastes: This is a sweet barrel.  It's heavy with vanilla on the front of the palate with strong cinnamon and cloves on the mid palate giving way to oak on the medium to long finish.  In short, it's really tasty.
What it costs:  $41.49 per bottle.  You can get a 10% discount on a full case of 6.
How to buy it:  Log onto The Party Source website and reserve a bottle.  You can even pay for it online.  It will be waiting for you when you get to the store for pickup!
@SippnCorn:  "…fantastic mouthfeel w/out the raw heat I often find in KC120… Makes paying for 2001 hard to explain.  Sweeter than most KC.  I'm going to need more of this"
Bottom of the Barrel Bourbon:  "Overall, this is a fantastic private barrel pick of what is always a great bottle. It's well worth the ~$45 price tag. Get it before it's gone, it's spooky good!"