I'm going to go ahead and make two assumptions about you if you're reading this blog:
You read.
You like Bourbon.
What I can't assume is that you enjoy reading fiction novels.  I do.   So if that's the case with you, there's a new book that was just released from a Louisville author that combines drama and bourbon.  We'll be discussing  "Angel's Share" from James Merkert in an upcoming review, and hopefully a podcast in the near future.  In the meantime, check out the press release below.  And I'll even throw in the link to purchase the book via Amazon (Kindle/Paperback/Hardback/Audio formats).  Just click the cover illustration below.
FOR IMMEDIATE RELEASE
Media Contact: Allison Carter, Senior Publicist
(o) 615-902-2143; (c) 205-223-7085
A Loyalty to Liquor: James Markert's "The Angels' Share" Releases Jan. 17
 
(Dec. 2016) – Loyalty to liquor, love and family. These key post-Prohibition-era, and American tenets flavor James Markert's "The Angels' Share," The novel, which releases Jan. 17, is a story of fathers and sons, of young romance, of revenge and redemption and the mystery of miracles.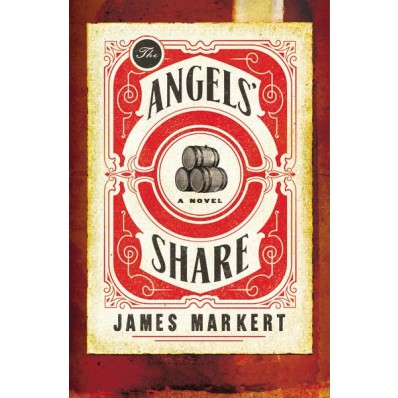 The intriguing chemistry of whiskey aging, which Market encountered on a tour of Kentucky's Jim Beam bourbon distillery, prompted him to write this novel.
"The tour guide told us the wonderfully thick aroma we noticed upon entering the rick house—hints of fruit, aged wood, vanilla, caramel, butterscotch and more–was called "the angels' share."
The guide explained that when bourbon ages, the rise and fall of temperatures pulls whiskey in and out of the charred wood barrels in which it's held, naturally flavoring the liquid. Some of that liquid evaporates and permeates the air. This is the distillery's offering to the angels. In turn, the angels keep the distillery free of fire.
"I knew then and there I wanted to write a novel called 'The Angels' Share,'" said Markert
Markert, who holds a history degree from the University of Louisville, did his "homework" before writing the novel, visiting more distilleries along Kentucky's famed Bourbon Trail, including the Buffalo Trace Distillery in Frankfort, and Woodford Reserve Distillery in Versailles. The nation's spirited history also included the Whiskey Trail, which runs through Tennessee, Kentucky and Virginia and ties into whiskey-related historic landmarks in Maryland, New York and Pennsylvania.
"Twist my arm, but I visited about ten distilleries, and imagined what they looked like and smelled like back in time. That research is ongoing," said Markert.
 About the Book
In the thick of the Great Depression, William McFee, the oldest son of the McFee family is the latest in generations of distillery owners in Twisted Tree, Kentucky, working with his parents to revive the business.
Unwanted publicity surrounds the distillery and family, when the gravesite of a drifter, recently buried beside the distillery, draws crowds of people who have heard about mystique and wonder at the gravesite.
About the Author
James Markert lives with his wife and two children in Louisville, Kentucky. He has a history degree from the University of Louisville and won an IPPY Award for "The Requiem Rose," which was later published as "A White Wind Blew," James is also a USPTA tennis pro. Learn more at jamesmarkertbooks.com