Lagavulin 8-Year Old
A nice scotch – much more here than you would expect from an 8-year old, a balanced foray into the world of Islay whisky.
[amazon_link asins='B00H143UXW,B06Y1VGMH2′ template='MT-product-carousel' store='modernthirstc-20′ marketplace='US' link_id='88f3342c-010e-11e8-8f42-13db33b784af']
INTRODUCTION
Good day all, and welcome to a little change of pace on ModernThirst.com as we begin to delve into some non-American whiskies, in particular, for the next few installments, some Islay single malt scotch whiskies.  Bill introduced me last week as the new World Whisk(e)y contributor to the site.  As ModernThirst.com enters its fourth year I'm going to be branching out into reviewing some other whisk(e)y styles, and maybe even an American whiskey or two.  My name is Wes Jolly and to give you a little introduction, I am drawn to all styles of whiskies.  My friend, Jeremy Reed, and I are founding members of the Proper Pour Whisk(e)y Club in Colorado Springs, CO.  In the past three years our tasting group has tasted and scored over 130 various whiskies – American, Canadian, Scotch, Irish, Taiwanese, Indian, and Japanese. Our goal is to provide frequent reviews of a variety of whiskies from some distant shores.  Jeremy and I plan to give you a combined perspective on the pours before us.  We will not always view the whisk(e)y from the same perspective – every one of our taste buds and senses of smell vary and some whiskies fit our personal taste profiles differently.  We will guarantee you, however, that you will get our honest opinion on each tasting, and where we differ, we will make it known.  You will see our individual thoughts and scores for each tasting and a combined rating.  So on to the tastings.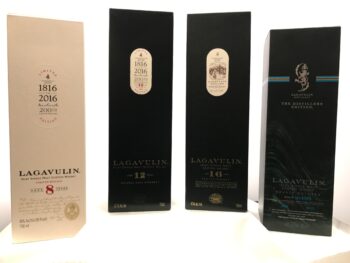 WHAT IT IS
The Scottish Isle of Islay is home to eight different distilleries:  Ardbeg, Laphroaig, Lagavulin, Bruichladdich, Bunnahabhain, Bowmore, Caol Ila and Kilchoman. When most think of Islay whiskies the first things that come to mind are the peat and smoke notes that emerge from the malting process.  The distilleries on Islay provide a range of those characteristics, some much stronger than others.  In the next four reviews we are going to examine four currently available offerings from the Lagavulin Distillery which was established in 1816. Those four are: Lagavulin 8-Year Old, Lagavulin 16-Year Old, Lagavulin Distillers Edition, and Lagavulin 12-Year Old (a cask strength version).  First up — Lagavulin 8-Year Old.
Lagavulin 8-Year Old Stats
Mash Bill:  100% malted barley dried over peat
Casks:  refill oak casks
Age:  8 years old
ABV:  48%
Producer:  Lagavulin Distillery
Price:  $55-70
Availability:  Available – Limited Edition, 200th Anniversary bottling
SCORING NOTES
Notes where the Jeremy and I are in agreement will have no annotation – differences and slight variance are annotated by inclusion of our initials (WJ) or (JR).
APPEARANCE
light straw, very similar to a sauvignon white wine
NOSE
honeyed malt cereal, seashore brine, light peat and smoke, raisins (WJ), slight caramel (WJ), slight medicinal note, but not much (WJ)
PALATE
peat and smoke enveloping a honey malt sweetness (WJ), a lingering campfire marshmallow smoky char at end (WJ), not as medicinal as expected, does not taste nearly as sweet as it smells (JR), smoke lingers near the end (JR), a bit monochromatic (JR), first to last it is what it is – a younger, higher ABV malt whisky (JR)
FINISH
medium length finish – a bit of lingering campfire smoke (WJ); impressively long, smoky, pepper (JR)
SYNOPSIS
LAGAVULIN 8-YEAR OLD:  a nice scotch – much more here than you would expect from an 8-year old, a balanced foray into the world of Islay whisky (WJ);  taste matched aroma in terms of smoke, but taste does not match in terms of sweetness – the taste lets us down a bit compared to the finish which is quite impressive (JR)
ModernThirst.com Score:  88.5 (combined);  
87 (WJ) and 90 (JR)

WRAP-UP
When we have completed our four Lagavulin reviews we will provide a comparative recap.  Until next time, thanks for reading and welcoming me to the ModernThirst.com site.  I leave you this fine day with the great words of Mark Twain – "too much of anything is bad, but too much good whiskey is barely enough."