What it is
From the press release:
This 115 proof expression is the third release in our Old Forester Whiskey Row series and celebrates the brand's continued distillation during Prohibition. For 13 years, the production, transport and sale of alcohol was strictly prohibited. However, Old Forester was granted a permit to continue distilling on Louisville's Whiskey Row. The 115 proof expression represents a barrel sample that company president Owsley Brown I would have batched at the beginning of Prohibition.
Old Forester 1920 Vital Stats
ABV: 57.5% (Proof: 115º)
Mash Bill: 72% Corn, 18% rye, 10% Malted Barley
Barrel Char: #4
Barrel Entry Proof: 125º
Age: NAS
Producer: Brown-Forman
Price Paid: $50
Availability: Available in select states
Packaging
We've all seen the Whiskey Row series, and this one follows that same theme.  It's nice and attractive.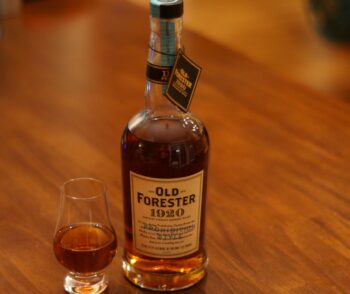 Appearance
Deep amber, very dark, but clear.  there is no hint of sediment or barrel particles when poured into the Glencairn, which makes me think this is a chill filtered.
Nose
Strong sweet graham crackers greet the nose, but are quickly joined by rich red fruits like black cherries.  The oak is present, though faint, and some earthy notes underlie it all.
Palate
And this is where Old Forester 1920 takes off.  Sweet and hot at the same time, this comes in with a powerful first sip laden with brown sugar, graham cracker, and vanilla.  That quickly gives way to oak and dark fruit (plums, cherries) on the mid palate, and then to black pepper and oak on the rear of the tongue.
Finish
Despite its relatively high proof, this never takes on an ethanol characteristic.  It's viscous and mouth-coating on the tongue, and the finish lingers for a good while with pleasing notes of cinnamon, pie crust, and black pepper, with a hint of powered dark chocolate.
Synopsis
I may have a new favorite from the Whiskey Row series.  I've liked all three variants thus far, but the 115 proof really makes this whiskey soar.  It's slightly pricey at $50-60, but it taste like it's probably on the upper range of Old Forester agings (aside from Birthday Bourbon), and I'd peg it at around 6 years.  It works.  This is really a great example of the Brown-Forman mash bill.  In fact, it (along with the rest of the Whiskey Row series and Birthday Bourbon) are the 4 best Brown-Forman bourbons made, and that includes the ever-disappointing Woodford Reserve lineup.  This gets a definite recommendation.
ModernThirst.com Score: 91 out of 100 points
Old Forester 1920
The 115 proof makes this mash bill soar. Chock-full of decadent red fruit aromas and sweet vanilla flavor, this is a nicely drinking whiskey that hits all the right notes on the palate.