KINGS COUNTY DISTILLERY RELEASES FIRST ALLOCATION OF
BOTTLED-IN-BOND 4-YEAR BOURBON
February 24th, 2017, New York:  Kings County Distillery, one of the country's leading craft distillers and New York City's oldest and largest whiskey distillery, announces the first release of its Bottled-in-Bond Bourbon, which will be available in allocated quantities in New York, New Jersey, Maryland, DC, Delaware, Oregon, Kentucky, and Tennessee. The release—the first time Kings County's Bottled-in-Bond will be available to consumers outside the distillery's tasting room—will happen on March 3rd, timed to the 120th anniversary of the Bottled-in-Bond Act of 1897.  Bottled-in-Bond is the most legally constrained class of American Whiskey and has been the gold standard of excellence since its inception as a consumer protection against deceptive marketing. It's also a mark of transparency, as it communicates to customers that they are purchasing a product that is aged at least four years, is exactly 100 proof, and is distilled  by one distiller, at one distillery, from one distilling season.  Kings County is among the first craft distillers to have achieved this highest class of American Whiskey.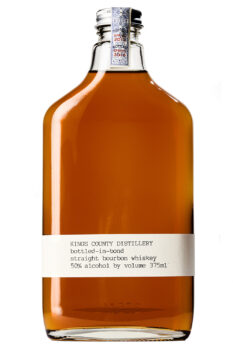 ​
History
Bottled-in-Bond emerged from an era when the whiskey produced by traditional distillers, often based in the Ohio River Valley, was forced to compete with cheap, flavored and colored neutral spirits manufactured in giant factories in Chicago, Peoria, and other midwest boom towns. There, even good whiskey would then be diluted or altered by unscrupulous wholesalers or retailers. Bottled-in-Bond signaled to the consumer that the whiskey was bottled at the distillery where it was made, and stamped with a government seal all under the watchful eye of federal agents. In the 1980s, the government seal and stamp requirement were relaxed, but in the booming world of American Craft whiskey, there are still unscrupulous bottlers hoping to deceive consumers about the provenance of their whiskey. Many brands claiming to be craft are sourcing their whiskey from generic wholesale producers, such as MGP in Indiana. Bottled-in-Bond is as meaningful today as ever.
Tech Specs
For this release, Kings County Distillery pulled barrels from our standard bourbon mash bill of 80% New York State organic corn and 20% English malt. These were twice distilled in 26-gallon pot stills back in the fall of 2012 and entered into charred, new-oak 15-gallon barrels at 116 proof.  We selected 9 of those barrels for this release, and blended them into a batch that was bottled on December 21st. Total yield was 40 cases of 24 375ml bottles with a 40% angel's share.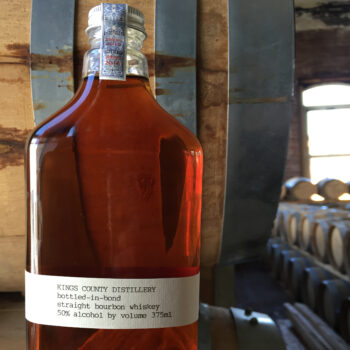 Tasting Notes
Kings County Bottled-in-Bond Bourbon is made using a high-malt mash bill and smaller barrels (comparable to the quarter casks being used by single malts). The result is a whiskey robust for its age; even as it stands among the older true-craft bourbons, it compares to even older commercial whiskeys. A pungent nose of corn, hay, and peppery spice gives way to a richly textured flavor with notes of cinnamon, chocolate, and molasses. This is the most barrel-forward of all the whiskeys in Kings County's portfolio, but with the richness and complexity that best complement a whiskey after four years in oak.
About Kings County Distillery
Kings County Distillery is New York City's oldest operating whiskey distillery, the first since Prohibition. Founded in 2010, Kings County uses New York grain and traditional distilling equipment to produce whiskey in the Brooklyn Navy Yard, just steps from the former waterfront distillery district and the legendary site of the 1860s Brooklyn Whiskey Wars. Every drop the distillery sells is made in the Brooklyn Navy Yard.
Kings County's whiskeys have won numerous awards at the American Distilling Institute's Craft Spirit Awards, the American Craft Spirits Association, and the San Francisco World Spirits Awards. Eric Asimov awarded its Bourbon Three Stars in the New York Times. Wine and Spirits magazine named its Barrel Strength Bourbon the 2015 Spirit of the Year and wrote, "of all the craft distillers in the nation, none makes bourbon more delicious than Kings County." ADI named Kings County the 2016 Distillery of the Year.
In 2013, Kings County co-founders Colin Spoelman and David Haskell published The Kings County Distillery Guide to Urban Moonshining (Abrams), which has since sold more than 50,000 copies. In 2016, they published Dead Distillers: A History of the Upstarts and Outlaws Who Made American Spirits (Abrams, 2016).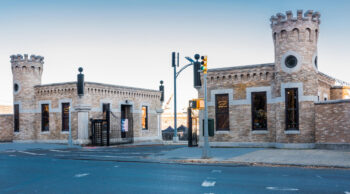 Kings County Distillery's campus is open to visitors seven days a week. Tours of the distillery are provided Tuesday – Sunday and are available for reservation at the distillery's website. The Gatehouses, Kings County's tasting room, sells whiskey at retail as well as serves flights and cocktails in the historic former entrance to the Navy Yard. It is open 8am-10pm Monday – Friday; 12pm – 10pm Saturday; 2pm – 8pm Sunday.