The Ardbeg Ten Years Old is a highly touted and awarded, solid example of Islay whisky. It comes in at a good price point and is a whisky that I'd encourage you to spend some time with if you have not already.
INTRODUCTION
After a pleasant outing in our previous reviews with the Lagavulin lineup, next up, we are planning reviews of four Ardbeg offerings.  The Ardbeg distillery is on the southern coast of Islay – near the Lagavulin and Laphroaig distilleries.  As a former helicopter pilot, I do love the video imagery you can find online showing the aerial perspective of the coastline with the three distilleries in close proximity to each other.  A visit to the Islay coast and these three distilleries is definitely on the bucket list.

DISTILLERY DESCRIPTION
Ardbeg distillery was commercially founded in 1815 (although whisky production began as early as 1798).  After nearly two centuries in existence, with starts and stops along the way, the distillery was purchased by Glenmorangie in 1997.  Ardbeg distillery currently has three whiskies in its primary lineup – called the Ultimate Range: the Ten Years Old, Uigeadail, and Corryvreckan (all three plus Dark Cove, a special release, will be the next four reviews).  The Ten Years Old expression was launched in 2000 and in 2008 was named World Whisky of the Year in Jim Murray's Whisky Bible. So how does the distillery describe their product – taken from their website: "Ardbeg Ten Years Old is revered around the world as the peatiest, smokiest, most complex single malt of them all.  Yet it does not flaunt the peat; rather it gives way to the natural sweetness of the malt to produce a whisky of perfect balance."
SCORING NOTES
Notes where Jeremy and I agree will have no annotation – differences and slight variance are annotated by inclusion of our initials (WJ) or (JR).
APPEARANCE
golden straw, hay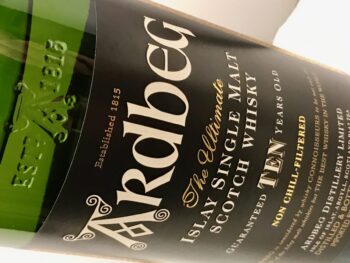 NOSE
sweet smoke, saltiness, sea brine, a bit of pepper (JR), an intriguing delicateness on the nose for a peated whisky (JR)
PALATE
smoke, slightly oily mouthfeel, burnt toffee sweetness, seaweed, a tarry note, pepper spice at the end (WJ); sweet – I like it, then peatiness, salt, upon multiple sips the sweetness fades and smoke grows, some coffee bitterness (JR)

FINISH
mouth coating, ashes on finish, good medium-long finish, pick up some of the wood notes as the finish fades (WJ); dry ash from a campfire, a bit bitter at the end of the glass, short – like a disappearing act (JR)
SYNOPSIS
ARDBEG TEN YEARS OLD:  As you can see from the review above, and scores below, this is the biggest variance Jeremy and I have had in one of our reviews so far.  And that is not a bad thing – each person has a unique perspective on what is being tasted.  That is the beauty of whisky and whisky tastings.  Final thoughts – personally, I liked it better initially, than after sitting with it awhile (JR). Overall, not an overly complex whisky but this 10-year old is a very pleasant dram and one I'd keep on hand for when I need to quench my Islay thirst (WJ).
ModernThirst.com Score:  85.5 (combined); 88 (WJ) and 83 (JR)
WRAP-UP
Next up is the Ardbeg Uigeadail – one of my personal favorite Ardbegs (and the first matching score for Jeremy and me).  Thanks for reading and please provide comments if you have them.  As a historian by training, I leave you this fine day with the great words of Abraham Lincoln – "Tell me the brand of whiskey that Grant drinks.  I would like to send a barrel of it to my other generals."
Disclosure: The sampled bottle of Ardbeg Ten Years Old was graciously provided by Laura, representing Ardbeg Distillery.  ModernThirst.com appreciates their willingness to provide their product for review.  The contents of this review are our own, made without outside influence, or strings attached.