Bourbon Classic Announces 2018 Dates
Tickets Now Available
Louisville, KY (June 26, 2017) –Following five highly successful years, the Bourbon
Classic will once again celebrate the best of Bourbon at its 2018 event.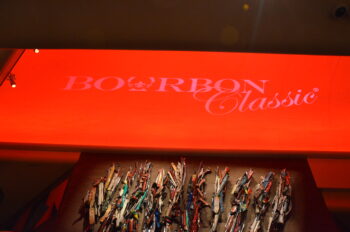 Experience the best in the world of Bourbon February 28 – March 3, 2018. The Bourbon
Classic Cocktail and Culinary Challenge will be held March 2 at a new venue – The
Foundry at Glassworks. Bourbon Classic TASTE will be held March 3 at the Kentucky
Center for Performing Arts. Nearly two thousand Bourbon enthusiasts and industry
professionals from across the country are expected to attend the four-day event.
Highlights of the event include a cocktail competition, showcasing classic and
contemporary Bourbon cocktails paired with a chef's Bourbon-themed culinary
complement, breakout classes focused on a variety of bourbon-themed topics; and
ample opportunities for the public to sample top brands of Bourbon and Bourbon inspired
products.
"For the sixth year running, we're bringing the broader Bourbon experience to
enthusiasts from all over the nation," says Tony Butler, co-founder. "From cocktails to
culinary executions, this is a unique event that continues to grow each year. We look
forward to sharing how popular, versatile and prolific this spirit is—and the special role
our hometown plays in its heritage."
Tickets are now available. To purchase visit the Kentucky Center's website or call
502-584-7777 or 800-775-7777.
The Bourbon Classic was co-founded by Tony Butler of FSA Management Group, an
event planning company based in Louisville, and Justin Thompson and Seth Thompson,
of The Bourbon Review.
Founded in 2012 by FSA Management Group and The Bourbon Review, The Bourbon Classic is a weeklong event exploring the "best of the best" in the authentic world of Bourbon. Bourbon Classic 2018 will take place February 28 – March 3, 2018. Information is available at http://www.bourbonclassic.com.