What it is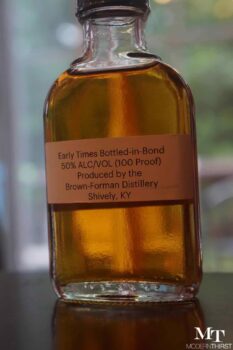 First introduced in 1860, Brown-Forman acquired the brand in 1923 and subsequently turned it into the best selling whiskey brand in America in the early 1950s.  Internationally, it is still one of the most popular bourbons, but because it is aged in re-used barrels, it cannot legally be called a bourbon in the United States, and is thus marketed domestically only as a whisky, or "Kentucky Whisky."
The short-lived Early Times 354 was sold in the US for about 5-6 years beginning in 2010, and it was aged only in new charred-oak barrels, thus was the only domestic bourbon sold in recent years under the Early Times label.
Brown-Forman is now releasing this limited edition bottled-in-bond offering of Early Times, a straight bourbon aged 4 years and at 100 proof, in keeping with Bottled-in-Bond requirements.
Early Times Bottled in Bond Stats
Appearance
Medium brown.
Nose
The first whiff of this bourbon was a bit surprising.  I expected the typical gingerbread and pie crust notes of Old Forester to dominate, but was pleasantly surprised to get lots of dark fruit such as raisins and plums.  I let the bourbon sit in the glass for about 15 minutes, and came back to it, and was rewarded with the same fruit notes, with the added complexity of the Old Forester pie crust and cinnamon graham cracker.
Taste
On the palate, this isn't wildly different than Old Forester signature.  There isn't a whole lot of barrel flavor peeking through, but the pleasing pie crust, gingerbread, and graham cracker certainly carry through form the nose to the palate.  The dark fruits hit the rear palate with a fruity sweetness.
Finish
The predominant flavors carry through easily to the medium length finish, but the fruits turn slightly sour as the flavors recede.  It's not off-putting, but I still wish it gave way to barrel tannins and oak rather than sour.

Synopsis
All in all, I tend to think it's hard to mess up a bottled-in-Bond bourbon (unless it's Old Bardstown), particularly if it's from a company that has bourbon making down to a science, as does Brown-Forman .  You know you're getting 100 proof, which is where I feel the true worth of a mash bill starts to come through, and you know you're getting at least 4 years of age.  So it's never under proofed, and it's never under aged.  This certainly runs true to that opinion.  It's not the most complex of whiskeys, but it's tasty and well-balanced, and it's a very high-value purchase at $30 for a Liter (the equivalent of $22.50 for a 750ML bottle of another bourbon).
ModernThirst.com score: 87 out of 100
A sample of Early Times Bottled in Bond Bourbon was provided to ModernThirst at no charge and with no strings attached.  The thoughts and opinions expressed in this article are our own.
Early Times Bottled in Bond Bourbon
This special release bottled-in-bond offering of Early Times is not the most complex bourbon around, but it is tasty and well-balanced, and it's a very high-value purchase