[amazon_link asins='B0179ZH89Y,B00EZ37SN0′ template='MT-product-carousel' store='modernthirstc-20′ marketplace='US' link_id='041fff8e-d38b-11e7-b184-33b0fcad30fb']
By Mark Cop, Guest Writer
Buying presents for beer lovers is not that hard all you need to do is find a good quality beer, but if you want to spice things up, I suggest you try with something else this year. I am not saying that beer is not a good present, but there are things you can get for beer lovers which will make their eyes glow like on Christmas morning when he was a small boy.
Your beer friend exactly knows which beer is his favorite, which one he doesn't like and he can recite the most important ingredients for the beer. The only thing he lacks to be the best beer lover ever is his own beer. Due to that, give him this beer making kit and I am absolutely sure you will blow his mind. The holiday season is the best time to start brewing. The temperature is right and the free days offer all the time needed for the process.
I really believe that the name of the book says it all. It is the ultimate guide to the beer history, brewery, ingredients, and types of beer and what makes beer so wonderful. The book is written in a language of a beer lover with witty comparisons and interesting facts which will keep the reader's focus for quite some time. Even if you aren't a beer lover, after this book, you will be.
Do you know that every beer type has its glass? Well, if you didn't, you know now. J If your friend, who is a beer lover doesn't have a set like this one, immediately get him one because it is a shame to drink the beer from a wrong glass. It is not just aesthetics; there is actually a good reason for every shape of the glass and that is something your friend can explain to you when you give him the set.
Imagine: hot summer day and your friend is giving you a beer in the bottle and the bottle is warm. Ugh! That is a taste you don't want to experience ever again and with this gadget, you won't have to. The Corkcicle is a slim gadget you can cool down and it goes directly into the bottle, cooling your beer from inside. You are drinking with the Corkcicle in the bottle and it won't change the taste of the beer, so don't worry. Also, the gadget is small which means your friend can carry it with him. You know he will!
When you are a beer guy, you have to have a foosball table. Every foosball match isn't complete if you don't share a beer with your friends. The perfect evening is hanging out with friends while drinking beer and playing foosball. There are even foosball tables which have built-in beer holders so you can put your beer nice and safe without worrying you will spill on the table.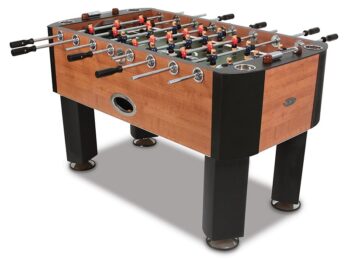 No matter which gift you choose, you will surprise your beer friend and that is all that matters. Who knows he may call his first beer after you!
Author bio:
Mark is a great foosball fan who loves foosball so much; he made a blog about it. There he writes everything one foosball player needs to know, from history to picking the right foosball table. He has tested and reviewed many different tables, from most famous Tornado foosball tables to the unknown brands which are brand new on the market, so if you are looking for a foosball table, visit his blog.