Ardbeg Grooves Committee Release
Buy it, drink it, enjoy it – plain and simple.  And if you see extra bottles out there let us know.  We want more.
[amazon_link asins='B01MZ278TN,B072HNRNGK' template='MT-product-carousel' store='modernthirstc-20′ marketplace='US' link_id='5831bb26-2c2b-11e8-8997-cb847e9b11f7′]
ARDBEG GROOVES COMMITTEE RELEASE
INTRODUCTION
It is time to revisit Ardbeg after five previous ModernThirst reviews on the 10-Year Old, Uigeadail, Corryvreckan, Dark Cove, and Kelpie (last June through August).  This year's special Ardbeg release is Grooves.  The promotional mini-booklet included with the special release bottle describes this interaction of Peat & Love as:
Day tripper . . .
We're rolling back the years to an Islay time when Ardbeg was a very different place.  Join Mickey Heads, our Distillery Manager, on a meandering trip down memory lane (AKA the most famous road in the history of malt whisky) to the groovy wee place that was Ardbeg Village.  For here you will find a thriving community with its own post office, billiards hall, two choirs and even a football team – as well as the colorful stories, alternative lifestyle and experimental fold that led us to . . .
Ardbeg Grooves
A whisky that has been laid down in wine casks, intensely charred to produce heavy grooves on the surface of the wood.  The result is a whisky aromatic with smoked spices and distant bonfires, sweet vibes of vanilla popcorn and smoky soot fading into a mellow haze of apples, fresh flowers and smoked pear.  You dig?
Well, now I'm really interested – let's see if it measures up.
STATS
ARDBEG GROOVES COMMITTEE RELEASE:
Mash Bill:  100% malted barley dried over peat
Casks:   not much details released in this area – guessing standard first fill and refill ex-bourbon oak casks combined at some proportion with "intensely charred" ex-red wine casks; some indicate that grooved casks like those used to age some other select whiskies were part of the process
Age:  NAS
ABV:  51.6% (103.2 proof); non chill-filtered
Producer:  Ardbeg Distillery
Price:  $115-120
Availability:  limited
SCORING NOTES
Notes for Jeremy and I are annotated below by the identifiers (JR) or (WJ).
APPEARANCE
one note on the bottle – both the newer Ardbeg An Oa and this recent special release Ardbeg Grooves bottle are the same overall style as previous Ardbegs, but each are slightly shorter with a much smaller concave bottom to the glass; really like the label on this bottle and the amber-copper liquid inside
NOSE
a briny, tarry citrus note, almost a tropical fruit layer underneath, a touch of peach, some savory spice, and it tops off with a fresh floral element and a slight note of mint, so much going on here – a real treat to sit and engage with; a definite winner on the nose (WJ); baking spices dominate the nose with dark fruit and the smell of my old horse saddle lingering behind, the smoky, salty brine is present for sure, but is mixed with something brighter – this at once smells like Ardbeg, but also doesn't;  the inner tube (Kelpie) and intense soot is absent, which I think could really welcome those who don't dig the peat – not a beginner's malt, but it's welcoming, I think (JR) – and just one quick note – Jeremy and I make our notes and score separately (even in completely different locations this time) without discussion and then compare once the tasting is finished
PALATE
some salty sweet creosote laden fruit – peach again, with some smoky burnt toffee drizzled pears emerging; the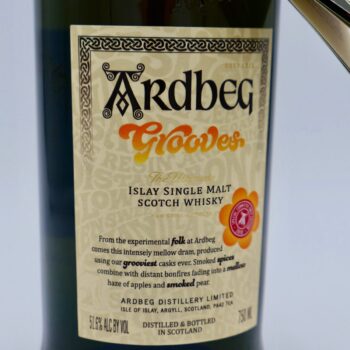 heavily charred wine barrels make their presence known – and again something in the realm of peach-mango-pepper BBQ sauce laden meat appears – wispy pipe tobacco smoke combined with toasted marshmallows over a fire on the beach end the palate – wonderful (WJ); wow! the charred red wine barrels have been used so judiciously here as to lend a roundness without overpowering the spirit – it's an accoutrement adding flavors reminiscent of a county fair . . . well, a county fair on fire anyway; burnt sugars and dark caramels mix with a floral note, and all without becoming muddled in the slightest; the palate finishes with a sip of English-style draft cider, but a dry one – the sweetness is on point, not cloying at all (JR)
FINISH
a nice mouthfeel with some pepper spice, a lingering toffee sweetness slowly fading into a pleasant smoky smoldering fire – if any slight weakness when comparing the nose-taste-finish, in my opinion, it is on the finish (wish it were longer, although it is not short by any means) (WJ); this Committee Release ends with a smooth, fruit and smoke-filled meandering; it manages to be quite long without much heat at all – Grooves is evident that you will not always find fire where there's smoke (JR)
SYNOPSIS
ARDBEG GROOVES COMMITTEE RELEASE:  This is my third Ardbeg special release (Dark Cove, Kelpie, and Grooves) and the first Committee Release of the three.  If you are an Islay fan or Ardbeg fan – this is a must pick up in my opinion.  No need for water – the 51.6% is fine as is; adding water does bring out more of the barrel char and pepper spice and a touch more floral note on the nose.  This special release delivers – I'll grab more bottles if I can find them and I look forward to comparing to the non-Committee Release later this year (WJ).  I'm impressed. To me, the balance is impeccable.  No false advertising here.  The whisky is what its nose promises, but without being one-note by any means.
ModernThirst.com Score:  93.5 (combined); 93 (WJ) and 94 (JR)
WRAP-UP
As I write this I have the Apple Music station playing hits from the 1960s – appropriate when getting into the right frame of mind for Grooves.  Simon and Garfunkel's The Sound of Silence plays now as I type this.  Ardbeg Grooves is not whispering in the sound of silence – it is a proclamation of what one can do with whisky.  And the next song in the playlist – The Byrds' Turn! Turn! Turn! – taken from Ecclesiastes proclaims "to every thing there is a season . . . a time to embrace."  It is Grooves' turn – I hope you are able to embrace and enjoy . . . tis truly the season of Peat & Love.