[amazon_link asins='B003QX2JMA,B01JL61KNE' template='MT-product-carousel' store='modernthirstc-20′ marketplace='US' link_id='ad0072c9-8b8c-11e8-9aae-816eac152c88′]
What it is
From Heaven Hill:
After aging for seven-to-eight years in the upper floors of Rickhouse Q, the bourbon then finished for four months in barrels that previously held French orange curaçao liqueur.  "The orange curaçao finish lends a unique flavor that complements the Bourbon without overpowering it, creating an entirely new and elegant tasting experience," the company says.

The 2018 Parker's Heritage Collection is bottled at 110 proof (55% ABV) and is non-chill filtered.

The late Heaven Hill Master Distiller Parker Beam, for whom the series is named, was diagnosed with Amyotrophic Lateral Sclerosis (ALS, or Lou Gehrig's disease) in 2010. The past five editions from 2013-2017 — the "Promise of Hope" Bourbon, the "Original Batch" Straight Wheat Whiskey, the Kentucky Straight Malt Whiskey, the 24-Year-Old Bottled-in-Bond Bourbon, and the 11-Year-Old Single Barrel — have raised over one million dollars toward ALS research and patient care through contributions made by Heaven Hill for each bottle purchased. Heaven Hill will continue with this cause-related campaign with the 2018 bottle

The 2018 Parker's Heritage Collection retails for a suggested price of $89.99 per 750-ml. bottle. It is available in a three-bottle case.
This sample was provided to ModernThirst from heaven Hill with no strings attached. The thoughts and opinions in this review are our own.
Appearance
Deep Amber, bordering on red

Nose
Surprisingly floral. I got a lot of candied orange and sweet sugar with hints of coconut.
Taste
Orange Liqueur. Holy hell, it tastes almost exactly like orange liqueur. Loads of sticky-sweet sugary syrup with a touch of heat. But something is missing here…oh yeah…THE BOURBON. Where is the caramel, the vanilla, the oak? It's completely drowned out by the orange Curacao.
In desperation, I added a splash of water and let it sit for a moment. After nosing it, I found the orange fruitiness pops on the nose. In tasting,  I found hints of sweet corn. THERE'S the vanilla and caramel. And THERE'S the oak.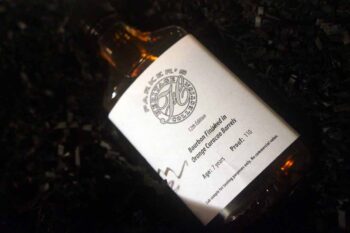 Finish
Before adding water, I struggled most with the finish. An orange cough syrup character seemed to develop on the palate and linger far too long. After splashing water, the finish was much better. I got barrel tannins, though slightly bitter, along with some nice pepper spice. This is a very long finish.
Synopsis
Let me be clear: when I sipped this neat, it was horrid. I hated it. When I added water, I liked it. After splashing with water, the more I sipped it the more I liked it. Perhaps the 110 proof was a touch too much, but the tiny added bit of water brought out the bourbon underneath the barrel finish.
This is an odd duck. We've tried lots of barrel finishes over the years, some are successful and some aren't. Willett's XCF is a Rye finished in the same barrels, and I didn't care for that at all. This one needs a little work to bring out the positives, but if you're willing to put in the effort, they're present, just buried under a heavy handed barrel finish.
ModernThirst.com Score: 86 out of 100
Parker's Heritage Collection 12th Edition
The barrel finish on this is a bit heavy handed, and thus tends to overwhelm the bourbon inside. The first taste is overly sweet and the bourbon flavors are missing. A splash of water brings out the best of this, however, and it sips quite nicely thereafter.