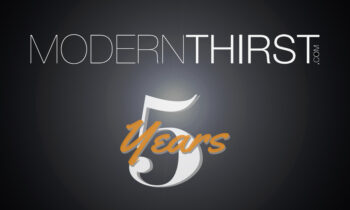 While we were having database difficulties, we missed a pretty big milestone. ModernThirst.com turned five years old!
Since January of 2014, we've had over seven million page views from nearly two million unique users. If you'd told me five years ago we'd hit numbers like that, I'd say you're crazy. According to alexa ranks, it places us about 14th in the world amongst whiskey-dedicated websites, and many of those ahead of us are professionals or purely focused on Scotch or other types of whiskey.
In the future, we intend to continue to grow organically. I've recently met with two potential new writers who we hope can provide you with new voices and more content in the coming year. But none of this is possible without the support of fellow site founders Matt Gates and Bill Scott, and the addition of writers Wes Jolly and Nick Krieger, along with several other contributors over the years.
THANK YOU to all of our loyal readers, watchers, and listeners. You make it worthwhile!
Now we just need to figure out how to properly celebrate it.
[amazon_link asins='B016YPDI3A,B000AV16H0′ template='MT-product-carousel' store='modernthirstc-20′ marketplace='US' link_id='2e1074a0-7c5d-4637-a2cc-c57de7e756a3′]