[amazon_link asins='B01M5GVFIH,B01JL61KNE' template='MT-product-carousel' store='modernthirstc-20′ marketplace='US' link_id='f5477c99-2b4c-465f-a330-32e8e65681ff']
INTRODUCTION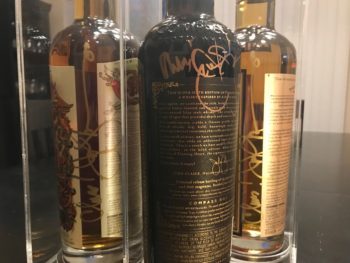 To date, we have reviewed one other Compass Box on the ModernThirst site (Phenomenology – click on the title to go to that review), and I noted then it is one of my favorite brands. I have nineteen different bottles (with back-ups of many of them) sitting on my shelves right now.  Their bottle presentations are wonderful, and this edition continues that tradition.  And the whisky is great too!  Back in September 2018, I was able to meet John Glaser at an event in Denver – got a few bottles signed and a picture made with him – great guy.  Their two newest limited-edition releases are Juveniles (available now in the U.S.) and Stranger & Stranger (available in the U.S in March 2019).  Today, we visit with Juveniles.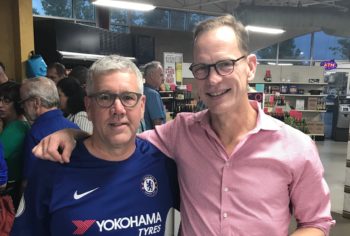 LIMITED EDITION COMPASS BOX JUVENILES DESCRIPTION
The Compass Box press release describes this whisky as follows:
Juveniles Bistrot a Vins has long been regarded as one of the most influential wine bars in Paris.  It's a place that has inspired Compass Box whiskymaker John Glaser since the early days of his business.
'I first went to Juveniles many years ago, shortly after starting Compass Box and I loved it so much I left a business card asking owner Tim Johnston if I could make a whisky for him.  He called me the next week and that started the relationship.  Our businesses share a similar approach to great food and drink, seeking out integrity but not taking things too seriously.  We both like to do things in our own way.  These common traits have made Compass Box and Juveniles firm friends from the beginning.'
Tim, born and raised in Scotland, established Juveniles in the 1st Arrondissement of Paris in 1987 and is a lover of whisky as well as wine.  Since its inception, Juveniles has been a crossroads for winemakers, spirits producers, writers and all varieties of affable hedonists from all over the world.  In 2014, Tim's daughter Margaux and her husband Romain joined and now run things day-to-day.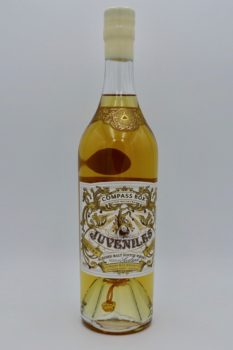 Compass Box and Juveniles have worked on several whisky collaborations over the years, but this is the
first one to overtly look to the world of French design for inspiration.  Tim set out a vision for the style of
the whisky, which John brought to life.   And Stranger & Stranger, the long-time label designers for Compass Box, created packaging that pays homage to classic French and spirits design from the early 20th century.  Front and centre, they featured the image of the jovial jester that has adorned the label of every Compass Box Juveniles collaboration, this time taking it so far as to mimic the bells on the jester's feet with a real bell inserted into the punt of the bottle.  The bell actually rings when the bottle is picked up, which brings to life the whimsy at the heart of Juveniles every time you pour.
For the whisky Tim was looking for something 'bright, smooth, not smoky . . .' something that would work equally as well as an aperitif as it would after dinner with cheese.  John chose single malt whiskies from four distilleries, each bringing a distinctiveness to the whole.  The assemblage (as Tim likes to call the blend, using a wine word here) had notes of barley sugar, pear drop and vanilla, complemented by an ethereal underlying herbal character.
Let's get to the whisky and see what Jeremy and I think about this one.
STATS
COMPASS BOX JUVENILES LIMITED EDITION
Mash Bill: (provided on bottle) all malt whiskies from – Strathmill (34%), Balmenach (34%), Clynelish (30%), and Glendullan (2%)
Casks: (provided on website) 68% refilled hogsheads (Strathmill and Balmenach), 20% re-charred hogsheads (Clynelish), 10% refill sherry butt (Clynelish), and 2% first fill sherry butt (Glendullan)
Age:  NAS (although you can go to the Compass Box website and request breakout)
ABV:  46.0% (92 proof); non chill-filtered, natural color
Producer:  Compass Box
Price:  $130-150
Availability:  limited release, but available – 14,894 bottles
SCORING NOTES
Notes for Jeremy and I are annotated below by the identifiers (JR) or (WJ).
As always – the notes you see below were written and the bottle scored prior to any discussion by Jeremy and me of what we nosed, tasted, or felt overall, about the dram in consideration.  We have spent time with this whisky on multiple occasions.
APPEARANCE
pale yellow, light white wine – and awesome label as usual (WJ); whimsical bottle presentation here with the bell in the punt (JR)
NOSE
Bright – light and airy, fresh sugar sweetness, vanilla crème on a coconut pie, light honey, apple, pear, maybe a tropical note – touch of citrus with some tartness (cranberry?) peeking through (WJ); malt, cream, grass, crayons, spiced pear, peach, and oak (JR)
 PALATE
nice mouthfeel, pleasant oiliness, some of the Clynelish comes through – a waxiness, vanilla, honey, touch of coconut and grassiness, slight ginger with some wood tannins, light touch of sherry at end – some nuttiness, lightly toasted caramel with spice appearing at the end (WJ); malt sweetness, grassiness, a bit of sherry, peach, honey, marmalade, touch of pineapple, nicely drying – first time I've said "wonderfully astringent", mouthfeel is very "full" for such a delicate but sweet dram (JR)
FINISH
good, solid medium length – pleasant (WJ); great stuff here, this dram holds on surprisingly long for such a delicate, but complex nose and palate (JR)
SYNOPSIS
COMPASS BOX JUVENILES: Could definitely see as an aperitif whisky – really pleasant.  Compass Box rarely ever misses for me, and this is not one of those times – the presentation alone for me is worth the cost – beautiful bottle, nice dram.  Compass Box's description mentions "underlying herbal character" – I can see that reflecting back on the dram and visiting with it again (WJ). I love this. It's a bit unusual for a slightly finished, light, subtle scotch to blow me away – this one did! (JR)
ModernThirst.com Score:  92 (combined); 88.5 (WJ) and 95 (JR)
WRAP-UP
Compass Box Juveniles is definitely worth checking out if you get the chance.  No disappointment here.  Thanks for reading, we at ModernThirst really appreciate you checking out our reviews – and likewise, your feedback.  This month we celebrate our 5th Anniversary (read about it by clicking on title). We look forward to many, many more.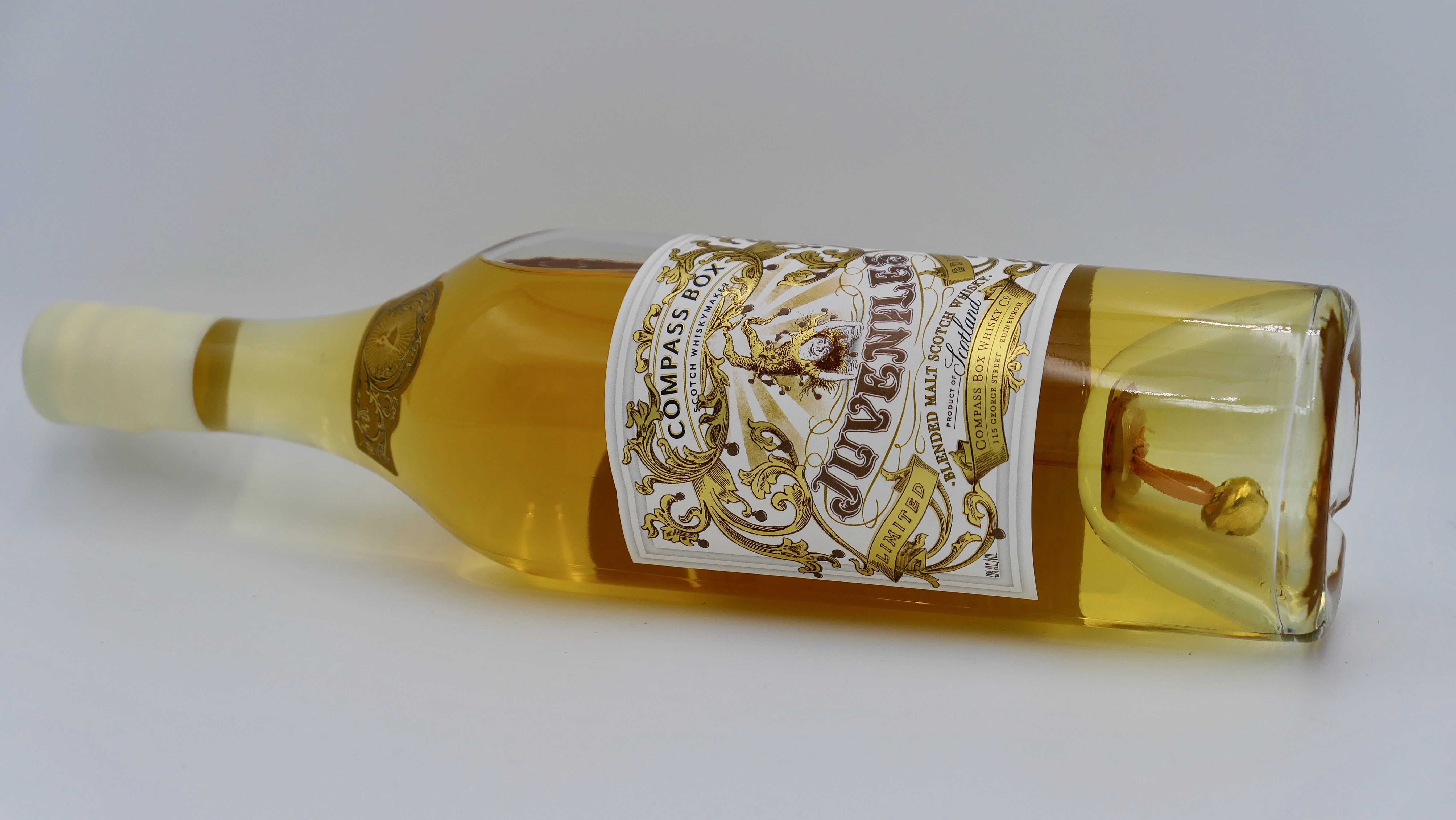 Compass Box Juveniles
No regrets on this one. I've even sought out a backup bottle. Continues the string of Compass Box successes over the years.