Compass Box Phenomenology
An absolute winner of a dram.  Seek it out if you get a chance.  I'd love to have an extra bottle stashed away to take a sensory journey with this again someday in the future, after this bottle is gone.
[amazon_link asins='B003QX2JMA,145492571X' template='MT-product-carousel' store='modernthirstc-20′ marketplace='US' link_id='e8955a48-d519-11e7-94f4-dbafe2834581′]
INTRODUCTION
Compass Box is one of my favorite brands.  I have fifteen different bottles sitting on my shelf right now.  Their bottles (and in this case box presentation) are second to none.  In 2000, John Glaser the Compass Box founder and whiskymaker (more on that term in a moment) embarked on a journey to create new and exciting scotch blends.  Compass Box has been the leader in the transpare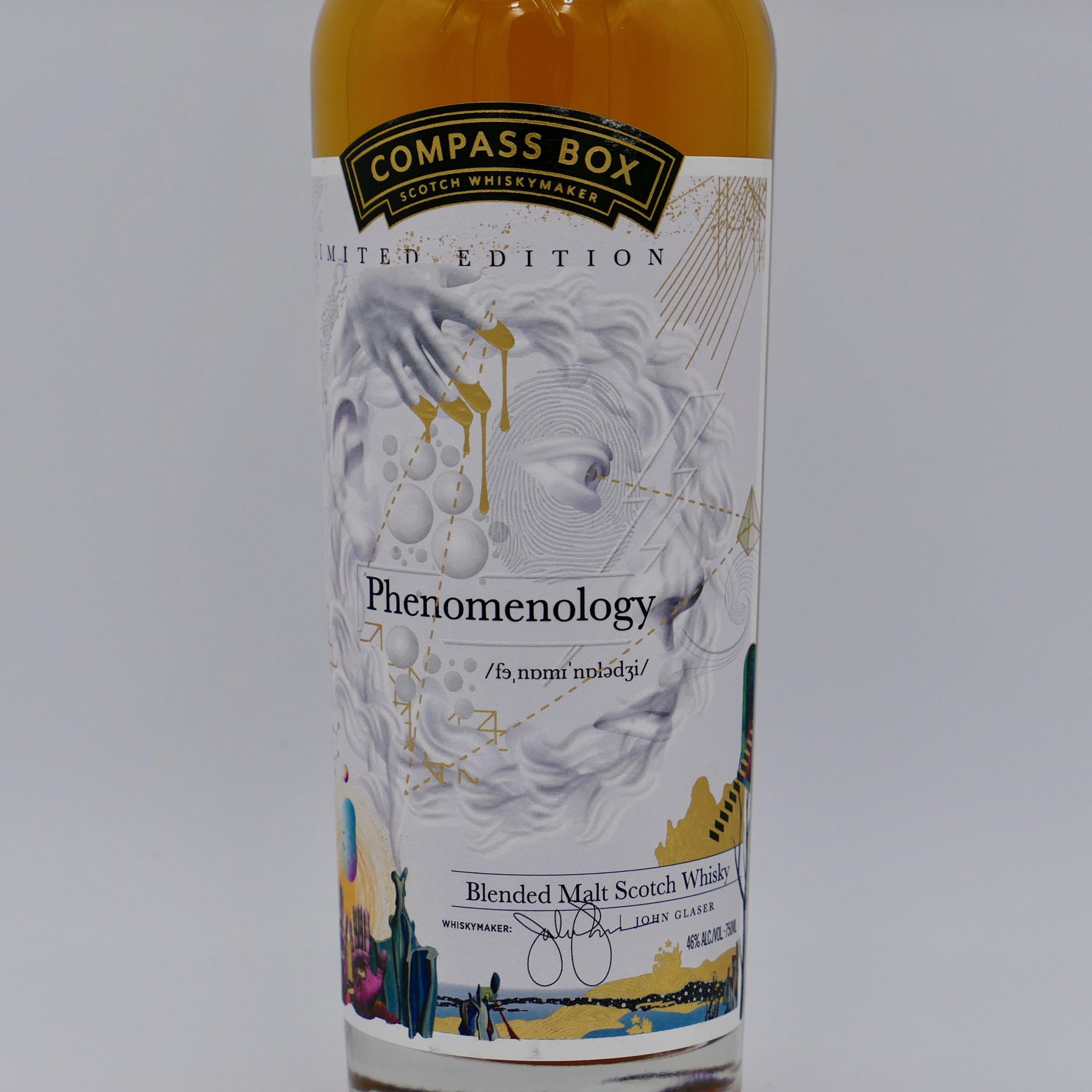 ncy movement in the scotch industry (something, that I for one, am appreciative of).  So, about that term "whiskymaker" – the Compass Box website describes it as follows:
'Whiskymaker' is a word we invented – you won't find it in any dictionary.  To us a Whiskymaker is someone who feels a need and an obligation to make things better – to ask questions, to challenge, to experiment.  When it comes to whisky and its enjoyment, we keep our minds open to new possibilities – new production processes, new combinations of flavors, new ways of sharing and enjoying great whisky.        
LIMITED EDITION PHENOMENOLOGY DESCRIPTION
I wanted to get a review out on this bottle as soon as possible, well, because of below (from the bottle's back label):
Phenomenology and whisky.  What you may wonder is the connection? 

 Phenomenology is a way of thinking about ourselves and the very personal, subjective nature of experience.  It's a school of thought in psychology that focuses on phenomena, or, the experiences that we get from our senses – what we see, taste, smell, etc.  Somehow, we saw a link between phenomenology and whisky.

 We'd long been working on a blend of single malts that combines seemingly dissonant flavor profiles, but together creates something compelling.  We landed on a recipe that elicited a surprising range of reactions and descriptions, each person taking away something different from the whisky.  Rather than try to settle on whose perceptions were 'right' or 'wrong', we were inspired by the phenomenological school of thought to consider how different people experience the same phenomena.

 And, so you have . . . Phenomenology, a limited edition Compass Box whisky.

 NOW FOR THE FUN PART.

 Rather than tell you here on the back label, as we normally do, how we describe the aromas and flavours of this whisky, we would like you to describe the 'phenomena' of this whisky yourself, in your own words and ideas.  Describe the whisky any way you like.  Use whichever words come to mind.  There are no right or wrong answers.  Your experience is your own, personal and subjective.  Relish it.

 Above all, share & enjoy.

John Glaser, Founder & Whiskymaker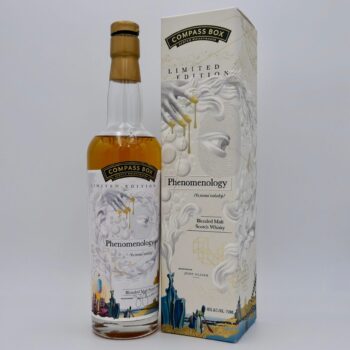 I've read some rumors that the component parts of this whisky will be released sometime in December 2017, but I have not been able to verify this.  Typically, Compass Box includes a further details link with each of their whisky descriptions on their site – I'd imagine that in the near future, just like with other Compass Box release you can e-mail and find out more of the details about this release.  Until then, on with the challenge of describing a 'seemingly dissonant' whisky – any way we like, without right or wrong answers . . .
COMPASS BOX PHENOMENOLOGY LIMITED EDITION STATS
Mash Bill:  unknown at this time – but it is a blend of 5 different single malt component whiskies
Casks:   unknown at this time
Age:  NAS
ABV:  46.0% (92 proof); non chill-filtered, natural color
Producer:  Compass Box
Price:  $165-185
Availability:  limited release, but available – 7,908 bottles
SCORING NOTES
Notes for Jeremy and I are annotated below by the identifiers (JR) or (WJ).
As always – the notes you see below were written and the bottle scored prior to any discussion by Jeremy and me of what we nosed, tasted, or felt overall, about the dram in consideration.
APPEARANCE
first, we must touch on the presentation of this whisky – the box and bottle are simply beautiful – the actual whisky appearance is golden yellow – honey (WJ); whimsical and intelligent packaging, without being stuffy – it's inviting like Lewis Carroll and Picasso – the whisky appearance is light honey – gold (JR)
NOSE
waxiness on the nose (maybe some older Clynelish in the mix), tropical notes, coconut, a honey floral note with maybe some lavender, a touch of lime – citrus, really pleasant nose (WJ); light perfume, stone fruit, plum, berries, wax, a light menthol – cooling on the nose, honey, malt, citrus, cinnamon, nutmeg, apple skin, maybe some sherry included, and finally, cedar wood – complex, intriguing, if not befuddling (JR).
PALATE
honey – malt, touch of spice, lightly spiced toffee note, some dark chocolate, ginger, a little barrel char at the end, flavors more pronounced with a touch of water – not that it needs any water (WJ); crème brulee, caramel, toasted brown sugar, malt really sings, dry, berries + mint on the crème brulee, light but rich, some smoke on the horizon maybe, where did the sherry go – is there any – was I wrong?,  a touch of ginger – fun, refined, clean, and complex, a dry-ish dessert (JR)
FINISH
medium-long, wish it lasted longer, not overpowering in any sense – very pleasant, a lingering honey-ginger note (WJ); pleasant spice, much like its taste, minimum burn with medium-long finish, does not outwear its welcome (JR)
SYNOPSIS
COMPASS BOX PHENOMENOLOGY:  The 'dissonance' if any is from the nose to the taste – the nose outshines the taste in my opinion, but an overall very pleasant dram.  Worth the cost? I have to say, most likely, yes.  A solid whisky I would never turn down.  It is an intriguing adventure in the world of blended single malts.  Adding water, interestingly for only being 46% ABV, does not damage the experience, it actually enhances some flavors.  It was an expectations game for me – I wanted it to take me more places, but I was extremely satisfied with where it did go (WJ). Very balanced, even if some change from the nose to the taste.  A drop of water is good for this.  Leaves me wanting more – for an unpeated, non-aggressively finished scotch this really grabbed me (JR).
ModernThirst.com Score:  93 (combined); 91 (WJ) and 95.5 (JR)
WRAP-UP
Compass Box Phenomenology was definitely a worthwhile journey in examining the experiences we get from our senses.  Thoughts on what may be in the bottle?  This is always dangerous to try and guess – but here goes — maybe some Clynelish, as I mentioned earlier, possibly an unpeated Islay whisky – Caol Ila, one of the three 2% and less components possible having some sherry finish, and finally, I suspect some French oak in the mix.
Thanks for reading and please provide comments if you have them.  We look forward to finding out what John Glaser put into this wonderful bottle.  Until next time, we leave you this fine day with the great words of David Daiches (a Scottish literary historian and obviously one who appreciated whisky): "The proper drinking of Scotch whisky is more than indulgence; it is a toast to civilization, a tribute to the continuity of culture, a manifesto of man's determination to use the resources of nature to refresh mind and body and enjoy to the full the senses with which he has been endowed."