STRANAHAN'S SNOWFLAKES
INTRODUCTION
Back in early July, I wrote about Stranahan's Cask Thief event that took place in late June 2017.  It was a fantastic event, go back and read about it here on ModernThirst.com if you haven't already.  In that article, I touched on the background of Stranahan's Distillery, which I'm including again below (with a few adjustments), and I'm adding a little more detail on the past five Snowflake releases and my overall rankings of each.
DISTILLERY DESCRIPTION
Stranahan's Colorado Whiskey distilled in Denver, Colorado was founded in 2004 by Jess Graber and George Stranahan.  The American Single Malt whiskey they produce is 100% Colorado malted barley made from a proprietary blend of four barleys, aged in #3 char American oak barrels, cut with Rocky Mountain spring water, non-chilled filtered, and produced in small batches. Currently, they produce four variants of their single malt – the Original, Diamond Peak, Sherry Cask, and Snowflake.  The Original with a yellow label is typically a blend of their two to five-year old barrels, whereas the Diamond Peak black label version is made up of older casks, typically at least four-years old.  The Sherry Cask, with a maroon label, was just recently introduced and consists of Stranahan's single malt whiskey finished, for an unspecified time, in 40-year old Oloroso sherry casks.  The Snowflake is released annually (used to be twice per year), usually the first weekend in December.  Those brave enough to battle the cold can get up to two bottles of this special release which is finished in different casks each year.  Many camp out overnight to get this distillery-only limited release.  I've personally stood in line since the summer 2014 release, Pikes Peak, #15 in the Snowflake series, to the most recent release #19, Crestone Peak, last December (2016).  Like a snowflake, each release is one-of-a-kind, and it typically sells out by mid-morning on release day.
THE PAST FIVE SNOWFLAKES AND THE UPCOMING RELEASE
I am not a camper, but I will be camping out this weekend for Stranahan's 20th Snowflake release Quandary Peak.  I've got my gear (newly purchased) all ready to go – and this year it is forecast to be a balmy 34 degrees Friday night, much warmer than previous years.  I'm taking a day off from work to hopefully be one of the first in the line that will ultimately wrap around the distillery building before the doors open at 8:00 am on Saturday morning.  This will be my sixth consecutive release.  If you are not there early Saturday, you will not be able to get a bottle.  By mid-morning, hopefully, two bottles will be in my hands, on my birthday.  A nice dram of Quandary Peak will follow in celebration – of let's just say, 50+ years.
Each Snowflake release is named after a 14er (a mountain over 14,000 feet) in Colorado.  There are over 50 such mountains – so there are many names available for future releases.  Here are the last six releases by number, name, and date released.
Snowflake #15             Pikes Peak                  June 2014
Snowflake #16             Mount Bierstadt         December 2014
Snowflake #17             Longs Peak                 June 2015
Snowflake #18             Mount Evans               December 2015
Snowflake #19             Crestone Peak            December 2016
Snowflake #20             Quandary Peak           December 2017
My personal favorite, Mount Bierstadt, released in December 2014 consisted of the following for maturation: several three-to-four year Stranahan's Colorado Whiskey barrels finished in a 500-liter Sherry Oloroso cask from Jerez de la Frontera, Spain, several French oak Cognac casks from the Limousin forest in France, and a Cherry wine barrel from the Denver based Balistreri Winery.  Exquisite – is the best way to describe Mount Bierstadt, in addition to it being one of my all-time favorite whiskies.  For our monthly Colorado Springs whiskey club, which has tasted and rated over 165+ whiskies in the past three years, Stranahan's Mount Bierstadt Snowflake ranks #7 all-time (and that ranking consists of averaged scores from both a known and separate blind tasting – where it was randomly generated as a sample over eight months after the initial review).  Additionally, Mount Bierstadt has received the two top ratings ever given by our club tasters – out of over 1,250 individual scores given to the 165+ whiskies there has been one 99.5 and two 99 scores given (and the single 99.5 and one 99 was given to this Snowflake release in a blind tasting).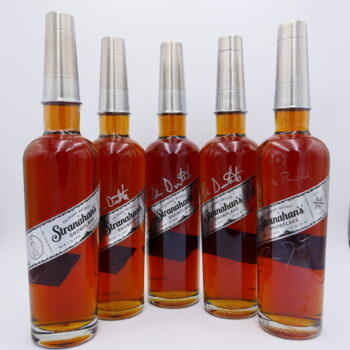 So how do they stack up against each other in my own personal ratings? See below – I also include a general letter grade scale that our whiskey club uses (scores are rounded up or down to the half-point since some are at 94.8, for instance, since they have been tasted multiple times known and blind):
#1   Mount Bierstadt     A+      95
#2   Mount Evans           A-       91
#3   Pikes Peak              B+      89.5
#4   Crestone Peak        B+      89
#5   Longs Peak             B+      88
TBD Quandary Peak
Quandary Peak, the newest release, will be made up of Stranahan's single malt whiskey finished in seven different type casks.  Those casks are:  Rum casks (note this is the only one listed that is plural), Cognac cask, Madeira cask, Sangiovese cask, and Port cask.  I can't wait.
WRAP-UP      
The Stranahan's Snowflake release each year is a special event.  People fly into Denver from all over the country just to wait in line on a cold December Colorado night and early morning to experience this whiskey – an individual, unique snowflake, that is here but for a short time.  For me this makes four years now and six releases.  And I look forward to many more.  Maybe I'll see you in line this year, or maybe at one in the not too distant future.  Cheers.