[amazon_link asins='B00P553P1Q' template='MT-product-carousel' store='modernthirstc-20′ marketplace='US' link_id='d415284d-f189-11e8-b95a-bbe39e8c9e07′]
INTRODUCTION
Join with me for the next twenty-four days as we countdown to Christmas with the Drinks by the Dram Premium Whisky Advent Calendar. Each day will present a new whisky adventure ranging from Elijah Craig Barrel Proof to The Half-Century Blend. Check back every day for a brief review of each whisky tasted. I plan to give a quick review of the nose, taste, finish, and general cost range, if I can find it, of the dram with an overall A, B, C type score. Since each sample is only an ounce, the letter grade system allows for a more generalized overview of the whisky. The latest update will be posted to the calendar below, so check back throughout the month of December!
The scoring scale:
A+ = 95 and higher, A = 94-93, A- = 92-90, B+ = 89-87, B = 86-83, B- = 82-80, C+ = 79-77, C = 76-73, — and hopefully there will not be any whiskies at these levels, but just in case C- = 72-70, D = 69-60, F = 59 and lower
On to the fun…
December 1: Dalwhinnie 25 Year Old 1989 (Special Release 2015)
ABV: 48.8% Cost: $375-$500
Nose: honey, floral, crisp green apple and citrus notes – a beautiful richness

Taste

: spice greets the palate, cinnamon with honey returning along with green apple

Finish

: medium overall, dry at the end – with a touch of oak

Overall

: expectations wanted more – did not seem like 25-year old; pleasant dram, but I would not pay for a bottle at those prices (5,916 bottles released)
Score: B/B+ borderline
---
December 2: The Balvenie 14 Year Old Peat Week – 2002 Vintage
ABV: 48.3% Cost: $95-$110
Nose: definitely not Islay peat; musty vegetal note, citrusy lemon, honey, wet wool
Taste: like better than nose, earthier smoke, smoke dissipates into dry honey – Bit-O-Honey
Finish: medium-long, smoky sweetness, a little honey malt, very pleasant ending – nice mouthfeel
Overall: interestingly Jeremy and I sat down and started preparing a review on a 750 ml bottle of this a couple weeks back – a pleasant unique Balvenie (estimated at 3,000 bottles released)
Score: B+
---
December 3: Mackmyra Moment – Malström (Swedish Single Malt)
ABV: 46.4% Cost: $150-175
Nose: salty sweetness, berry fruits, some dustiness, honey, caramel, oak with a touch of spice

Taste

: definitely get the oakiness and spice, a touch of vanilla and some slight smoke on the palate

Finish

: short-medium finish, remnants of the wood (plus astringency) and spiced butterscotch at the end

Overall

: first Swedish whisky for me – I'd rate the nose as the best part (1,500 bottles)
SCORE: B/B- borderline
---
December 4: The Dalmore King Alexander III
ABV: 40% Cost: $225-$300
Nose: luscious red fruits, tart cherries, sweet barley malt, an orange zest note, caramel and butterscotch – very pleasant nose for this dram

Taste

: blood orange citrusy note, plums, some wood char, raisins – nice whisky, a lot happening here

Finish

: solid medium length finish, more spicy notes emerge – a touch of spiced caramel, cinnamon

Overall

: a blend of six different cask finishes, and you definitely get the varied cask influences; a pleasantly refreshing dram that I'd like to spend more time with; would be interesting at 46% versus 40%
SCORE: A-
---
December 5: Old Particular North British 27 Year Old 1988 (cask 10938)
ABV: 50.2% Cost: $100-$125
Nose: orange sherbet citrusy notes, honey syrup with some vanilla – a cotton candy like sweetness, but not cloyingly so

Taste

: the candied sweetness continues with a heavy vanilla note, an ever so slight honeyed spice peeking through at the end

Finish

: medium-long, with the nearly three decades of first fill bourbon barrels shining through – a little vanilla and a touch of spice again

Overall

: a unique and different single grain dram – the 50.2% ABV is not noticeable, wish I had one of the 168 bottles released sitting on my shelf
SCORE: A-
---
December 6: Glenfarclas 25 Year Old
ABV: 43% Cost: $150-$185
Nose: oh, the sherry – raisins and figs, a thick molasses sweetness, with some caramel and vanilla, pears in light syrup; such a very pleasant nose

Taste

: a joyously viscous mouthfeel – dark dried fruits with a slight touch of spice, liquefied fruit cake, some chocolate covered almonds peeking through

Finish

: a long finish, the sweetness continues – a honeyed toffee with a bit of dark chocolate and the background spice reappears

Overall

: if you like sherried whiskies you need to give this a try; nicely balanced – I want to add to my collection after this first interaction with the Glenfarclas 25
SCORE: A-
---
December 7: Deanston 18 Year Old
ABV: 46.3% Cost: $125-$165
Nose: heather honey sweetness, touch of floral, some tartness – lime, subtle vanilla note

Taste

: hefty on the palate – mouth coating, some dark sugars and a little pineapple, spicy peppery notes with some ginger take over at the end; definitely get the tannins from the barrel

Finish

: a solid medium-long finish, with no unpleasant or disparate aftertastes

Overall

: first interaction with Deanston Distillery for me, a solid dram with a little more tannin note on the taste than I prefer; one I'd revisit
Score: B
---
December 8: Caol Ila Distillers Edition Moscatel Cask Finish (2015)
ABV: 43% Cost: $100-$125
Nose: sweet fruit notes wrapped in lovely Islay peat, raisins, vanilla, some floral elements, a touch of salt – I could sit and enjoy the nose on this one for quite some time

Taste

: honey malt sweetness, crisp apple, very pleasant peat smoke – not overpowering, cinnamon spice notes break through at the end

Finish

: medium finish that leaves you longing for another try, a nicely balanced wine cask finished Islay scotch

Overall

: distilled in 2003 – bottled in 2015; I've not come across this Distillers Edition on the shelves in Colorado, but when I do I'll definitely consider adding to the collection
Score: B+
---
Decwmber 9: Big Peat Drinks by the Dram Edition
ABV: 48% Cost: $75-$90
Nose: a syrupy sweet, briny, seashell, peat smoke concoction – with a touch of caramel and vanilla, some citrus, and iodine

Taste

: smoky ash, seaweed, salty caramel sweetness peeks through, a peppery spice with some tar, and a light tobacco note wisping through it all

Finish

: a lengthy finish as the smoky dying embers of a campfire and some honey ginger come to rest in your mouth, slightly fading as the minutes pass by

Overall

: this blended malt scotch whisky made from Islay malts is intriguing, especially for someone like me who enjoys the smoky wonders that come from the Isle – obviously, not for someone that does not like peat; not the top of my Islay list, but one I'd welcome for a revisit
Score: B
---
December 10: Dailuaine 16 Year Old Flora and Fauna
ABV: 43% Cost: $90-$120 (est shipped from Scotland)
Nose: sherry notes at the front, barley malt sugars, fruitcake, raisins, dates, figs, a little spice

Taste

: the spices come forward, some burnt sugar, a cola-esque sweetness, dark chocolate covered nuts, a spiced butterscotch note emerges then fades at the end

Finish

: wish it were longer – drying, spice with sherry influence still evident

Overall

: this dram falls under the Diageo umbrella with a small (single digit) percentage going to single malts – Dailuaine is mostly used in blended whiskies like Johnnie Walker; the nose wins the day on this dram; wanted to like it more (I like sherried whiskies), not a bust – but misses out on being one of my favorites of this year's advent calendar
Score: B-
---
December 11: Auchentoshan 18 Year Old
ABV: 43% Cost: $125-$150
Nose: barley sugars, honey caramel, a touch of vanilla, with some light citrus and fresh cut apples – a pleasant outdoors in an open field with wildflower freshness

Taste

: the wood notes come forward, cinnamon – and other spices, some honeyed ginger tea and floral notes try to push through the spice

Finish

: short to medium, some bitterness develops before quickly fading – dry finish

Overall

: all of Auchentoshan's Lowland malt whiskies are triple distilled; the 18 Year is aged solely in American bourbon oak casks and was first released in 2006; a first visit for me with the Auchentoshan 18 Year Old – not overawed, nor completely dismayed
Score: B-
---
December 12: Stagg Jr.
ABV: 64.9% Cost: $55-$75
Nose: classic bourbon notes, caramel, vanilla, a molasses sweetness, a touch of cinnamon spice and oak; one that is really nice to sit with and just enjoy the aromas – the alcohol is pleasantly not overpowering on the nose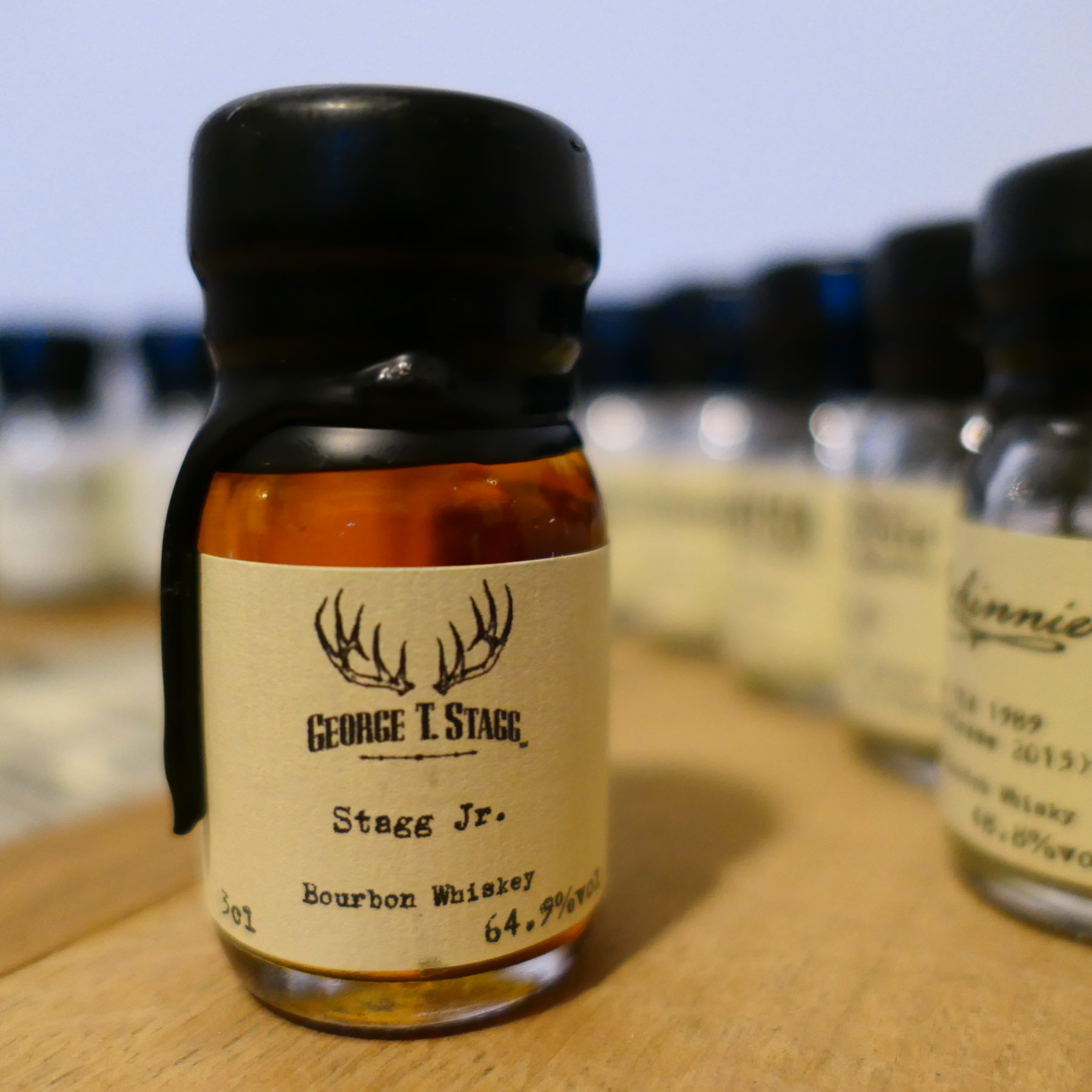 Taste

: smacks you in the face – wow, a big powerful festival of bourbon flavors; oak tannins, burnt sugars, caramel, some leather notes, vanilla, a cinnamon spice kick; not as refined as its big brother – but one heck of bourbon; Buffalo Trace knows what they are doing

Finish

: a long finish – a spicy, oaky crescendo with the classic bourbon notes still trying to push through; if any weakness here it is on the finish (and what lowers the score slightly)

Overall

: ah, the first bourbon in this advent calendar – and the little brother of the George T. Stagg BTAC release; this is my second visit with Stagg Jr., and this release fared better than my previous encounter – a bold, weighty bourbon that checks all the blocks – be prepared with a touch of water if barrel proofs are not your forte
Score: A-
---
December 13: Royal Brackla 14 Year Old [Càrn Mòr Strictly Limited 2001 (bottled 2016)]
ABV: 46% Cost: $95-$115 (approximate cost shipped to US)
Nose: bright honey malt sweetness, sugar cookies – with some lime, pear, and vanilla

Taste

: the sweetness continues on the palate with a little spice – nothing really bold stands out here, maybe a little bitter chocolate note at the end with a green non-ripe fruit component

Finish

: medium length – a touch of wood spice with fading sweetness

Overall

: independently bottled at 768 total bottles; nose was the best part – not one I'd search out, a bit disappointed with this one – but, 12 out of 13 in the "A" and "B" range so far in the advent calendar, not bad
Score: C+
---
December 14: Glenfiddich 21 Year Old Gran Reserve
ABV: 40% Cost: $175-$225
Nose: honey, barley sugars, definite citrus – orange zest, touch of grapefruit, butterscotch

Taste

: blast of sweetness initially on the tongue, vanilla toffee, some orange tinged chocolate and an ever so slight spice on the end – cinnamon sugar

Finish

: a nice medium-long finish, some lingering caramel notes – with some spice sprinkled dried fruits – only 40%, interesting

Overall

: this 21 year old Glenfiddich finishes its aging in Caribbean rum casks (interestingly I've tended to like rum cask finishes – to my surprise); beautiful color in the glass, well balanced – oh, if only we were able to taste a cask strength release of this – yum.
Score: B/B+ borderline
---
December 15: Wolfburn Aurora Single Malt
ABV: 46% Cost: $60-$70
Nose: warm sweet buns out of the oven, honey vanilla, a touch of raisins, green banana, some floral elements also

Taste

: a malty sweet, caramel spice – ginger, some nuts, banana again – interesting dram

Finish

: a quickly fading spice driven finish – pleasant, but not long at all

Overall

: the first new whiskies came from the stills of Wolfburn in early 2013; this one is made up reportedly of 80% bourbon casks and approximately 20% first fill sherry casks – a very decent young whisky – hoping for more sherry influence; would definitely revisit this with more age (either with or without the sherry) – based on potential and cost I'd rate a "B" just bumping out of the "B-" range
Score: B
---
December 16: The Lost Distilleries Blend Batch 10
ABV: 51% Cost: $425-$450 (shipped to US)
Nose: caramel, chocolate, some spiced apple, barley sugars, vanilla crème, some mustiness

Taste

: wonderful viscous coating mouthfeel, chewy caramel, spiced toffee, dark chocolate with a touch of raisins and splash of coffee, some oaky tannins at the end

Finish

: good length – sticks around with the spice and charred wood notes lingering

Overall

: The Blended Whisky Company has created only 1,014 bottles of this 10th batch of whiskies from shuttered distilleries (Caperdonich, Rosebank, Imperial, Mosstowie, Glen Mhor, Glenisla, Glenlochy, Craigduff, Port Ellen, Brora, and Port Dundas – grain); glad I was able to try this very unique whisky
Score: B+
---
December 17: Tullamore Dew 18 Year Old
ABV: 41.4% Cost: $110-$135
Nose: a bright nose, a blood orange citrus – very pleasant note, touch of slightly spiced toffee, peach rings candy, brown sugars

Taste

: some dark fruits, orange notes again – with slight touch of cinnamon spice; you can pick up the influence of the trio of finishing casks – a definite plus, caramel drizzled on a moist fruitcake

Finish

: medium-long, lingering spice with fruit sweetness – nice

Overall

: spends most of its life in ex-bourbon casks before finishing off in a trio of sherry, port, and madeira casks for up to a year; beautiful color in the glass – very pleasant dram that I would revisit each chance I had the opportunity; will be an add to the collection
Score: A-
---
December 18: Talisker 18 Year Old
ABV: 45.8% Cost: $150-$175
Nose: a briny sea salt smokiness, fresh squeezed lime, green apple, fresh fleshy fruit at the market, seashell, some butterscotch, and an ever so slight band-aid note

Taste

: yum, a velvety smoke with a chewy toffee-caramel tinged with vanilla and spice, the saltiness is still present with some apple and pear – less influence of the citrus note from the nose, a slight leather and tobacco influence at the end

Finish

: lengthy with pleasantly fading smoke – not ashy; just the right touch of sweetness with some spice

Overall

: from the Isle of Skye; this is a definite winner that I've not had before – will need to search this out to add to the line-up – a must try if you haven't already and you like a peat smoke touch to your scotch
Score: A-
---
December 19: Kavalan Sherry Oak
ABV: 46% Cost: $140-$175
Nose: sherried dark fruits, raisins, a tart note – cherries, some damp earthy funk, a sweet and sour battle raging, savory with a light touch of spice, some sulphur present; a puzzling, unique nose for a sherry finished whisky

Taste

: spicy sweetness, a note of chocolate, dried fruits emerge, burnt toffee, a tobacco note fades at the end

Finish

: short-medium finish, with the bitterness of wood tannins dominating

Overall

: I must admit I'm a Kavalan and a sherried whisky fan – several whiskies from the Kavalan Solist line are on my all-time favorites lists; this younger sibling, however, paled in comparison – not sure if it were just the bottling, but I've had much better – a bit disappointing, was looking forward to this one
Score: C/C+ borderline
---
December 20: Kilchoman 100% Islay – 7th Edition
ABV: 50% Cost: $95-$115
Nose: sweet barley sugars wrapped in a smoky embrace, sea salt brininess, honeyed vanilla pod with a touch of mint, some citrus and green apple

Taste

: a chewy-smoky-caramel crashes into the taste buds, followed by a slight spice – pepper, cinnamon, with fleeting honey notes at the end

Finish

: medium length with smoke and a touch of the barrel char lingering; drying, but pleasant

Overall

: first launched in 2010 – this whisky, from growing of the barley, to malting, maturing, and then bottling are all from Islay; this release was placed in refill bourbon barrels from Buffalo Trace in 2010 and bottled in 2017 – this oldest version to date shows great promise; looking forward to more encounters with Kilchoman – a high "B" effort verging on a "B+"
Score: B
---
December 21: The Macallan Rare Cask
ABV: 43% Cost: $275-$325
Nose: caramel – brown sugar, fudge, sherry dark fruits – raisins, cherries, some orange citrus and pipe tobacco notes

Taste

: classic sherried scotch notes – dried dark fruit sweetness, some dark chocolate and the citrus orange + apricot note reemerge, a little oak spice – hoped for a little more on the mouthfeel from this whisky

Finish

: medium-long with a pleasant sweet, light spice counterbalance happening

Overall

: a non-aged statement $300 whisky; really beautiful presentation on the regular bottle with lots of "rare" qualities on the cask selections by Macallan; a very nice dram that borders on a B+/A- for me – with the cost, however, I must lean more towards the B+ when compared to other whiskies available with similar profiles and less cost
Score: B+
---
December 22: Tomatin 27 Year Old – 1988 Batch 3
ABV: 50% Cost: $225-$275 (shipped to US)
Nose: barley malt sweetness, a touch of molasses, white grapes and vanilla-honey, some leather-ish elements underneath

Taste

: great mouthfeel, caramel sweets with a slight touch of smoke and pepper, some dark chocolate and tobacco peaks through – very pleasant

Finish

: nice long lengthy finish – a caramel char butterscotch sweetness coats the mouth and lingers for quite some time; a winning finish on this dram

Overall

: 1,800 bottles produced – partially matured in first fill Tawny Port casks; released in July 2016 as part of the 1988 series – a stellar whisky and a very pleasant surprise
Score: A-
---
December 23: Elijah Craig Barrel Proof – Batch #11
ABV: 69.7% Cost: $55-$80
Nose: caramel, toffee, vanilla, with definite wood spice – wonderful bourbon nose

Taste

: the high proof shines through – mouth coating caramelized sugar with wood char spices and dark chocolate

Finish

: long, with a drying astringency – but not unpleasant, spices dominate the end

Overall

: an in your face, 12 year old classic bourbon; I always seek out the Elijah Craig Barrel Proof releases – never disappointed, a little water accentuates the sugars on the nose
Score: B+
Previous review:
---
December 24: The Half-Century Blend Batch 2
ABV: 46.4% Cost: $725-$750 (shipped to US)
Nose: a dusty powdered sugar sweetness, more sugars – caramel and toffee, a green apple tartness with salt added, fruit cocktail in light syrup, some honey floral notes, and a subtle mint

Taste

: nice mouth-coating viscosity, a citrus orange/blood orange note comes to the forefront, caramel chews with a touch of spice at the end, a creamy chocolate, with some tropical fruits – a wonderful whisky

Finish

: lengthy finish with a slight orange citrus undercurrent and some dryness – really nice

Overall

: The Blended Whisky Company in Batch 2 of The Half-Century Blend produced 228 bottles of whiskies that are all aged for over 50 years; the oldest whisky I've ever had the opportunity to taste – a nice wrap-up to the advent calendar – an excellent, but costly whisky
Score: A-