Elijah Craig Barrel Proof 139.4°
The alcohol is a little more front and center on this release than in some past years, requiring the addition of a splash of water or perhaps some ice, but there are still some excellent flavors underlying the alcohol that make this another great addition to a bourbon shelf.
[amazon_link asins='B00E7AFAOK,B00MV7DOG2′ template='MT-product-carousel' store='modernthirstc-20′ marketplace='US' link_id='1295347e-f099-11e7-b501-371c5856c559′]
Elijah Craig Barrel Proof 139.4° Stats
About a year ago, The good folks at Heaven Hill decided to drop the age statement from what was likely the most iconic of the age-stated bourbons when the Big Red 12 was removed from the label of Elijah Craig.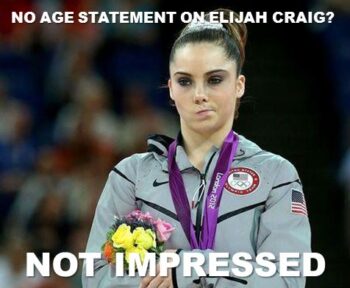 But there IS still a way to get a 12 year old Elijah Craig, and this way, you get it the way God intended: at Barrel Proof.
We've reviewed the 2014 release before (see below), but I thought I'd post some quick tasting notes on the most recent release, which clocked in at 139.4 proof. (December 2017 Edit: Also see link below for the mini review by Wes in his 2017 Premium Whisky Advent Calendar.)
Packaging:
Just like standard Elijah Craig, the bottle is a slightly oval-shaped cordial-ish bottle with an oversize mouth and large natural cork and stopper. The label on this one, however, is dark brown. It's very attractive.  If you're searching, the 12 year age statement is on the rear of the bottle.
Appearance:
Deep, dark, luscious brown. This bourbon screams of wood and proof.
Nose:
Sweet caramel and vanilla, lots of alcohol, burnt brown sugar and molasses, plus lots and lots of oak.
Taste:
The alcohol is front and center on this batch.  There are still all the great sweet notes like vanilla and brown sugar behind it, but it's a lot hotter than some other releases.
Finish:
Long, spicy, and extremely hot, the alcohol is right on the verge of an "ethanol" character.  So much so that I (gasp!) recommend splashing with water.  I know, I know, I am a proponent of just drinking bourbon neat, but this one has a strong note of alcohol that overpowers the sweetness at the finish, so water or ice is necessary.  Trust me, it won't kill this bourbon, and it will bring out everything you want from this label. You'll find all the caramel, brown sugar, molasses, and oak that are slightly buried under the heat.  It's not quite as approachable as past releases, but it's still very good.  This is an example where an 18 year version might be better than this 12 year, allowing more of the barrel notes to shine through the high ABV.  That, too, goes against my long-held belief that Heaven Hill needs to stop releasing bourbon past 12-15 years of age.
ModernThirst.com score: 88 out of 100 points.
See Wes's mini-review from the 2017 Mast of Malt Premium Whisky Advent Calendar:
https://modernthirst.com/event/elijah-craig-barrel-proof-batch-11/?instance_id=48
Previous Review of the 2014 release:
Elijah Craig Barrel Proof Batch B514 – 134.8° Bourbon Review