Jim Beam Double Oak
While it may trend a touch too oaky for most drinkers, this is a huge step up from the standard white label Jim Beam, and is rife with warm oak spices and cinnamon sweetness.
What it is:
Straight from the Jim Beam Press Release:
Today, Jim Beam®, the world's No. 1 bourbon, announces the release of Jim Beam® Double Oak, an exceptional and perfectly balanced Kentucky Straight Bourbon Whiskey finished in oak that is twice barreled to create richer and woodier flavors than other whiskies.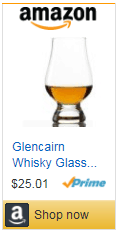 Aged four years while sitting in freshly charred, new American oak barrels, Jim Beam Double Oak is then transferred to newly charred American oak barrels and aged to taste. The second barreling allows the liquid to develop an even deeper level of intense spiced oakiness and rich caramel, creating a unique bourbon encounter.
So that pretty much explains it, right?  It's Jim Beam aged four years as per normal, and then transferred to a new barrel for an indeterminate amount of time.  Sound familiar?  That's because Woodford Reserve is already doing it with their own "Double Oaked" variation.
Still, If there's one thing that standard white label Jim Beam lacks, it's age, so a secondary aging might do wonders for it.

Jim Beam Double Oak Vital Stats
Packaging: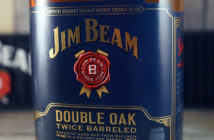 Utilizing the new look for Jim Beam this is a heavy, wide bottle with a dark blue label.  The Label is nicely done.
That screw top cap though…
Appearance: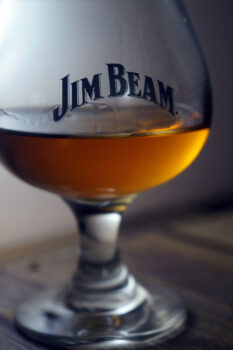 Fairly dark and murky, the secondary aging is evident, given the relatively low age and proof.
Aroma:
Heavy oak is the first, second, and third thing to hit the nose, but there are plenty of other scents as well.  There is vanilla and caramel, along with brown sugar.  Very rich.
Taste:
Initially, intense sweet flavors like brown sugar and molasses hit the palate and meld into a woody oak on the mid tongue.  Strong spice and cinnamon follow up as the oak flavors intensify.
Finish:
Very long, with the oak continuing to assert itself along with cinnamon and spice.
Synopsis: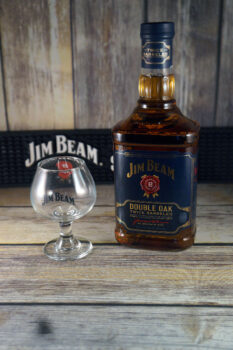 So secondary aging isn't new, and it borders on gimmicky.  But in the case of simply re-aging a bourbon, it's also a proven successful one.  If we're comparing this bourbon to the standard white label Jim Beam, there's no comparison.  I'll take this one all day.  And at $20.99, it's a very good value.
But it isn't perfect either.  The oak becomes a little one dimensional and very nearly overpowering by the finish.  Note that's nearly overpowering, because it manages to stay just shy of that.  It hearkens to some of the intense flavors that come with a lot of the single barrels of Knob Creek, but without the satisfying heat of 120 proof that the Knob Creek single barrels bring.
So what's the final verdict?
For $20.99, it's hard to go wrong here.  It's an intense, spicy sip if you can handle the overbearing oak on the finish.
ModernThirst.com Score: 88 out of 100