INTRODUCTION
Today we are going to have a change of pace and share with you about the recent Stranahan's Cask Thief 2017 event, the second of what will hopefully be an annual event, held on June 24 in Denver, Colorado.  So rather than a typical whiskey review and ratings, I plan to provide a brief glimpse into this great event.  First, a little background on the distillery.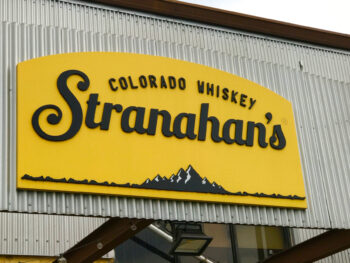 DISTILLERY DESCRIPTION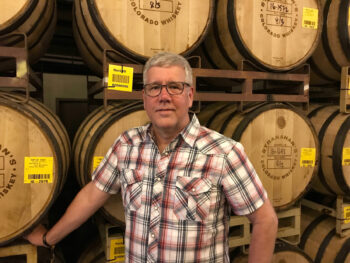 Stranahan's Colorado Whiskey distilled in Denver, Colorado was founded in 2004 by Jess Graber and George Stranahan.  The American Single Malt whiskey they produce is 100% Colorado malted barley made from a proprietary blend of four barleys, aged in #3 char American oak barrels, cut with Rocky Mountain spring water, non-chilled filtered, and produced in small batches.  As of this writing they are on Batch #202 for the original Stranahan's offering.  Currently, they produce three variants of their single malt – the Original, Diamond Peak, and Snowflake.  The Original with a yellow label is typically a blend of their two to five-year old barrels, whereas the Diamond Peak black label version is made up of older casks, typically at least four-years old.  The Snowflake is released annually (used to be twice per year), usually the first weekend in December.  Those brave enough to battle the cold can get up to two bottles of this special release which is finished in different casks each year.  Many camp out overnight to get this distillery-only limited release.  I've personally stood in line since the summer 2014 release, Pikes Peak, #15 in the Snowflake series, to the most recent release #19, Crestone Peak, this past December.  Like a snowflake, each release is one-of-a-kind, and it typically sells out by mid-morning on release day.  My personal favorite, Mount Bierstadt, released in December 2014 consisted of the following for maturation: several three-to-four year Stranahan's Colorado Whiskey barrels finished in a 500 liter Sherry Oloroso cask from Jerez de la Frontera, Spain, several French oak Cognac casks from the Limousin forest in France, and a Cherry wine barrel from the Denver based Balistreri Winery.  Exquisite – is the best way to describe Mount Bierstadt, in addition to it being one of my all-time favorite whiskies.  For our monthly Colorado Springs whiskey club, which has tasted and rated over 150 whiskies in the past three years, Stranahan's Mt. Bierstadt Snowflake ranks #8 all-time (and that ranking consists of averaged scores from both a known and separate blind tasting – where it was randomly generated as a sample over eight months after the initial review).
SPECIAL EVENT – CASK THIEF
In late June, Stranahan's hosted a special Cask Thief event with food – barbeque and chocolate – cocktails, two bands, and four hours of fun roaming the distillery.  As was noted in the passport for the evening the goal was to discover "the unique, the unusual, the extraordinary: 6 hand-picked casks, selected from the depths of our barrel rack houses."  The passport allowed you to taste each one of the special barrels and log your personal tasting notes.  Along with the tasting, each paid attendee received a plate of delicious roasted pig, with all of the trimmings, provided by Blackbelly, out of Boulder, CO.  The multiple pigs slow roasted over used Stranahan's barrel staves.  Additionally, chocolate desserts were crafted by DAR Chocolate out of Denver, CO and the Independent Stave Company was on hand to talk about the barrel-making process.
Listed below are the six casks selected for this tasting followed by my personal top three from the evening.
Cask No. 1:  Cherry Mary – 3 year-old Stranahan's whiskey was cask finished for over a year in a Balistreri winery Montmorency cherry wine barrel (the wine had previously aged for four years in the barrel prior to filling with Stranahan's).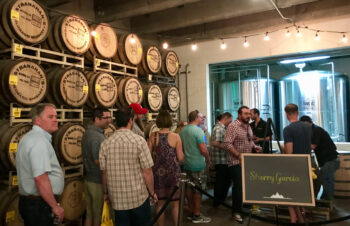 Cask No. 2:  Sherry Garcia – 2.5 year-old Stranahan's whiskey, aged in white American oak barrels, was cask finished in Sherry Oloroso barrel from Spain (the sherry cask was around 40 years old).
Cask No. 3:  4.6 Carat Diamond – 4.6 year-old Stranahan's whiskey selected to be the embodiment of the Diamond Peak whiskey expression.
Cask No. 4:  The Headstand – 3.5 year-old Stranahan's that changed nothing but the orientation of the barrel.  The bung for this barrel was in the head, instead of the side, and the barrel was then aged vertically.  As noted in the passport this changes nothing about the taste, but does allow for storage of more barrels in the same square footage than side-filled barrels.
Cask No. 5:  French-Kissed –Stranahan's whiskey was cask finished for an extra two years in a French oak cask that had previously aged cognac for 15-20 years.
Cask No. 6:  Strana-Scotch – 3 year-old Stranahan's whiskey with a twist – the normal proprietary yeast normally used was swapped out for a Scotch yeast.
My personal favorites of the evening, with #1 and #2 particularly standing out:
#1 – Sherry Garcia;  #2 – French-Kissed;  #3 – Cherry Mary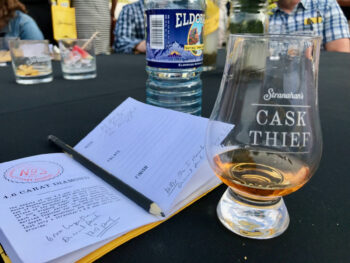 WRAP-UP
If there is a Stranahan's Cask Thief 2018 I absolutely plan to be there.  The food, music, atmosphere, and of course the whiskey was outstanding.  A must on your to-do list if you are in the Denver area next year.  And one final note – during my adventures that evening, it was noted that of the six casks represented, the Sherry Garcia version is scheduled for release sometime in the not- too-distant future.  I'll be on the lookout to pick up a couple bottles of that wonderful expression.