Introducing the Spiciest Member of The Family: Old Forester Rye
America's First Bottled Bourbon™ introduces its first new mash bill in 150 years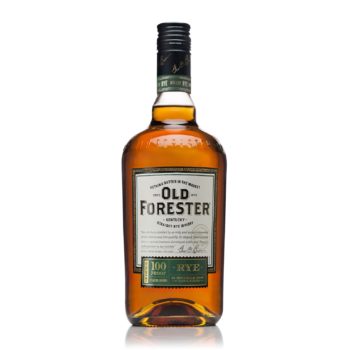 Louisville, Kentucky (January 15, 2019) – Old Forester, America's First Bottled BourbonTM, will introduce Old Forester Kentucky Straight Rye Whisky, the distillery's first new grain recipe in nearly 150 years. Old Forester Rye will be available nationwide beginning February 1.
"Our signature bourbon recipe has done this brand proud through Prohibition, World Wars and changing consumer palates," said Campbell Brown, Old Forester President and great-great grandson of founder George Garvin Brown. "This January we will create a new tradition with a Kentucky Straight Rye that will capture the hearts and excite the palates of experienced Rye drinkers and curious whisky enthusiasts alike."
The newest expression from Old Forester was crafted by Master Distiller Chris Morris and Master Taster Jackie Zykan. Old Forester Rye is inspired by the historic recipe for Normandy Rye, a brand which Brown-Forman acquired in 1940. The mash bill consists of 65 percent Rye, 20 percent Malted Barley and 15 percent Corn.
"Throughout history, rye whisky showcased a balanced grain recipe," said Chris Morris, VP Master Distiller-Whiskey Innovation. "The high proportion of malted barley in this traditional recipe allows for a wholly natural fermentation process, leveraging Old Forester's proprietary yeast strain. The generous percentage of Malted Barley yields a unique floral character, producing a remarkably balanced Rye."
Old Forester Kentucky Straight Rye Whisky is presented at 100 proof.
"Old Forester Rye stays true to our standards of quality, consistency, and balance while delivering on value as only Old Forester can," said Zykan. "The spicy, yet floral complexity of this expression offers a completely different flavor profile than its bourbon cousin. At 100 proof, it plays beautifully in cocktails, but also stands up boldly on its own."
Old Forester 100 Proof Rye will be offered nationwide at a suggested retail price of $22.99, parity priced with Old Forester 100 Proof Bourbon.
[amazon_link asins='B016YPDI3A,B000AV16H0′ template='MT-product-carousel' store='modernthirstc-20′ marketplace='US' link_id='e6c4c30c-299b-45c1-bc56-124435bcec06′]
The new Old Forester Rye is crafted by Master Distiller, Chris Morris and Master Taster, Jackie Zykan, and follows the historic recipe for Normandy Rye, a brand which Brown-Forman acquired in 1940, and stays true to the deep-rooted quality, consistency and balance of Old Forester. As you taste and create your own rye-focused cocktails, please note the below from our Master Taster:
Aroma: Rich brown sugar and magnolia blossom, with hints of soft sassafras and candied lemon
Taste: Spice awakens immediately leading with sharp black pepper and cinnamon stick, rounding out with notes of dried dill and baked apple
Finish: Allspice and peppercorn introduce a long and dry finish which ignites with pine, anise and bright lemon zest