[amazon_link asins='B003QX2JMA,B01N5HU3CP' template='MT-product-carousel' store='modernthirstc-20′ marketplace='US' link_id='a7926c2e-99c0-40fd-8590-3cbc9fa0d159′]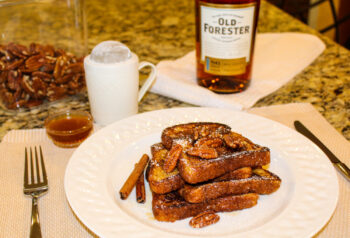 I recently returned from a long weekend in Washington, D.C. — a mecca for culinary indulgences and endless restaurant options. I spent three days eating and drinking my way through the city, tasting everything from a meatless meatloaf to elaborate cocktails named after presidents. Needless to say, returning to a bowl of cereal at my kitchen table on Monday morning didn't sound so appealing.
On my last day, I ate brunch at Founding Farmers, one of my favorite D.C. restaurants. I bypassed ordering a tempting "Bourbon Batter French toast" dish from the menu, opting for something savory instead. The meal was fantastic, but I couldn't help but wonder what I had missed out on. I decided the best way to keep the spirit of vacation alive was to make my own version of the decadent French toast when I returned home.
Below is my take on french toast, inspired by Founding Farmers. In the spirit of ModernThirst, I incorporated bourbon into the recipe in three ways — it's added directly to the batter, mixed into the syrup, and infused into the vanilla extract. Triple the bourbon, triple the fun!
This dish is rich and flavorful without being overwhelmingly boozy, and it's really simple to make. Above all, it will have you embrace that "out of office" mindset.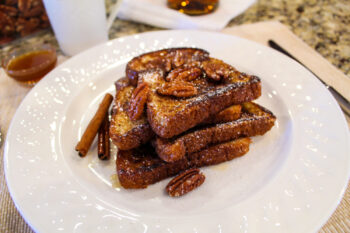 INGREDIENTS
For the toast (makes about 6 to 8 servings):
2 Tbsp salted butter

4 eggs

1/4 cup Old Forester bourbon

1 cup skim milk

1/2 cup heavy cream

1 tsp bourbon vanilla extract

1 tsp ground cinnamon

1/8 tsp ground nutmeg

12 to 16 pieces of bread
For the syrup:
6 Tbsp butter

1 cup maple syrup

2 Tbsp bourbon

2 tsp bourbon vanilla extract

Cinnamon stick (optional)

1/8 tsp salt (optional)
Optional toppings:
Pecans

Blueberries

Ground cinnamon

Powdered sugar

Whipped cream
INSTRUCTIONS
To begin making the toast, heat a skillet over low heat, and add butter once it's warm.

In a large bowl, whisk together the eggs, bourbon, milk, heavy cream, vanilla extract, cinnamon, and nutmeg until completely combined.

Transfer the mixture to a shallow, wide dish that's large enough to fit the width of the bread.

Turn heat up slightly on the skillet. Then, dip each slice of bread into the batter, flipping it to make sure both sides are completely covered. Shake gently to get rid of excess batter, then place into the pan.

Cook for about seven to ten minutes, flipping two or three times to get both sides nice and crispy. Depending on the size of your pan, you may be able to cook multiple pieces at once.

To make the syrup, heat butter in small saucepan over low to medium heat until it has melted. Stir in the maple syrup and add a cinnamon stick if you want. Cook for about three minutes, or until it is warmed. Remove from heat and stir in the bourbon, vanilla extract, and salt. Serve warm.

Garnish your toast with syrup, nuts, berries, and your other favorite toppings, and enjoy!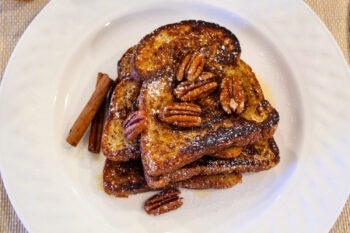 NOTES ON INGREDIENTS
Bourbon: I used Old Forester 86 proof because it has smooth vanilla notes and a bit of spice that complements the other ingredients in this recipe. It's also a relatively inexpensive bourbon, so I don't mind cooking with it.
Milk: Because this recipe is rather rich, I used skim milk. Going with 1% or 2% milk will work too, but will increase the decadence of the dish.
Vanilla extract: I used homemade bourbon vanilla extract, but you can also purchase it online or from specialty groceries.
Bread: I went with whole wheat sandwich-style bread, but I think a nice French bread would be better.