[amazon_link asins='B0747LBSVT,B0725C15JD' template='MT-product-carousel' store='modernthirstc-20′ marketplace='US' link_id='b09fc379-1112-4efe-800d-391a5a2a4ed4′]
INTRODUCTION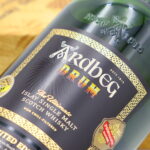 Today's entry on the June 2019 Ardbeg Drum release is going to be a little bit shorter than normal – a piggy-back type review on yesterday's Ardbeg Drum Committee Release. This marks our eighth Ardbeg review – make sure to check out some of the older reviews to see if any of your favorites have been tasted and rated – and let us know what you think.  No additional background info today – let's get right to the stats, tasting notes, and rating.
STATS
ARDBEG DRUM (Standard Release)
Mash Bill: 100% malted barley (peated to a level of 50 ppm)
Casks: whisky from ex-bourbon casks, finished in ex-rum casks
Age: NAS
ABV: 46% (92 proof)
Producer: Ardbeg Distillery
Price: $95-$115
Availability: very limited


SCORING NOTES
Notes for Jeremy and I are annotated below by the identifiers (JR) or (WJ).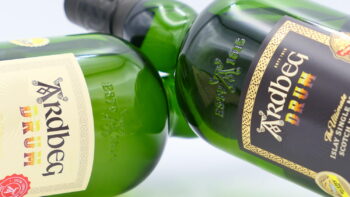 As always – the notes you see below were written and the bottle scored prior to any discussion by Jeremy and me of what we nosed, tasted, or felt overall, about the dram in consideration.  We have spent time with this whisky on multiple occasions.  There may be a few comparisons contrasting with the previous Committee Release review in the notes below.
APPEARANCE
very light, like a sauvignon blanc wine – even lighter than the Committee Release
NOSE
I actually pick up a little more on the nose to start with than with the Committee Release – an initial syrupy pineapple juice sweetness, smoky toasted marshmallow about to drop in the campfire, vanilla wafers, some banana, citrus, tar (WJ); burnt black charcoal, light ash and char, banana, sugary syrup coming through, brine – lots of salt, pineapple juice from a can (JR)
 PALATE
grilled spiced pineapple, smoke, savory – salty – tangy pork, the sweetness comes back, dark chocolate, and maybe some coffee beans (WJ); weird, black pepper, very peaty but that sweet pineapple from a can comes through, candied ginger on the palate – did not get on the nose (JR)
FINISH
shorter finish than Committee Release – medium overall (WJ); decent, a bit quick for what is going on here, shorter than the Committee Release, more ash (JR)
SYNOPSIS
ARDBEG DRUM COMMITTEE RELEASE: A different Ardbeg – not bad, different.  I like both the Ardbeg Grooves standard and Committee Releases from last year better overall.  Between the two releases of Drum more proof is better, for not significantly more cost on the Committee Release  – if you can find it (WJ). A weaker version of the Committee Release, both in ABV and overall experience.  I actually like the nose of the regular release better, but everything else is better in the Committee Release (JR).
ModernThirst.com Score:  83.5 (combined); 86 (WJ) and 81 (JR)
WRAP-UP
The Ardbeg Drum standard release scored exactly two points lower for each of us compared to the Committee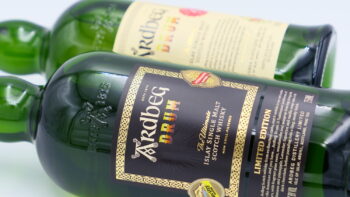 Release.  I'd definitely say it is worth giving a try if you have the chance, but it is not our favorite Ardbeg release.  The standard release Ardbeg Drum actually is our lowest rated Ardbeg of the eight we have reviewed on ModernThirst.  Everyone's palate and preferred profile is unique and different – this may be the perfect dram for you, and if so, fantastic.  I have two bottles of the Committee Release on the shelf (and I do not regret the backup bottle).  I have one bottle of the standard release and will probably not seek out another.
Meh. A bit unique for an Ardbeg, but that alone does not get us really excited about this release. Give it a try, but if I saw the standard Grooves release and this beside each other on the shelf – it'd be an easy choice, Grooves.