[amazon_link asins='B00H143UXW,B01MZ278TN' template='MT-product-carousel' store='modernthirstc-20′ marketplace='US' link_id='6cc34bba-9be8-42b0-b923-6e10882e4d83′]
On the 26th of June, 2019 I held the pleasure of picking a barrel of bourbon at New Riff distillery with a local Kentucky bourbon group, the Louisville Bourbon club (known around town and on the interwebs as LBC.)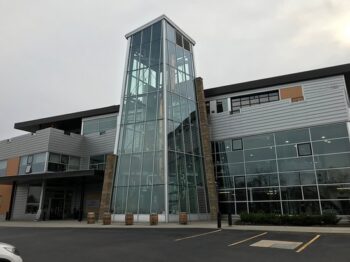 What exactly goes into picking a barrel? And what even is a private selection, single barrel, or a store pick?
Come with me as we journey into the world of picking a Single Barrel.
It was Wednesday morning, the air was crisp and cool with a forecasted high in the mid 80's and what some would call perfect weather for picking a barrel (I personally prefer it a tad colder, but to each his own.)
As I met with members of LBC for breakfast, we discussed what flavor profiles they were looking for, what they would love to find in a barrel, and how some members were particularly thrilled for this barrel pick.
As breakfast concluded we caravanned to the meeting spot were we would all be picked up by a private shuttle (what was referred to as "the party bus").
This was my first experience being shuttled to a distillery to pick a barrel with a group of others (A few other times I drove to the distillery myself or drove with a buddy); and I have to say I was a bit excited myself.
As we talked, laughed, and made jokes between each other the opening of some of the other members favorite New Riff single barrel picks were passed around so we could get an idea of New Riff's base flavor profile and what we might hope to find in the barrel we were picking (I'll admit I even brought a few bottles of my favorites as well).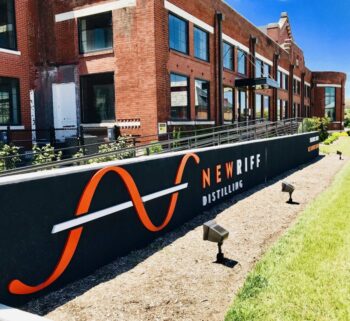 Once we arrived at the Distillery we were greeted and then met with Alina Allread (our guide for the day).
The extended tour that we received was full of juicy tidbits about the founder of New Riff and the inner workings of the distillery. One of the highlights of the tour was entering the part of the distillery were they ferment the mash before it becomes a new make. As Alina continued to talk I couldn't help but get lost in everything that was happening around me as the smell filled the room. The smell of yeast and grains that were fermenting in giant 5000 gallon vast in front of us, the sight of the distillery before me, from the bursting colors, to the beautiful polished metals shining, to the marvelous design. New Riff distillery really is a thing of beauty. Lastly the sounds of the city that were happening around us from traffic ramping up as the day started to get busier, to the birds, and the people interacting outside. New Riff open ferments their mash, which means that they open all the windows and let whatever is happening outside happen inside.
After the tour we were all taken to the bottle plant that was about 2 miles from where they distill that is also home to where they age their barrels (To say that this place is huge would be an understatement). Housed in what use to be a service station for old railways, the high ceilings make you feel extremely small but you quickly forget that once the smell of aging bourbon hits your nose.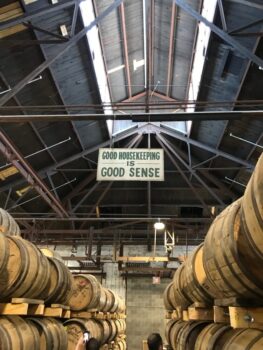 We also took a walk down memory lane and visited the small bottling line that once was home to the famous OKI and it was hard to believe that such a small operation housed such a huge brand.
After learning about all the ins and outs of New Riff, we were finally ready for the big show where LBC would come together and pick their barrel. Every distillery does their single barrel project differently, so the experiences we had here may not be the same as other places, but this will at least give you an idea of how it could be done. After getting a pour of New Riff BiB to prep our palates, we each received a clipboard containing information and tasting notes on over 25 barrels where we would pick 5 and narrow it down to a clear winner.
We were told to walk around and touch and feel what was in front of us and not just read what was written on a paper.  After a bit of deliberating and maybe a tad of convincing from a few others, we all arrived on the 5 barrels we would taste form to finalize the winning barrel.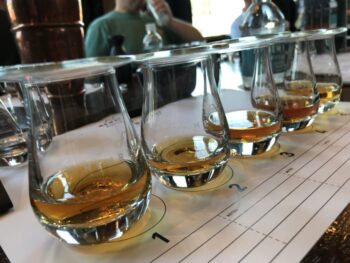 The 5 barrels were thieved and set out in another room for a blind tasting where we were encouraged to take as much time as we needed and really absorb everything that was happening. As we were ushered into the room, I felt like I was right at home. From the soft subtle touches in the decorations to the warm inviting feeling of the exposed brick walls, we all took seats at two long tables and begin to taste and take notes.
After 30-40 mins of some extreme tasting, narrowing 5 down to 3, and blindly tasting the last two: We all agreed that we stumbled upon the best New Riff barrel we have ever tasted and after adding a sold sticker to the barrel it is officially LBC's where it will soon be enjoyed in homes.
Cheers.
The final winning barrel