[amazon_link asins='B01MFDATJF,B01N5HU3CP' template='MT-product-carousel' store='modernthirstc-20′ marketplace='US' link_id='f713a6a4-b676-438e-ab7b-a15846b30b81′]
Lux Row Distillers Re-Launches Daviess County Kentucky Straight Bourbon
 BARDSTOWN, KY (February 19, 2020) – To pay homage to the rich distilling tradition of Daviess County, Kentucky, Lux Row Distillers is re-launching Daviess County Kentucky Straight Bourbon – an ultra-premium family of bourbons, with three variants.
This unique bourbon launches this week and consists of a mixed mash bill of both wheated and ryed bourbons for a balanced sweetness and spice. The three variants in this line are Daviess County Kentucky Straight Bourbon, Daviess County Kentucky Straight Bourbon – Cabernet Sauvignon Finish and Daviess County Kentucky Straight Bourbon – French Oak Finish.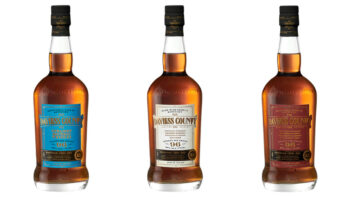 "The combination of mash bills really sets this bourbon apart – the smooth wheated mash bill and the traditional spicy ryed mash bill come together for a balanced taste profile," says John Rempe, Head Distiller at Lux Row Distillers.
All three variants are bottled at 96 proof in attractive 750ml bottles with an embossed shoulder and topped with a natural cork. The Cabernet Sauvignon Finish has been rested for six months in cabernet sauvignon barrels from the Napa region in California for an additional level of complexity, while the French Oak Finish has been rested in French oak barrels for six months for a hint of dry oak.
"The secondary aging in the cabernet sauvignon and French oak barrels adds a nice extra layer of flavor with a slight sweet fruitiness and oaky caramel undertones," adds Rempe.
The brand, bought by the David Sherman Corporation in 1993, honors Daviess County, which boasts a long history of distilled spirits and iconic distilleries that helped Kentucky earn its reputation as the home of great bourbons. One of the first distilleries in that area, Daviess County Distilling Company, with heritage dating back to 1874, was one of the few distilleries to survive prohibition.  It helped pave the way for the nearly 20 other large distilleries that operated in Daviess County by the early 1900s. Today, only three remain, but the county's significance in bourbon history lives on.
ABOUT LUX ROW DISTILLERS
Real roots, real family, real products: Lux Row Distillers – a bourbon distillery experience on the Kentucky Bourbon Trail – is a family-owned venture, bringing the Lux family history and spirits tradition to the bourbon industry. Lux Row Distillers is the home of Luxco's bourbon brands, including Rebel Yell, Blood Oath, David Nicholson and Ezra Brooks Kentucky Straight Bourbons.
Located in the heart of Bardstown, Kentucky, the 18,000-square foot Lux Row Distillers includes a visitor center, barrel warehouses, a tasting room, and event space, making for an all-encompassing bourbon experience. The 80-acre property is home to an 18th century stone house – which is registered as a National Historic Place – and a long, tree-lined driveway providing a scenic entrance to the distillery.
For more information about the distillery, visit www.luxrowdistillers.com. You can also like Lux Row Distillers on Facebook at www.facebook.com/luxrowdistillers or follow the distillery on Instagram @luxrowdistillers.
For more information, please contact: Pia Reinhold [email protected] or Nicole Schulenburg at [email protected].