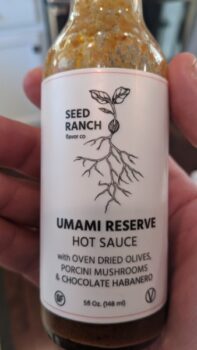 Seed Ranch Umami Reserve
This hot sauce packs heat from the 500,000 Scoville unit Chocolate Habaneros but offsets it with sweeet and savory flavors from the very earthy oven-dried olives and porcini mushrooms.
Heat: Medium-high from the 500,000 Scoville unit Chocolate Habanero
Pair with: Pizza, eggs, grilled vegetables.
Price: $10.99/5 oz on Amazon.com
Score:
Flavor: 9.5/10
Heat: 7.5/10
Uniqueness: 10/10
Overall: 9/10
Verdict:
Umami translates from Japanese as "pleasant savory flavor." It stands as the 5th flavor along with sweet, sour, salty and bitter. This hot sauce stands out in a crowd for its savory flavor and slow, heat that can reach medium-high in level. It's excellent.