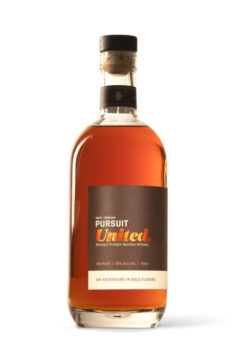 It wasn't too long ago that Kenny and Ryan of Bourbon Pursuit Podcast launched their single barrel program under the name "Pursuit Spirits." Given their palates and their built-in audience of fans from the podcast, it was a no-brainer. Now they're taking it a step farther and launching a flagship line of bourbon that approaches the art of sourcing differently. Rather than "source," per say, they're partnering with several distilleries for a consistent source of bourbon to blend into their new release, named Pursuit united. We couldn't be happier for them and I've already ordered a bottle from Seelbachs.com so I can't wait to taste it.
Press Release:
FOR IMMEDIATE RELEASE: January 4th, 2021
IMAGES: See end of release for download link
Pursuit Spirits Announces Release of Pursuit United
LOUISVILLE, KY – Pursuit Spirits, founded by the creators of the popular podcast Bourbon Pursuit, is announcing their newest line extension, Pursuit United. The small-batch bourbon will be available in limited quantities beginning in January 2021 at a SRP of $65.
Pursuit United is a blend of mashbills from 3 different distilleries in 3 different states. The small batch blend of straight bourbon whiskeys was created with partnerships to build a new flagship expression. Bottled at 108 proof (54% Alc./Vol.) and non-chill filtered to maintain more barrel character, it's tailored to the growing number of whiskey drinkers that want to experience more flavor and less water.
The blend of mashbills features 3 distilleries with bourbon barrels ranging from 4 to 5 years old. The Kentucky component is in partnership with Bardstown Bourbon Company using a bourbon mashbill that delivers prominent notes of caramel and maple. The partnership with Finger Lakes Distilling in New York utilizes their award-winning wheated mashbill to provide more vibrant fruit notes. The final component supplies deep and rich character with sweet oak influence coming from an undisclosed distillery in Tennessee that is not located in Tullahoma.
The entire project took over a year to complete from concept to bottling based on inventory and supply. "Sourcing whiskey is not easy because it's impossible to know what will be available in the future," said Kenny Coleman, Co-Founder of Pursuit Spirits. "Establishing a partnership with Bardstown Bourbon Company and Finger Lakes Distilling gives us confidence that we can continue to grow Pursuit United, maintain a consistent profile, and make it a staple product on every shelf."
While testing hundreds of iterations and working with master distillers to continuously refine component amounts, Pursuit United settled on the final proof of 108 (54% Alc./Vol.). "Pursuit United continues our effort to appeal to the growing whiskey market," said Ryan Cecil, Co-Founder of Pursuit Spirits. "Each barrel in the blend was hand selected for what it could bring to the final product."
The first release of Pursuit United will be limited to 2250 bottles that will be available online at Seelbachs.com and at select retail locations in Georgia, Kentucky, Tennessee, and Texas. A second release of 8,000 bottles will be available in March 2021. Subsequent releases will follow.
Pursuit Spirits will continue to release single barrel expressions under the Pursuit Series brand.
ABOUT PURSUIT SPIRITS: Founded in 2018 by the creators of the popular podcast Bourbon Pursuit, Pursuit Spirits is rooted in providing consumers an uncommon whiskey experience, focused on transparency and access to unique whiskeys. Today, Pursuit Spirits offers a small-batch product with Pursuit United and has been awarded medals for their single barrel product, Pursuit Series. For more information, please visit www.pursuitspirits.com.
ABOUT BOURBON PURSUIT: Bourbon Pursuit is the leading whiskey podcast, dubbed as "The Official Podcast of Bourbon". Started in 2015, Bourbon Pursuit reaches a global audience with more than 1.5+ million streams per year informing listeners on the next bourbon trends, great bottles, and sharing the personalities behind their favorite brands with interviews from prominent whiskey distilleries. Subscribe to Bourbon Pursuit wherever you get your podcasts and learn more at www.bourbonpursuit.com. Follow Bourbon Pursuit on Facebook, Twitter, and Instagram at @bourbonpursuit.